EVERY EVENING,TheJournal.ie brings you a round-up of the day's biggest news stories, as well as the bits and pieces you may have missed.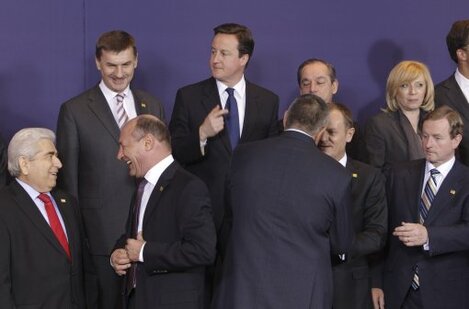 Picture by: Michel Euler/AP
swimtwobirds: 'His arm looks too short, Jesus look where his elbow is. I'm going to touch it. It's got to be prosthetic. Jesus, I've got to know. He's going to think I'm weird. The hell with it. I'm going for that elbow.'
Simon Cunnane:
IRISH INDEPENDENT: "Supreme Leader & Taoiseach, Enda Kenny, finished shaking hands with EU colleagues before everyone else, helps clean fluff from suits.
IRISH TIMES: Irish Prime Minister, Enda Kenny, meets EU colleagues in Brussels.
FARMERS JOURNAL: Kenny's sheep herding skills have taken a back seat since elevation to Taoiseach.
THE SUN: Who's Your Sexy Taoiseach?
DAILY MAIL: Japanese Earthquake Blamed On Irish Bailout. Kenny summoned by EU colleagues.
Leslie Neill: For feck sake guys when I said "reduced interest" I did not mean in me personally!
Hugh Carthy: Kenny: "Psst, wanna buy a bank?"
Jim Deady: "Can anyone tell me where the Greek and Portuguese delegations are. I was told to stay with them."
The latest clumsy display has led us to wonder just how awkward our politicians are – let us not forget Brian Cowen's inelegant wheeler-dealer vibe while talking with Gordon Brown a few years ago… cringe.