EVERY EVENING, TheJournal.ie brings you a round-up of the latest news stories, as well as the bits and pieces you may have missed during the day.
It has been the warmest April on record, which has been great news for some – but spare a thought for the firefighters battling the weekend's in 13 counties during this weekend (slideshow >).
The 60 big name brands – including Tesco, Marks and Spencer and Next - have been found to be using sweatshop labour sourced from Indonesia, Sri Lanka and The Philippines. A damning report by the International Textile Garment and Leather Workers' Federation  found that massive brands like Adidas, Converse, Abercrombie and Fitch, Victoria's Secret and Billabong are "routinely breaking every rule in the book when it comes to labour rights".
Arctic ice is melting more quickly than previously thought: melting Arctic glaciers and ice caps are now expected to contribute to raising of global sea levels to 63 inches by 2100.
The funerals of Col Muammar Gaddafi's son and three grandchildren have taken place in Tripoli today. The Libyan government has said that Saif al-Arab and three of his children were killed during a NATO air raid on Sunday.
The tourism minister Leo Varadkar says he and his team have removed thousands of cable ties abandoned after the taking down of election posters. "We have removed 10,000 cable ties altogether — not just Fine Gael ones, but all parties, and we are encouraging other people to do the same," the minister said.
The voice recorder from the doomed 2009 Air France flight has been found. Three Irish women were among the 216 passengers and 12 crew members who died when the flight crashed off the coast of Brazil en route to Paris in three years ago.
The United States says that it has photographs of the body of Osama bin Laden in its possession – but is unsure about whether to yet release the pictures. Meanwhile, Time magazine has announced that it will run Bin Laden's likeness on the cover of its forthcoming issue – it will be the fifth issue to date in which the magazine's front cover has been dominated by an "X".
Speculation is growing about the possibility of a 35-year-old who grew up in the United States taking over Bin Laden's role: Adnan Gulshair el Shukrijumah has been named by a senior FBI official as the man in charge of al-Qaeda's global operations.
A French magazine, Voici, has claimed that Carla Bruni-Sarkozy is expecting twins with her husband, Nicolas Sarkozy. The 43-year-old singer told Le Parisien newspaper: "My lips are sealed to protect something… I would love to speak about it."
Today, five-storey high posters of Queen Elizabeth and US President Barack Obama were hung outside Harry Crosbie's Point Village – in order to give a warm welcome Ireland's guests as they arrive for their visits on 17 and 23 of May, respectively.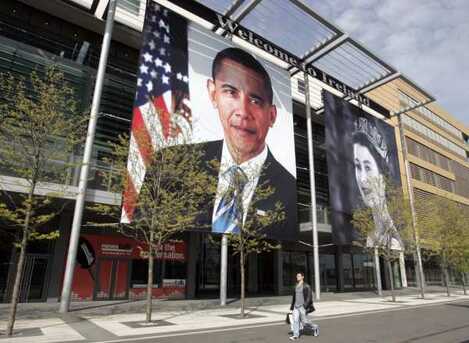 Photo: Mark Stedman/Photocall Ireland