PRIVATE EMAILS PURPORTING to be from David Beckham were leaked after hackers demanded payment, according to latest reports.
The retired football player blasted reports at the weekend that he used his children's charity work with Unicef to boost his public image and chances of getting a knighthood from Queen Elizabeth II.
A spokesman for the football icon claimed "hacked and doctored" private emails had given a "deliberately inaccurate picture".
Today, the Daily Mirror reported that the emails were allegedly released due to the hackers trying to blackmail the PR agency in question.
Beckham who retired in 2013, was the subject of a "Football Leaks" probe by the European Investigative Collaborations network, a consortium of 12 European media organisations, including France's Mediapart.
Citing emails between Beckham and his staff, the reports claimed he initially refused to put his own money into his humanitarian 7 Fund, tried to obtain reimbursement from the UN children's agency UNICEF for expenses met by his sponsors and was using his humanitarian work as a springboard for his own profile.
Beckham was made an officer of the Most Excellent Order of the British Empire in 2003, two steps below a knighthood.
In one email, he allegedly took objection to the singer Katherine Jenkins getting the same OBE award in 2014, slamming the British honours committee.
He appears to rail against not receiving a knighthood, saying : "If I was American I would have got something like this 10 years ago."
'Outdated material'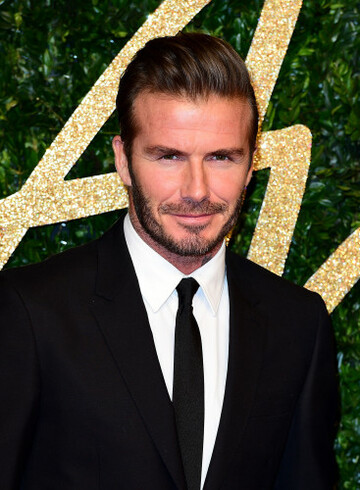 Source: PA Wire/PA Images
A spokesman for Beckham responded to the claims.
"This story is based on outdated material taken out of context from hacked and doctored private emails from a third-party server and gives a deliberately inaccurate picture," he said.
David Beckham and UNICEF have had a powerful partnership in support of children for over 15 years.
The David Beckham 7 Fund specifically has raised millions of pounds and helped millions of vulnerable children around the world.
David Beckham has given significant time and energy and has made personal financial donations to the 7 Fund.
"David and UNICEF are rightly proud of what they have and will continue to achieve together and are happy to let the facts speak for themselves."
UNICEF said it was "extremely proud" of its work with Beckham, saying he had generously given his "time, energy and support" and has "given significant funds personally".
It said his 7 Fund had raised millions of pounds for UNICEF programmes.
We are extremely proud of the 7 Fund and all it has achieved for children. Since it launched in February 2015 it has raised millions of pounds for UNICEF programmes and reached millions of people around the world with crucial messages about our work for very vulnerable children.
UNICEF ambassadors give their support "in a voluntary capacity, receiving no fee for their time and commitment".
- © AFP, 2017 Additional reporting Aoife Barry