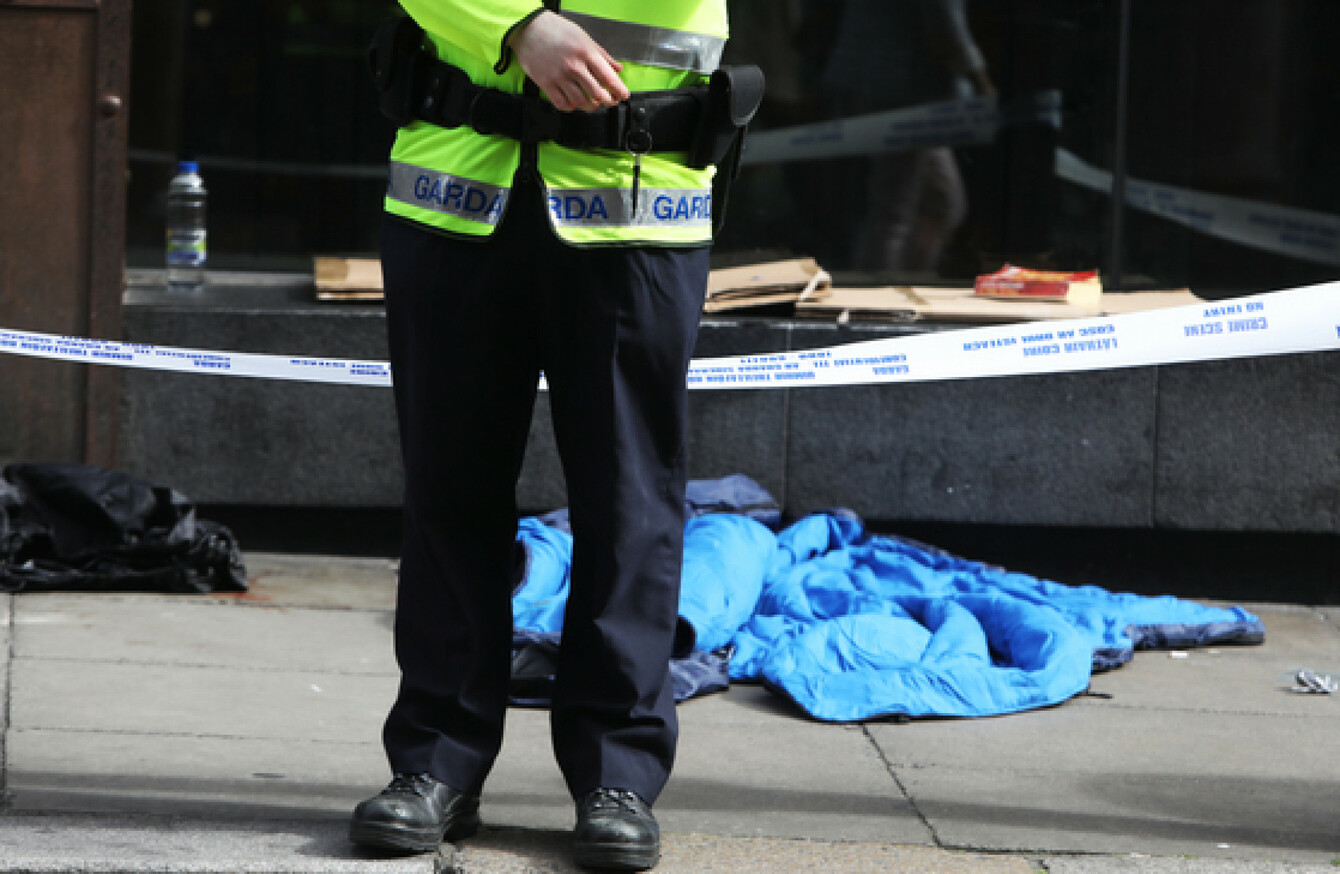 Image: Leah Farrell/RollingNews.ie
Image: Leah Farrell/RollingNews.ie
Updated 1.20pm
EVERY EMERGENCY BED for people without shelter in Dublin city was full on Tuesday night.
On the same night, a homeless man who had been sleeping rough was found unconscious outside a Superdry store close to Grafton Street in the south inner city.
He was later pronounced dead. Foul play is not suspected in his death.
TheJournal.ie understands that the man – who has been named locally as Stephen "Jack" Watson – did not attempt to access an emergency bed on Tuesday. Watson – who was aged in his 50s – was, however, known to homelessness services and had been engaging with different bodies in the city since October 2015.
According to the Dublin Regional Homelessness Executive – which manages homelessness services across the four Dublin local authorities – a number of different organisations had attempted to help him over the past two years.
Watson was originally from Ireland but had spent time in Australia.
His death comes as the government faces mounting pressure to deal with growing homelessness and the housing crisis.
'[We're] doing everything we can'
In a statement this afternoon, Minister for Housing Eoghan Murphy expressed his condolences to the families of Watson and the homeless woman who died in a separate instance on the same day, saying that "it's a very difficult time for those involved".
"The unprecedented levels of homelessness that we are witnessing is totally unacceptable," he said.
The government and my department, working with the local authorities, voluntary sector and other stakeholders, are doing everything we can – but I know we need to do more.
Murphy said that he would be holding an emergency housing summit next week in the Custom House with each of the 31 local authorities' chief executives and the housing department's senior management.
They would "explore additional measures to help and to house families and individuals currently in emergency accommodation and accessing emergency state supports", Murphy said.
'Not enough beds'
Charity officials and people working within homelessness say that emergency beds are full almost every night in Dublin city.
That's close to 3,300 adult emergency beds in the city that are occupied, as homelessness services struggle to keep up with the rising numbers.
With the beds full and the number of homeless people rising consistently every month for the past number of years, there has been an increase of people sleeping rough on the streets of Dublin.
The latest official count of people sleeping rough (on the streets) across Dublin took place in April. It found 138 people sleeping outside in the city.
However, unofficial counts from charities and community groups have reported a recent spike in those figures. Community organisation Inner City Helping Homeless said it recorded over 200 engagements just last week.
On the back of this development, there have been calls for the DRHE to make more beds available.
"It's high time now that the Housing Minister [Eoghan Murphy] takes emergency measures and opens more beds," said ICHH director Anthony Flynn.
There are beds lying empty in this city while there are people dying on the streets.
Flynn was referring to emergency beds on Wolfe Tone Quay which were opened last year for use during severe weather.
Flynn said that there are 44 beds at this facility while a DRHE spokesperson said there are 20.
In response to yesterday's death and the rising number of rough sleepers, the DRHE said it was working to bring more beds on stream.
"The DRHE is currently working to provide a further 200 emergency accommodation beds to ensure that there is sufficient capacity," a spokesperson said.
Dismay
Homelessness campaigners and people working within the area expressed dismay yesterday over the death of Watson.
#Open journalism No news is bad news Support The Journal

Your contributions will help us continue to deliver the stories that are important to you

Support us now
Longtime campaigner Fr Peter McVerry told TheJournal.ie that urgent action was needed from government in order to address the spiralling homelessness crisis.
"I think every death is a tragedy," said McVerry.
"The fact that someone dies on the street rather than a hostel is not that significant.
"It's tragic that it happens on the street where there's nobody there to check on them, call an ambulance or even give them comfort in their dying.
Your life should not be cut short just because you don't have somewhere to live. It is just a disgrace that we have homeless people in this country.
The death – along with the tragic death of a young homeless mother this week – will put further pressure on government to address the complex housing and homelessness crisis.
Housing Minister Eoghan Murphy has come under strong pressure since he took office in June, with charities and workers in the field saying that numbers are getting out of control.
Latest figures for June show that there were 5,046 homeless adults in state-funded emergency accommodation, as well as 2,895 children. However, officials say that the number of actual homeless people in the country is likely much higher.
A Housing Summit will be held next week in Dublin with each of the country's 31 local authority chief executives to try to finalise solutions aimed at addressing the crisis.
ICHH has called for a national emergency to be declared on homelessness. Charities like Focus Ireland and the Peter McVerry Trust have called for increased protections for private tenants and urgent social housing building to take place.
"We need to ensure that the revised Rebuilding Ireland strategy places a major emphasis on the need to provide a large public housing programme that allows us to rapidly re-house those in homelessness as quickly as possible," said PMV Trust CEO Pat Doyle.
With reporting from Sean Murray