Source: HSE Ireland/YouTube
THERE ARE AROUND 55,000 people in Ireland living with dementia right now, and that figure is expected to double to 113,000 by 2036. But how much do we really know about the daily experience of those 55,000 people?
To delve further into the experience of dementia, we spoke to just two people who are currently sharing their story in a nationwide campaign – Maureen O'Hara and Paddy Butler.
What is it really like living with dementia?
Maureen O'Hara, 57, from Kilkenny:
It has given me freedom I never thought I would have. I'm in my fifties and I'm retired while I am still physically fit and can indulge all my pastimes. I'm not in pain, whereas people I worked with as a physio were in constant pain, they couldn't move around by themselves. I can get out and about, I can go where I want to.
I have great hillwalking friends and lots of links within the local community. I have a pair of legs that don't stop moving and my BBB – big blue bike – is in the hall so I can go wherever I want, within reason.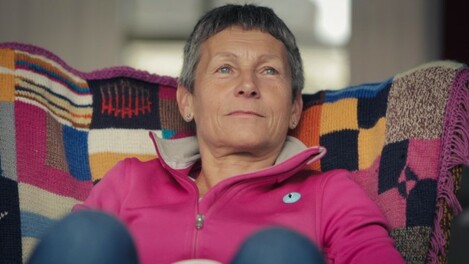 Source: YouTube
The kids insist I text them every night at 8pm, just to let them know I'm okay, but I can't resist giving them a full rundown of the day. That's almost like a little diary. I kept diaries as a child, which I still have and have been looking back over recently. It's almost as if I knew something was going to happen to my memory.
I think people would expect us to be very serious and solemn rocking in our chairs. But really it is like school days again, everything usually turns into a bit of a joke.
Just act normal, don't be afraid to greet me as you usually would. I might not remember your name but I will remember faces and I will remember a feeling of being with you. I'm always upfront with people and I don't think anyone has ever been offended by it.
I don't like wasting time, I like spending time and enjoying time. I don't get stressed anymore – I probably stress the people around me but there's nothing I can do about it.
Source: HSE Ireland/YouTube
Paddy Butler, 70, from Kilkenny:
I just thought, 'Do I hide it or be straight'. I went with straight because what was I doing trying to hide it? I knew it would just make matters worse. You have to go out and do what you have to do, do everything as you used to do it before.
I would tell everyone with Alzheimer's to just keep going. For me, that was going for my walks or going up to Dublin for the matches. You have to carry on and live your life.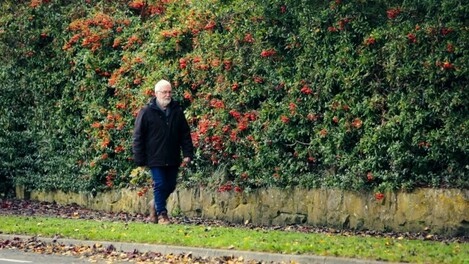 Source: YouTube
Now walking down the street, more people talk to me now than when I was alright. Lots of people say hello to me, I'm just one of the lads again. We talk about the hurling and the football.
At first I didn't know what was happening and was afraid of meeting people I knew out on my walks because Kilkenny is so small so I started to walk further, walk more, determined to keep myself fit. There was one day I was talking to someone for five or ten minutes and I had no idea who he was. It really was crazy.
One minute life is grand and then something starts happening to you. So I went to a doctor and I said there's something wrong with me.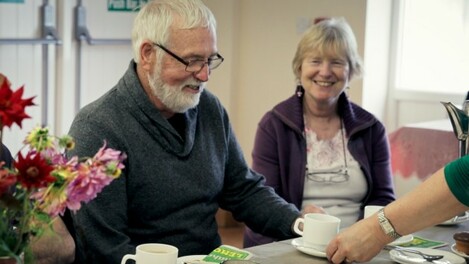 Source: YouTube
What does Paddy's wife Lindsey have to say?
He's still Paddy and I'm still Lindsey. It's about respecting that space and respecting Paddy's space to be his own person, that's the best support people can give.
He's not an eejit, he just communicates a lot differently than he used to. He might understand a conversation differently and his response times are different but he's still the same person.
For a while, I was very protective of people's reactions to him. But now that people know, I don't feel as protective. People need to take their own responsibility to how they react to a person with Alzheimer's and to respect it.
What can we do to support people like Maureen and Paddy?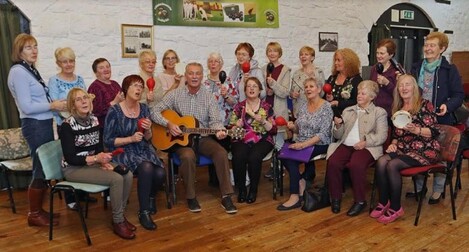 Source: Facebook/The Alzheimer Society of Ireland
Avril Easton, Community Activation Coordinator for Dementia: Understand Together (in partnership with The Alzheimer Society of Ireland), gives some practical tips for support:
1. Help someone to pursue an old hobby
If you know someone who has stopped attending a club or missed arrangements with people, check in if you haven't seen them in a while and see if you can do anything – people with dementia may be reluctant to drive so offer a lift.
Be specific with the family member who is caring for the person with the condition rather than asking, 'is there anything I can do?'. Say, 'I can call over Thursday and we can do something we have always enjoyed together.'
2. Try new things together
People with dementia may have new interests – so try something different. Art tours specifically designed for people with dementia are run in museums across Ireland including the Irish Museum of Modern Art as part of the Azure Project. Even if neither of you were ever into art, they're designed with the person's needs in mind.
If there's a local Alzheimer's Cafe in your community, it can be great place to get information about services and support in an informal way, where you can meet people with the condition and their loved ones and gain tips.
3. Adjust your home
Focus on what the person can do rather than what they can't. Allow the person to promote their independence and try not to take over. Signage may be helpful if the person is getting disorientated – things like putting signs on presses can be helpful.
Encourage your loved one to write things down – leave a notebook by the phone and suggest that they write the message after a call. Get the person with the condition into the habit of writing things down so they have note of it and making lists for the shop to have for their next visit.
4. Let people know
As you can tell with Maureen and Paddy, you never regret telling people – talking about dementia is an important step to break down the stigma that surrounds it. If the person and their family are willing to discuss their diagnosis then things will be better for everyone.
It's easier said than done but generally it's encouraged to tell your friends, neighbours and your local community so they can support the person to keep doing the things they normally do. Talk to their local pharmacist – medication may become problematic in terms of when are how to take them – you can use blister packs and things like that.
5. Be patient with people who have dementia
If you encounter someone in public who may be confused, provide reassurance. People with dementia say the thing they remember isn't what the person said but how they felt around them – if someone is impatient or threatening, that can be very intimidating.
Don't bombard people with the condition with question after question – that's not helpful. Take a walk with the person to help them find what they'll be looking for. Try to tune into what the person is saying and not to be scared. Give people with the condition a bit of extra space or time if they seem a little confused.
Want to get a better grasp on your understanding of Alzheimer's disease and dementia and how it may be affecting someone you love? Visit understandtogether.ie for how best to enable people with dementia to live a happy, fulfilled life with their diagnosis, or call their dedicated helpline on 1800 341 341. Dementia: Understand Together is led by the HSE, working with Genio and the The Alzheimer's Society of Ireland.