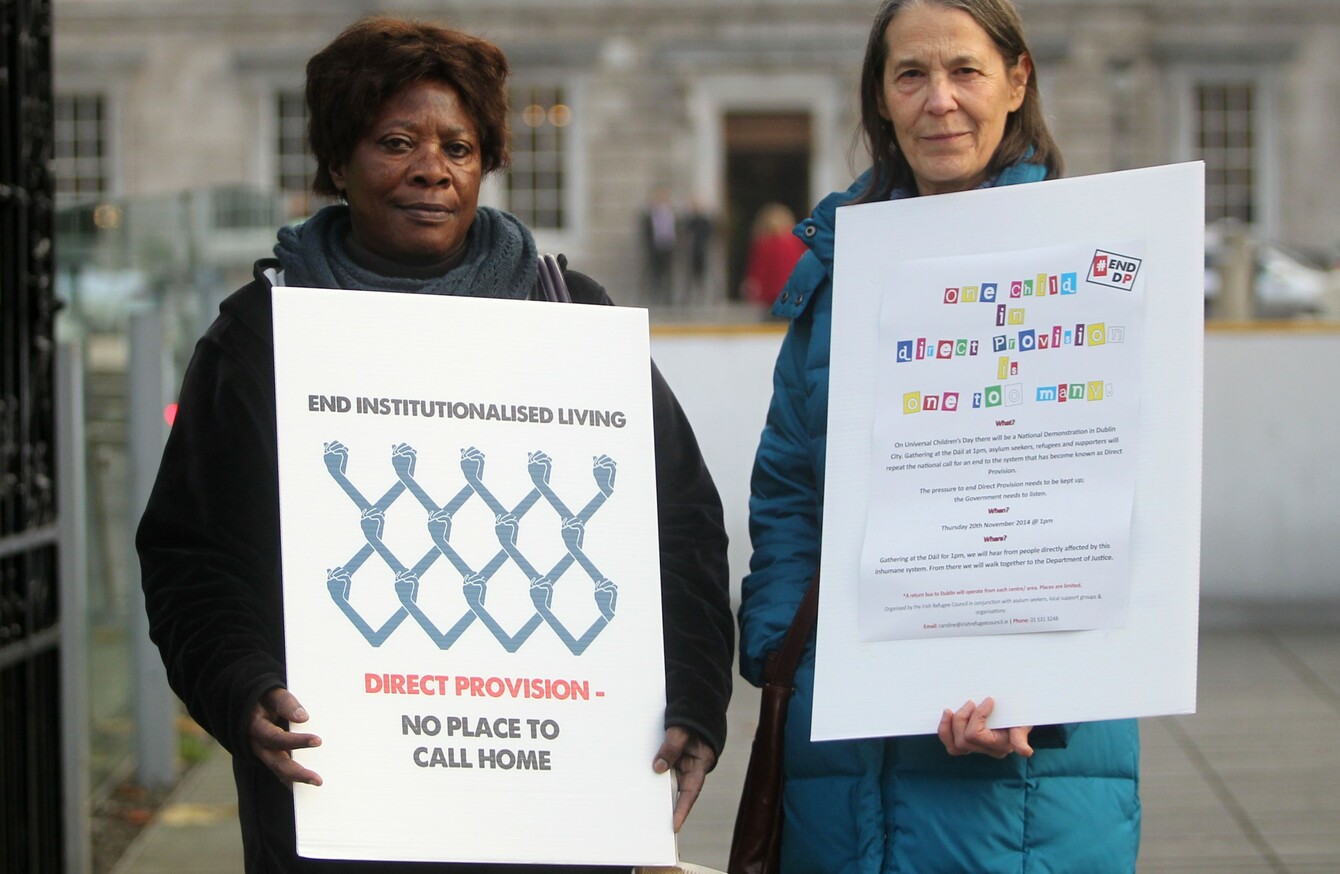 Image: RollingNews.ie
Image: RollingNews.ie
NO PROGRESS HAS been made in the early monitoring of vulnerable people in Direct Provision centres or in giving people in the service for over two years access to further education options, a year after the recommendations were first put forward.
The Irish Human Rights and Equality Commission (IHREC) has called on the government to implement all of the recommendations of last year's report on reforming the Direct Provision system.
Direct Provision is the system through which the basic needs of a person are met while they're claims for refugee status are processed.
Meant to be a temporary measure, people can languish for years in the system – living in unsuitable accommodation and unable to work.
Last year, a working group chaired by retired High Court judge Dr Bryan McMahon issued a report with 173 recommendations for improving the Direct Provision system.
The Department of Justice and Equality issued a progress report yesterday on how the recommendations are being implemented.
In total, the department said that 91 of the recommendations have been implemented in full, 49 have been partially implemented and 33 are marked as needing "further consideration".
Recommendations
Chief Commissioner of IHREC Emily Logan said that it was "important" for the government to fully implement the recommendations.
"The Working Group delivered a practical report to government and it is important that the government implement its recommendations in full," she said.
We recommend the Government now move to ensure the remaining measures to give effect to the recommendations are implemented so that people seeking asylum in Ireland can live with a greater degree of respect and dignity.
Of the the recommendations listed as needing further consideration are ones to do with protecting vulnerable people, letting people access information in relation to the time frame of processing their case, and single people's rights to better rooms.
The recommendations that have been implemented include ensuring accommodation providers have a transport plan in place for residents, ensuring that there are rooms without CCTV for visitors to accommodation, and that reviews of child safety in centres are carried out.
Commenting on other improvements to the Direct Provision system, Táinaiste and Justice minister Frances Fitzgerald said that a number of key concerns had been addressed.
"A substantial number of people who were greater than five years in the system now dealt with and is estimated that over two thirds of those identified in the Report as being over 5 years in the Direct Provision system have now had their cases processed to completion," she said.
This has been a key achievement that has had a real impact on many people and families.
I welcome this progress and am determined to implement this report in full as soon as possible.