THE DEFENCE FORCES today held an exercise as part of a project to prepare them in the event of a chemical or nuclear attack.
The use of chemical agents in particular has been in the news recently after the attack in England on a former Russian double agent and his daughter. Sergei and Yulia Skripal were both hospitalised after being targeted with a nerve agent. The Organisation for the Prohibition of Chemical Weapons (OPCW) confirmed this month that the nerve agent originally came from Russia.
An EU-funded research project involving the Defence Forces, NUI Galway and the Tyndall Institute recently passed a mid-term review that will allow their work to continue for another 12 months.
The project uses robots and unmanned aerial vehicles (UAVs) to help minimise the risk to operators while collecting physical evidence and preserving the chain of custody.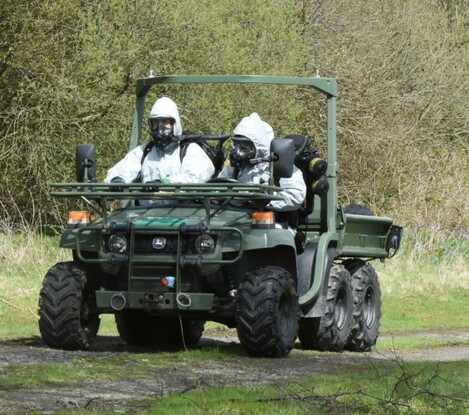 EOD technicians approach the hazard site on a 'Gator' utility vehicle. Source: Irish Defence Forces
The Defence Forces said this work is fundamentally changing how chemical, biological, radiological or nuclear (CBRN) threats are assessed, while minimising the risk to the lives of crime scene investigators in "dirty bomb" type scenarios.
Members of the project team today visited the Defence Forces Young Officers course, who were taking part in a CBRN exercise in Casement Aerodrome, Baldonnel.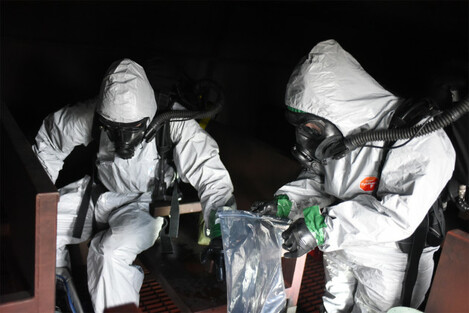 EOD technicians inspect the suspect substance and obtain samples for further analysis. Source: Irish Defence Forces
The purpose of the visit was to allow them to get an insight into what the operators and end user requirement would be in the event of a "dirty bomb" type scenario.
"The increasing complexity we are facing means that we need to find collaborative solutions to get the best solutions," Defence Forces Chief of Staff Vice Admiral Mark Mellett said.
He said the project is "a shining example of how end users, researchers and the private sector can combine to answer our wicked problems".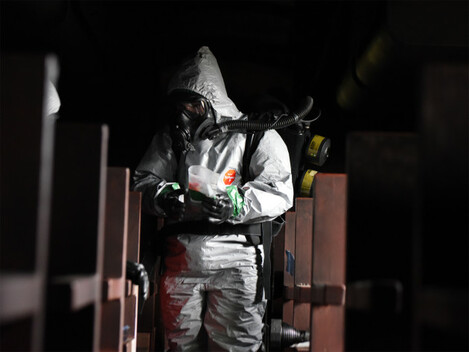 The EOD technician spots the suspect substance and prepares to deal with it. Source: Irish Defence Forces
Lieutenant Colonel Ray Lane, who is the Defence Forces lead on the project, said it will fundamentally change how these scenarios are dealt with.
He also said it will minimise the risk to life, while maximising the use of technology, both robots and unmanned aerial vehicles.
"The result of this project will be a significantly enhanced capability in this area."