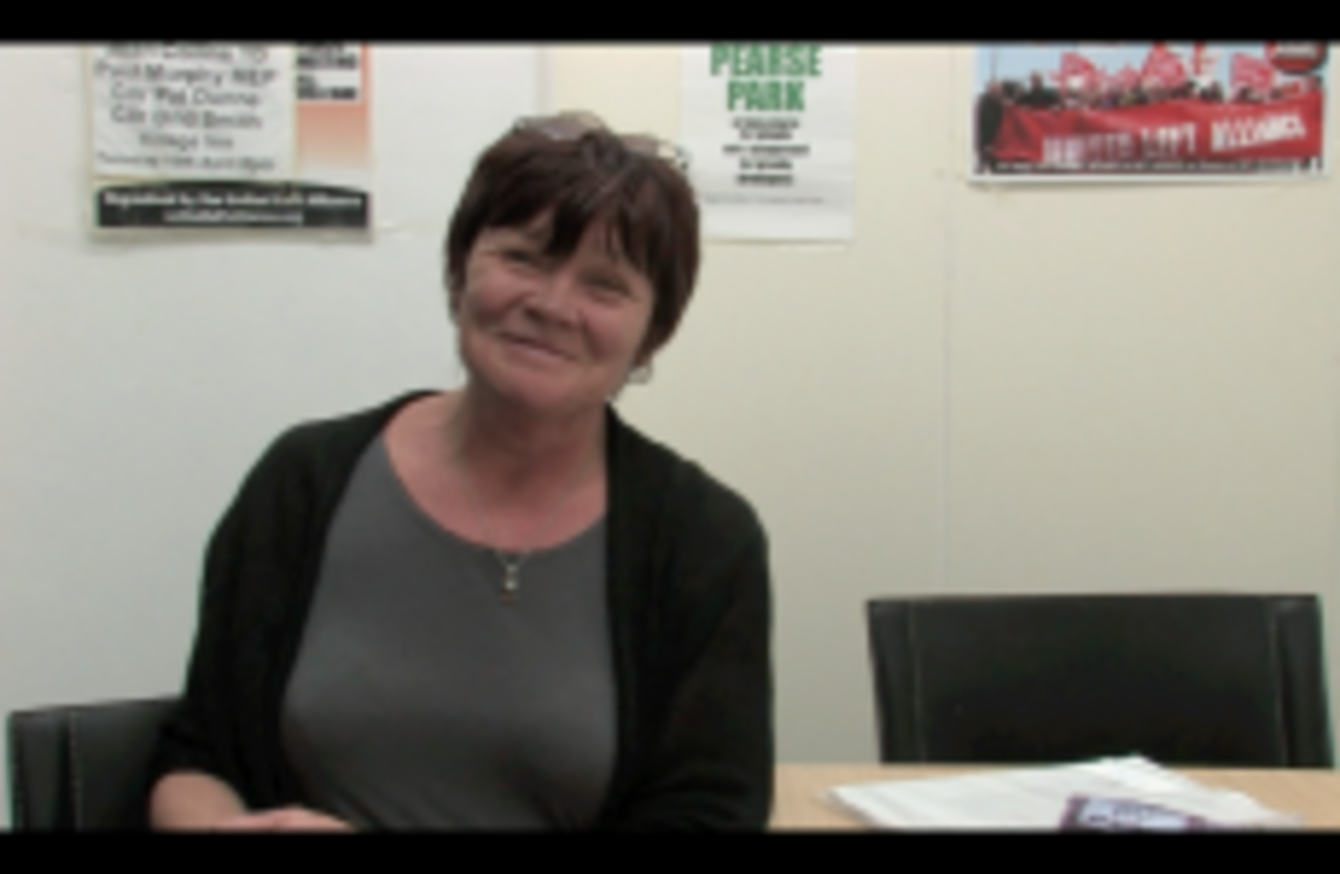 Dublin South Central TD Joan Collins
Image: Screengrab
Dublin South Central TD Joan Collins
Image: Screengrab
ONE YEAR ON from the general election, United Left Alliance TD Joan Collins has said that she does not regret accosting Bertie Ahern after his last day in Dáil Eireann.
The Dublin South-Central TD, who verbally lashed Ahern when he was leaving the Dáil, also admits that it is probably what she is best known for.
"People who probably don't know that work that I have done around the area and the campaigns I have been involved in, that's probably what they know me as. They would know me for what I did that day," said Collins.
I don't regret it. I think he should have been challenged a long time ago. I think it actually gave a lot of people a bit of get up and go about it. I believe that during the General Election out in his area, constituency people were challenging him at the doorsteps, whereas they would not have done so before.
The 50-year-old TD, who was a councillor at the time, added that she believes that standing up to Mr Ahern endeared her to the public.
"It was totally out of the blue. To see Bertie Ahern coming out on his last day in office talking about the Bertie Bowl being his biggest regret and I just got so annoyed," she said.
"I think it did have a big impact in relation to the election."
Despite Collins' actions attracting a lot of media attention, she says her Fianna Fáil counterparts in the Dail have never brought it up in conversation.
"I believe Fianna Fail are a peculiar animal, to a certain degree. They take that sort of thing in their stride. They pretend to be in opposition. They pretend to be the knights in shining armour to the ordinary man and woman. They have never approached me on it," she said.
Collins, who was expelled from the Labour Party in the 1980s for being too militant, also says that she enjoys her work, but that the Dáil is an unusual place where she and her ULA colleagues are seen as different.
"The issue that [Ceann Comhairle Seán] Barret is making about our clothes and attitude [shows they look at us differently]. The way we view it in the United Left Alliance is that we represent ordinary people," she said.
"The idea that you have to have a suit to be a politician is quite a deliberate ploy and always has been."
Watch the interview with Joan Collins:
This interview is part of a series of interviews with politicians one year on from the 2011 general election. Tomorrow: Paul Gogarty on what he thinks of the electorate now – and why he can never do a duet with Dan Boyle…