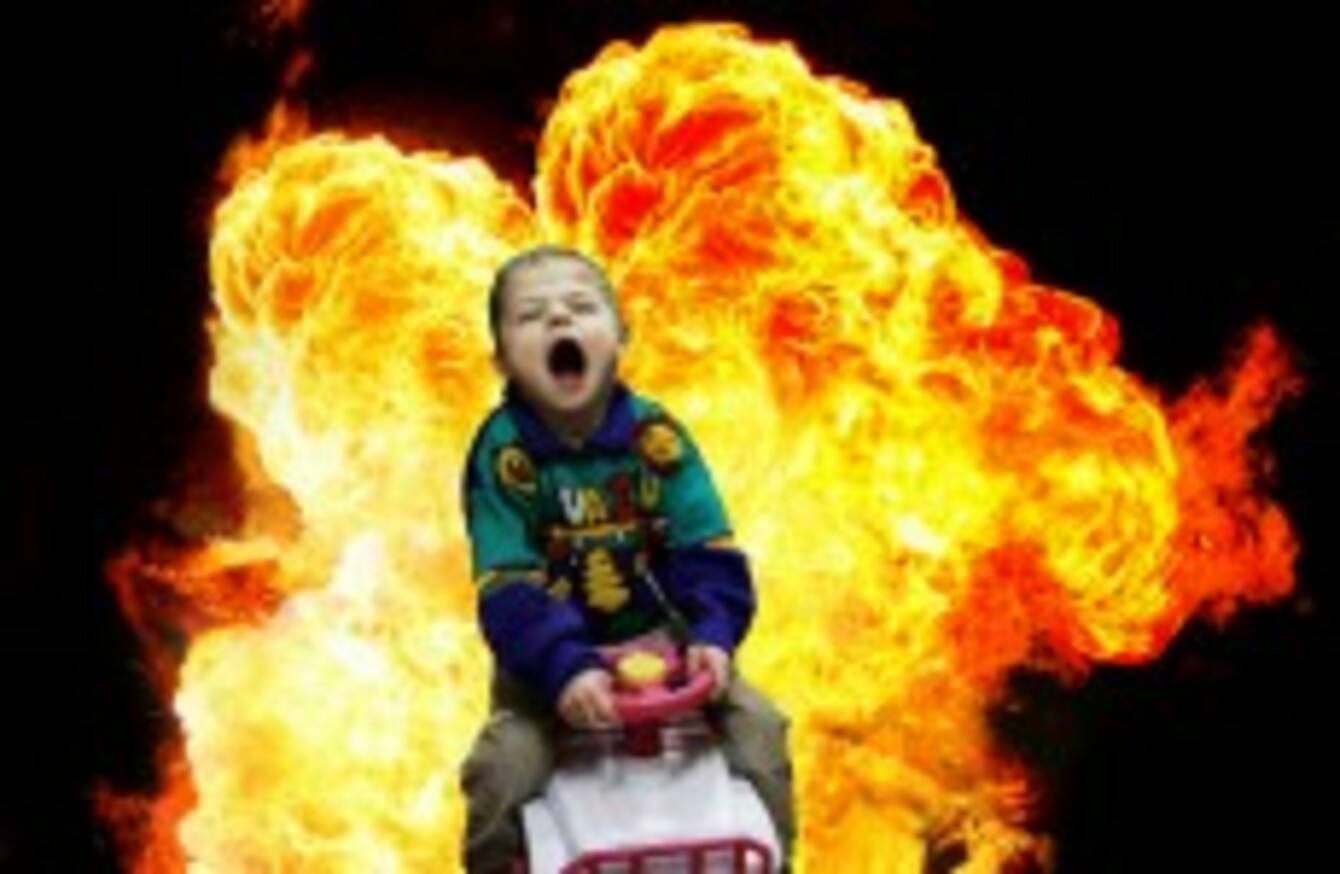 A child so hyperactive he caused an explosion.
A child so hyperactive he caused an explosion.
IN THIS SERIES, TheJournal.ie takes a look at an urban myth, old wives' tale, or something that your mammy told you years ago to see if there's any truth in it.
You've been there. A children's party. There's screaming, crying, roaring, shouting, all combined with a copious amount of fizzy drinks and sweets.
The latter is often blamed for the former, and it's easy to see why. Most junk food contains a lot of sugar, something which is associated with a quick energy boost. A bottle of Coca Cola contains 53g of sugar, or under half of your recommended  daily allowance (RDA), a 190g bag of Haribo jellies contains 120g, basically all of your RDA.
The thinking is that all this sucrose is too much for young children to handle, and the result is a bout of hyperactivity.
Researchers have looked into this — and found that sugar may not be the culprit.
Delicious, delicious party treats. (Image Credit: Shutterstock.com)
This is far from a definitive statement, but let's have a look at some of the studies conducted into the hypothesis.
There are many more studies out there on this topic, the majority of which align with the belief that sucrose doesn't significantly affect behaviour. If you've read an interesting one, feel free to discuss it in the comments below.
Placebo effect of expecting children to be hyperactive
Another viewpoint which has been studied is the idea that we simply expect children to become hyperactive. One study involved mothers who said that their children were sensitive to sugar being put in a room together with their children in a room, and the child given what the mothers believed to be sugar.
Despite the fact that the sugar was in fact a placebo, the mothers still reported that their children were "significantly more hyperactive".
So if it's not sugar in the junk food causing hyperactivity, are additives to blame?
Speaking to TheJournal.ie, Dr Aileen Connolly from the UCD Institute of Food and Health confirmed that "numerous studies suggest that sugar in a child's diet does not affect their behaviour and there is no clear scientific evidence to back up the claim", but Dr Connolly has also investigated a link between additives and hyperactivity in Irish children.
Could E numbers be to blame?
After all, this kind of junk food will often contain a lot of those infamous E numbers. Maybe it's not the sugar that causes children to bounce off the walls, but these processed ingredients.
#Open journalism No news is bad news Support The Journal

Your contributions will help us continue to deliver the stories that are important to you

Support us now
Dr Connolly's department investigated the levels of additives believed to cause hyperactivity, such as food colouring and preservatives, in the diets of Irish children. They found current levels consumed to be safe.
"A definitive link has never been established. Research in UCD found that Irish children were not exposed to levels of food additives suggested to cause hyperactive behaviour, not even slightly, but it must be said that this definitely was not proven".
Ingredients containing E numbers (Image Credit: avlxyz via Flickr)
As well as this, Dr Connolly advised that E numbers are not to be demonised. It's important to remember that they are actually classed as an E number by the European Union, and they only receive this seal once they have been deemed to be safe for human consumption.
While whole, unprocessed foods will always carry more health benefits, the research in UCD  suggested that the amount of food colouring and preservatives consumed by Irish children currently does not warrant cause for concern.
Although the evidence strongly suggests that sugary food and drink does not cause children to be hyperactive, this doesn't mean it's any better for them. The Health Minister has even hinted at introducing a sugar tax, something which is already in effect in several other countries. Sugar is still something to be enjoyed only in moderation.
Is there a myth you'd like debunked? Email nicky@thejournal.ie