DONALD TRUMP CLOSED the gap on Hillary Clinton in the latest national poll carried out by CBS and the New York Times.
Clinton now holds a six-point lead over Donald Trump, down from 10 points a month ago.
Meanwhile, Trump trails Bernie Sanders by 13 points – down from 17 points.
CBS reports that 52% of voters said they would like more choice and are not content with the options of Clinton and Trump.
The poll also revealed that eight in 10 think leaders of the Republican Party should support Donald Trump even if they disagree with him on important issues.
However, 84% of Republicans say their party is divided now and four in 10 of them feel discouraged.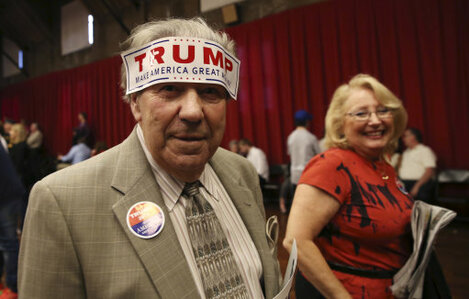 Source: Mel Evans
Meanwhile, 50% of Democratic voters say their party is united and 80% are hopeful about their party's future – compared to 55% of Republicans.
More than eight in 10 Democratic voters think the party needs to unite behind either Clinton or Saunders in order to win a general election – 83% think Clinton can do it, while 68% think Saunders could unite it.
Clinton maintains a seven point lead over Bernie Sanders in the race for the Democratic nomination.
Over in the Republican corner, more than six in 10 voters say they are somewhat surprised that Trump has emerged as the likely Republican nominee, especially Democrats.