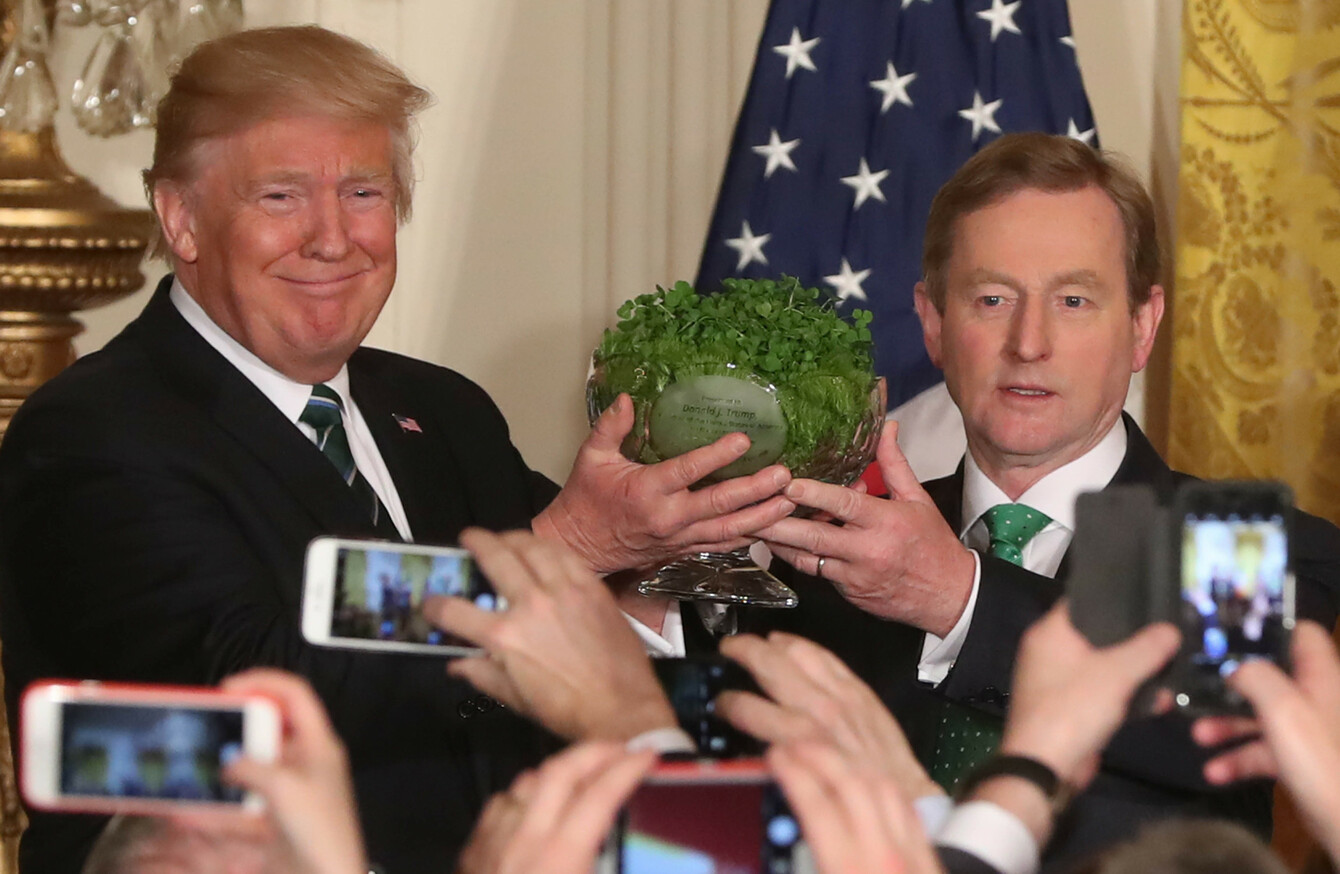 Donald Trump and Enda Kenny in the White House earlier this year.
Image: Niall Carson
Donald Trump and Enda Kenny in the White House earlier this year.
Image: Niall Carson
AN OVERWHELMING EIGHT in ten people in Ireland view the United States more negatively since the election of Donald Trump one year ago today.
By contrast, just one in 25 people say their opinion of the US has been changed for the better since the shock victory by the billionaire real estate mogul.
The figures come from a poll for TheJournal.ie and RTÉ's Claire Byrne Live undertaken by Amárach Research.
It asked 1,000 Irish adults whether their view of America had changed since the election of Donald Trump. The results were:
For the better – 4%
For the worse – 78%
It hasn't changed – 18%
The poll comes just days after it was reported that Taoiseach Leo Varadkar indicated again that the invitation for Trump to come to Ireland still stands, but that no arrangements are being made.
At the end of a trip to the US, Varadkar was asked whether a visit by Trump to Ireland would be "his worst nightmare".  He responded by saying it would not.
"I can guarantee you there are much more serious things that could befall Ireland than the visit of any individual," Varadkar said, according to the Irish Times.
The Taoiseach previously told the Dail that he would not be rescinding the invite to Trump. Varadkar said that to do so with be "inappropriate" and would create a "diplomatic incident".
The invitation to Trump to visit Ireland came from former Taoiseach Enda Kenny who made the annual St. Patrick's Day trip to the White House last March.
"And finally, I said in Ireland invitations are always returned and returned in kind," Kenny said while speaking from the White House lawn.
Source: TheJournal.ie/YouTube