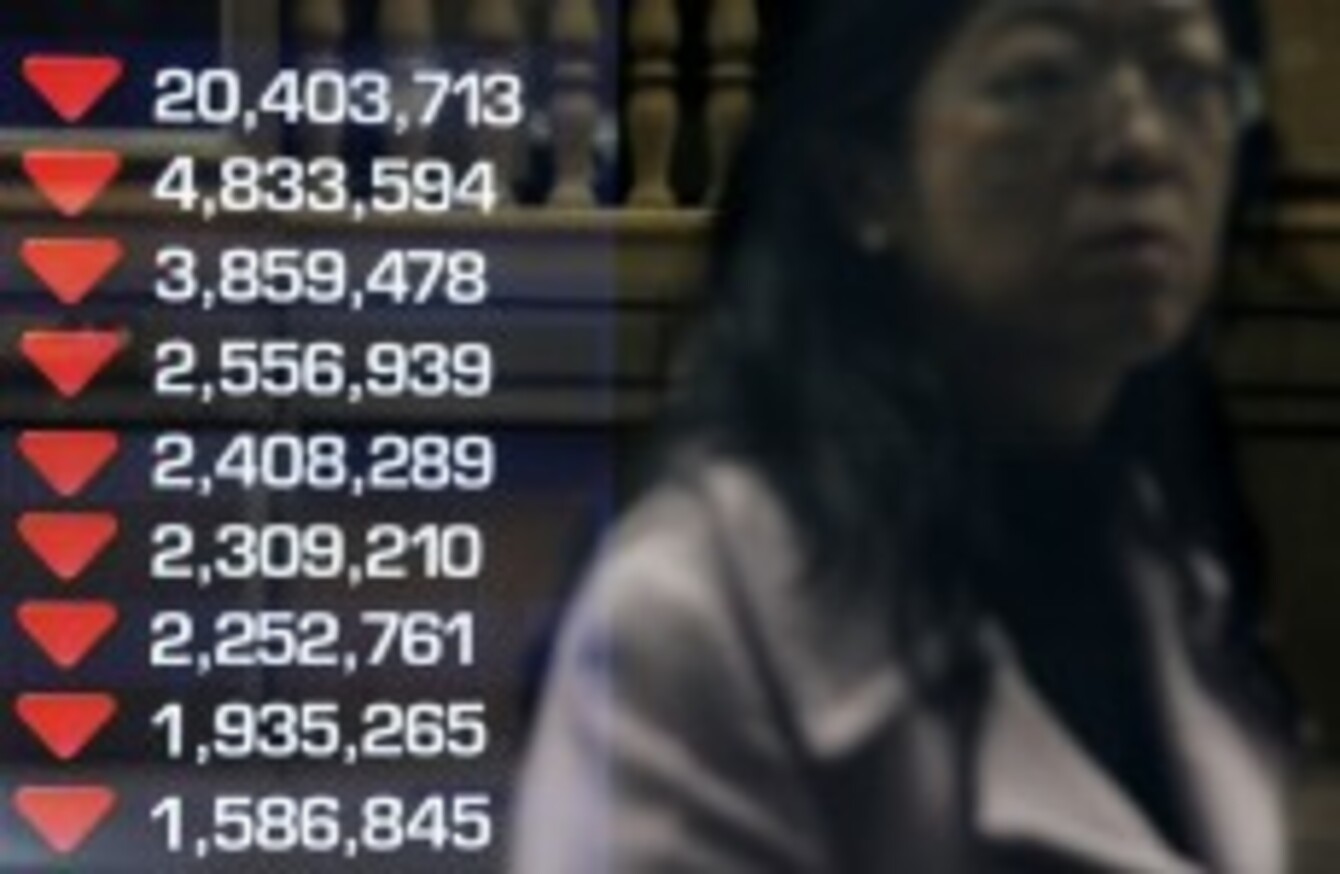 Image: Rick Rycroft/AP
Image: Rick Rycroft/AP
AMERICAN STOCK MARKETS have revived fears of a global market crash, opening with steep drops as European markets also reversed earlier gains by diving deep into the red.
Within an hour of opening the Dow Jones had dropped 400 points, around 3.5 per cent, while the NASDAQ and the S&P 500 both off by over 4 per cent – completely writing off the gains made in the aftermath of yesterday's Federal Reserve announcement.
Chief among the fallers are US banking stocks: Bank of America, having lost a fifth of its value on Monday, had lost another 9.5 per cent in the opening hours while JPMorgan Chase and American Express were both down 6.3 per cent.
The appalling American opening drove European markets back into negative territory too: having earlier posted modest gains, markets across Europe plunged back into loss-making territory.
At 3:45pm, 15 minutes before the close of trading, the FTSE 100 was down by 2.75 per cent – resuming its terrible run of triple-digit losses – while in Paris the CAC 40 was down by 4 per cent.
In Frankfurt, where trading does not end until 7pm Irish time, the DAX was also down by 4 per cent.
At home, the ISEQ index undid earlier gains by shedding 1.2 per cent, with losses led by Aminex, FBD Holdings and Independent News & Media.
The cost of borrowing for European economies also continued to fall, as the ECB's purchase of Spanish and Italian bonds continued to make a positive impact.
Borrowing costs for the UK, France and Germany all crept downward, while the yield on Spanish 10-year bonds fell under 5 per cent for the first time in weeks. Italy was poised to fall similarly, priced at 5.08 per cent at the time of writing.
The cost of borrowing for the Irish government – which is only hypothetical at present, given that Ireland is being funded by the EU and IMF – rose moderately to 9.569, its first gain for several days. The price of Greek and Portuguese borrowing also rose similarly.
On the currency markets the Euro fell against both the dollar and sterling, though by negligible amounts.