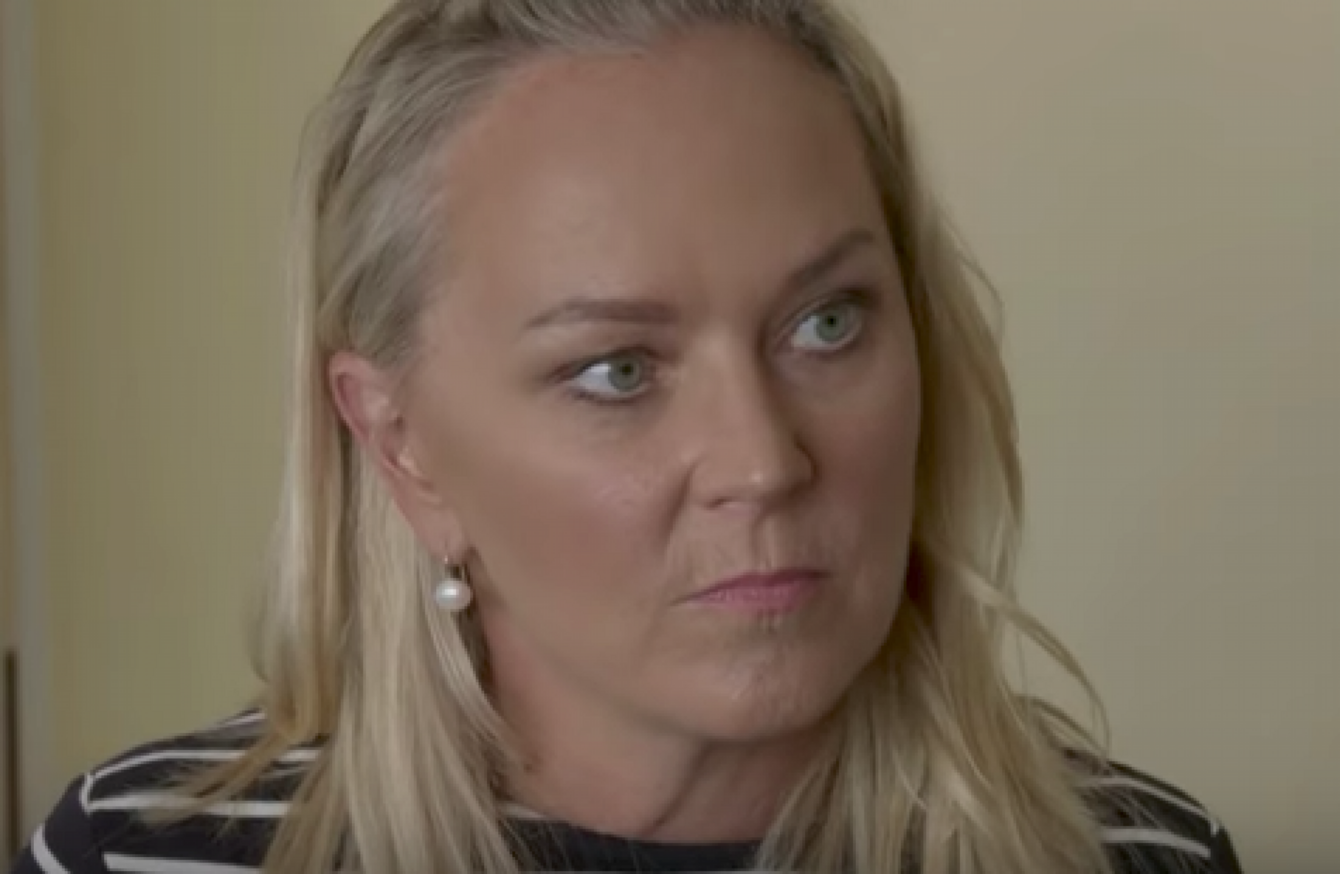 DR EVA ORSMOND is not a woman who minces her words. The owner of a weight management clinic and former Operation Transformation advisor, she believes in being honest when it comes to health.
If she saw that a person was overweight and living an unhealthy lifestyle, she wouldn't hesitate to tell them what to change. But her approach changed while making her new documentary, Ireland's Health Divide, as Orsmond's eyes were opened to the inequalities that exist in Irish society, and how they impact on people's health.
In the documentary she journeys to both affluent and under-privileged parts of the country – including Glasthule in Dublin and Moyross in Limerick. There, she was able to see first-hand the many factors that influence how and why people eat and live the way they do.
"It was quite a learning curve for me and also quite an emotional journey," Orsmond tells TheJournal.ie. "And basically people living in the disadvantaged areas, they will die six years earlier than people in the most affluent areas. And obviously the first thing you ask yourself is why is that? And obviously there are many reasons, but of course the lifestyle. Women in a low-income bracket would be eight times more likely to smoke, and they are twice as likely to be obese."
She admits that previously, her approach would have been unsympathetic. "The typical Dr Eva would say 'cop on, stop smoking, eat healthily, why you are giving this food which is not balanced to your children?'," she says.
"But when I met these people who are basically struggling every day, first of all obviously financially they would have very limited budget to buy the food, but it really came down to the education," she says, saying she was shocked to learn that less than 1% of the residents of Moyross would go to third level education, compared to 32% generally.
Source: RTÉ - IRELAND'S NATIONAL PUBLIC SERVICE MEDIA/YouTube
"We all, not just myself, tend to judge and make conclusions based off our background," she admits. Realising that others were not so privileged as her forced her to re-assess her approach to how others live their lives.
Orsmond was born and raised in Finland, which has a very good education system and social security system. "I don't want to give an impression I was born with a silver spoon in my mouth," she says. "My mother was a single parent, my parents divorced when I was four and we weren't very wealthy at all in the beginning."
However,Orsmond realised had been judging people because of her background.
"Where now I meet people who don't really have those opportunities – people are struggling with substandard housing, they have financial struggles… you're talking about safety, there could be domestic violence," she says.
In the documentary, she learned about the term 'cognitive load'.
"You have so much going on in your mind… that you have to think about where to get the money for the food, you maybe have to think about the safety, you maybe have a chronic condition that you are worried about your health," she explains. "So there are urgent matters, so these long-term health goals like stop smoking, exercising, eating healthily, there is no space in the mind to basically address those issues."
'If you have struggles, it's easier to get a takeaway'
This health divide in Ireland and how it is caused by social issues, says Dr Orsmond, was something she hadn't thought about before.
"I have lived in third-world countries like in South Africa for five years, and I have travelled extensively and worked for three months in Bangladesh. But when you are working and you are living in third-world countries you understand, you expect these things," she says. "But when you are living in a country which is affluent and most people are doing pretty well, it's very hard to believe that only a kilometre on that side of the highway people are three times more likely to die of cancer for example."
Source: TheJournal.ie/YouTube
Her time in Moyross, she says, made her appreciate what she has herself in her life.
Orsmond admits to being shocked about some people's circumstances – such as the woman she met who was pregnant with her third child and at risk of being made homeless. The woman told Orsmond that she barely had the time to eat most days.
"If you have struggles, you will say it's easier and quick to get a takeaway. You're not thinking about the long-term consequences that your child is not going to create a lot of food dislikes, you are not getting a balanced meal," she says. "The priority there and then is to give the child something to keep the child alive."
"So these facts were a shock to me, and it's one thing when you read in the papers but when you actually see and meet the people behind the statistics, it comes to life," she says. "And I think for me it was definitely something that has been hidden very well from me and I honestly don't think that I am totally living in a bubble."
While interviewing one participant, she asked her does she read the small print on food labels. She soon realised why that was not a priority.
"First of all there was the economic interest – that she needed to buy the food as economically as possible," says Orsmond. "And then obviously there was the knowledge to know how to do it. I almost probably would be able to buy much healthier food with the same budget – but I have a very good knowledge and I have also an interest and I know what difference it makes, whereas she is struggling with so many other things."
Sugar tax
With Ireland's obesity rate climbing, some have posited the idea of a sugar tax as a way to help reduce the number of fizzy drinks bought. But Orsmond is against the idea of a sugar tax, believing that is education that is needed instead.
"A few cents on a fizzy drink doesn't make any difference if people don't know why and what else they have to choose," she says.
So what can be done? "[There is] definitely a lot of place for improvement, but exactly how and where to start, I wouldn't be able to give you the solution. One thing is that I think we should put more money and effort in primary healthcare."
She points out that a GP she interviewed in Ballymun told her that in their area, there was one GP to 2,600 patients. The national average is one GP to 1,600 patients. In addition, the workload tends to be even higher in disadvantaged area because there can be people with higher healthcare needs. In addition, Orsmond points out that people can be put on long healthcare waiting lists.
Losing common sense
There are many ideas that abound about the 'best' diet. What does Dr Orsmond think about clean eating, paleo, or other diet movements?
"I think sometimes I feel we are losing the common sense. Because really we should go back to what we used to do, 50, 70 years ago – go back and buy our vegetables and our meat and our fish in the original format," she says. "I think we are eating so many processed and ready-made meals. While saying that, I know that people are busy."
At the moment 70% of Irish people are overweight or obese. I don't think now you have to look at what is clean eating, what is this, what is that. You have to get rid of the excess weight and create a better lifestyle. It's very simple in those terms – we need to eat more vegetables. We need to have a variety in our diet, but there is a place as well in our diet for the naughty things and the chocolate bar and the brownie and all the rest.
It turns out Orsmond isn't immune to a treat herself, saying she is passionate about healthy eating because she has a "horrendous sweet tooth".
Many parents experience issues feeding their children health food, and no house is immune to a battle at the dinner table. What's Orsmond's advice for parents in this area?
"You are the greatest role model to your children, so why did the child become like this. So are you 100% sure that you are not yourself a picky eater?" she says.
She explains that it is the weaning process that is most important. "That's when the first flavours we start to introduce to the child. And if that process is not done properly, that's where we [get in trouble]," she explains.
"Because even when the child is five, six months age and you're starting to introduce the first potato, the first sweet potato with a bit of milk, you are going to find that the child will be spitting it out many times and you need to introduce it. It's very much the same process that you have to do the problem is now the child is six or seven and they have their own will, and they most probably have learned to manipulate and it is a question of control."
Orsmond – who says she raised two "very strong-willed boys" herself – advises parents to start the process slowly, bring the child food shopping – and make sure you're all eating the same foods.
Overall, did the documentary encourage the outspoken doctor to perhaps be a little more gentle with her words?
"I think it's always important to say things the way they are and motivate people," she says. "I think there's a lot of this idea in Ireland that doctors they see somebody who's overweight or obese, they give them the prescription for a high blood pressure tablet or low cholesterol instead of saying to them 'if you lost two stone you wouldn't need to take high blood pressure tablets, you wouldn't need to take cholesterol-lowering drugs'.
I think we need to tell people exactly how things are but also give people hope that if they improve it's a huge change that it can make.
But overall, the experience has taught her the value of realising that we are all different – and some people struggle more than other.
"We need to be very careful before we do these judgements. We need to walk in the shoes of these people, and I have to say it made me very humble because I think many of these people are doing fantastically," she says. "It's not that these people are unhappy it's just we could improve their lives and make Ireland a better place if we could get these few things improved."
Watch the documentary Ireland's Health Divide on the RTÉ Player.