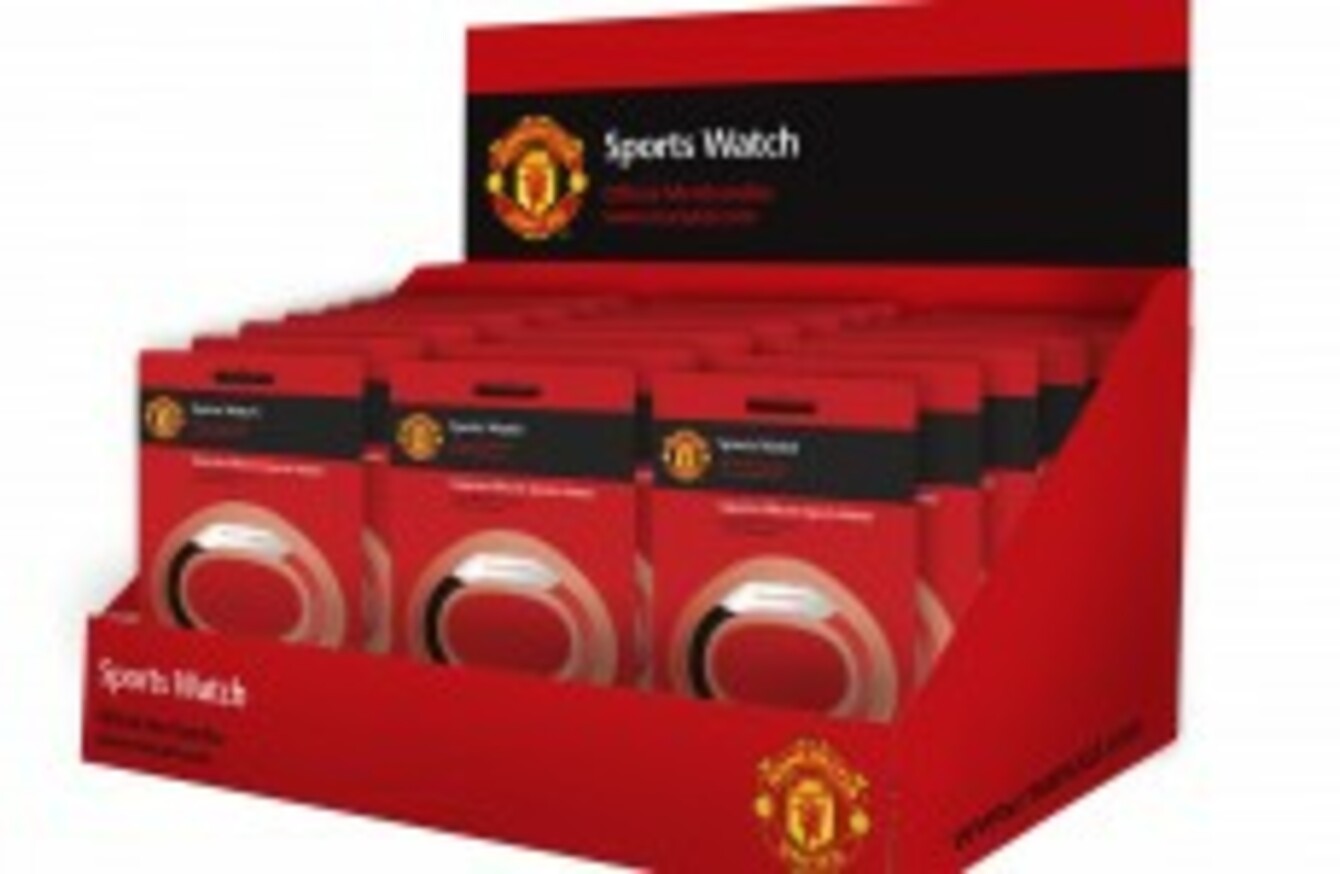 Pride Watches are producing watches for Manchester Utd (pictured) and Liverpool, going on sale from mid-November.
Pride Watches are producing watches for Manchester Utd (pictured) and Liverpool, going on sale from mid-November.
BARELY NINE MONTHS ago he broke into tears before the panellists on Dragon's Den – revealing how he had been left high and dry after a previous investor pulled out of his company, leaving him broke and with stock he couldn't sell.
Now, Jason O'Reilly's customised sports watches are available all over Ireland – and soon, all over the world.
The Dubliner's company, Pride Watches, has finalised deals which will see it provide branded watches carrying the colours and crests of Manchester United and Liverpool – with both going on sale in two weeks' time.
It's been a remarkable turn of fortune for Jason, who could not even afford the petrol to travel to the Dragon's Den pitch from his home in Cavan – but who left with a €45,000 investment from Blacktie owner Niall O'Farrell and technology investor Seán O'Sullivan.
O'Reilly had previously been employed as a bricklayer and moved into window washing when the trade dried up, and says the idea for the silicone-strapped watches came to him when his sister complemented him on a watch he had bought on a plane.
"Would you believe, it was Friday the 13th when I went on to do the pitch," Jason told TheJournal.ie, chuckling at the unlucky connotations of the date.
The two pitches that had been presented before Jason's had both won investment from the Dragons – leaving Jason to fear that he wouldn't be able to secure a third consecutive investment.
Shinawil

[the show's producers]

said to me, 'It's Friday the 13th – would you like to change your dates?'

I said there was no need – 'Believe you me, I've had enough bad luck!'
(YouTube/Tdix88)
Now the company has sold 70,000 watches in seven months – with another 120,000 in circulation – and its products have been officially licensed by the GAA, which offers the watches in the colours of all 32 counties.
Now the major deal with Manchester United and Liverpool will see the company go global – with the watches sold in the club stores at Old Trafford and Anfield, and on each club's online stores, visited by millions each month.
Jason told TheJournal.ie that the deals involved significant scrutiny from the clubs – including audits of his Chinese supplier's plant to ensure ethical working conditions there.
He added that he hoped to continue expanding into the British market next year, declaring: "England is where it's at," revealing his ambitions to provide branded watches to every single Premiership club by the end of the year.
Not fit to rest with that, he's also hoping to secure a merchandising deal with a major airline, and is submitting a proposal to that airline in the coming days.
None of the success would be possible without the support of the Dragons who had invested €22,500 each in his company in exchange for stakes of just over 15 per cent.
"Niall O'Farrell is the main man, he's absolutely fantastic," Jason says. "He's constantly with me, bringing me to gigs and showing my face around."
He says Seán O'Sullivan, too, is equally supportive – and has encouraged his business partner Bill Liao to offer whatever help and guidance he can while O'Sullivan is away travelling. Liao is now a director of the company, alongside Jason and his wife Anjanette.
The launch of the United and Liverpool watches will come barely over a year after Anjanette saw the first TV ad for the last season of the show, and suggested that Jason submit a pitch.
With the watches costing about €1.60 to produce and import (rising to about €3 once brand licensing is taken into account) and set to retail for €10 each, the brief TV appearance is set to prove a worthwhile investment.