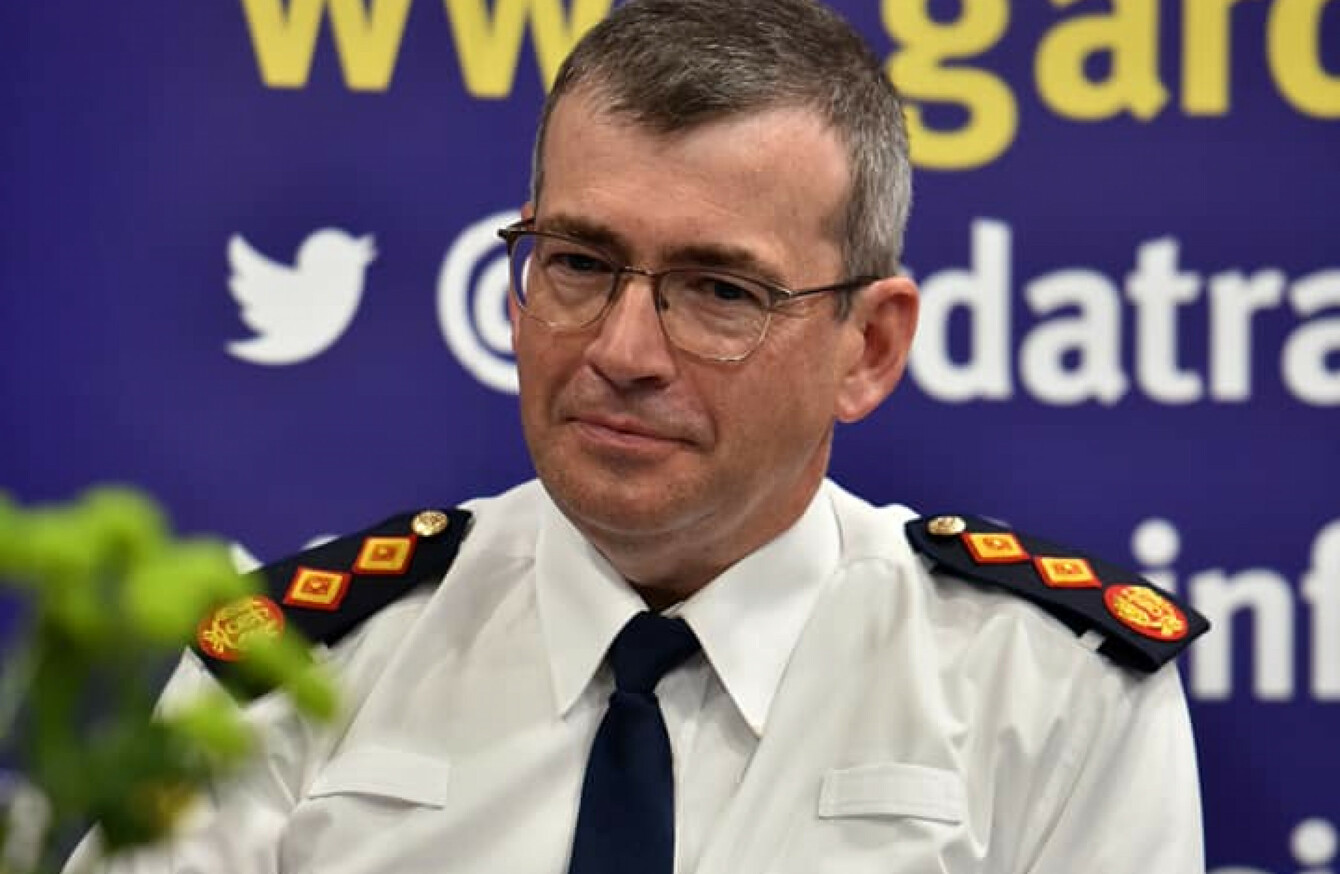 Image: An Garda Síochána
Image: An Garda Síochána
"WE WILL HAVE a workplace of openness and transparency, of equality of opportunity, and of management at all levels speaking with and listening to the people they work with. We will be more open to concerns raised internally and externally."
There were big promises from the new Garda Commissioner Drew Harris after he was attested last night. It is his first day on the job and while he has worked his whole life in policing in Northern Ireland, there are some very specific challenges facing him in his new organisation.
Today he said An Garda Síochána is now his team and that means these are now his hurdles to overcome. 
Morale
Despite the pay deal agreed after a threatened strike by garda associations in 2015, these representative bodies maintain that morale is still extremely low.
Earlier this year, the Policing Authority was told that less than 40% of the force had signed up to the new ethics code, which includes a duty to uphold the law, honesty and integrity, respect, privacy, transparency and "speaking up" about wrongdoing within the force.
The Garda Representative Association (GRA) said its members were not willing to declare adherence to the code while the organisation was not delivering on its commitment – particularly in the area of training. It said gardaí would be unable to live up to everything promised by the code without this training.
Speaking of training, it was also recently pointed out that management still does not have a plan to address the backlog of gardaí who are waiting to do driver training. This training would allow them to drive tactically with blue lights and sirens – something as many as half of rank-and-file gardaí are not currently trained for.
Research commissioned by the GRA also found more than one in six frontline gardaí may have Post Traumatic Stress Disorder and members who answered the survey said the impact of traumatic events in the job is often ignored or dismissed by management.
Public confidence
The latest public attitudes survey commissioned by An Garda Síochána revealed 89% of people have a medium to high level of trust in the organisation. More than three-quarters said they were satisfied or very satisfied with the service provided to the local community.
But while members of the public may be, for the most part, satisfied with their local on-the-beat officers, perceptions that the organisation is well-managed have decreased year on year since 2015. In the most recent survey, just 46% of respondents said they believed the organisation is well-managed.
Resources
While the organisation has been recruiting since the embargo was lifted in 2014 and is aiming to increase numbers to 15,000 by 2021, there are concerns about the way this recruitment is being managed.
The new Commissioner will have to ensure that mistakes of the past are not repeated, as previous reports pointed to serious failures as a result of poor supervision of new recruits. There is currently a shortage of sergeants at local stations and the promotions process is moving slowly, as deployment of new gardaí and retirements of experienced officers continues. 
And don't forget about Brexit, for which there still does not seem to be a solid plan because we do not know what kind of border will exist between the north and south of Ireland. It is likely that significant resources will have to be moved to the border either way. 
Tribunal fallout
Next month it is expected that the findings of Charleton Tribunal into allegations made by garda whistleblower Maurice McCabe will be made public. Included in this will be an opinion, based on evidence heard at the Tribunal, on whether there was a smear campaign against the whistleblower orchestrated by garda management.
Although this did not happen under Harris' leadership, it will fall to him to respond to whatever the findings are. 
Justice Sean Ryan is taking over from Judge Peter Charleton for the next module of the Tribunal. This module is dealing with any other complaints by a member of An Garda Síochána who made a protected disclosure prior to 16 February 2017, and who feels that they were targeted or discredited as a result.
The past
There are a number of historical scandals that have plagued the organisation.
#Open journalism No news is bad news Support The Journal

Your contributions will help us continue to deliver the stories that are important to you

Support us now
The relationship between An Garda Síochána and the Department of Justice has not always been the most healthy and has produced some controversies of its own over the years. Most notably, perhaps is the departures of former secretary general Brian Purcell and Justice Minister Alan Shatter following a number of scandals under the watch of former Garda Commissioner Martin Callinan. 
There were questions raised recently about the process for appointing the new secretary general Aidan O'Driscoll as the position was not advertised before he was given the job. Prior to this, the role had not been filled in a full-time capacity for seven months. 
That relationship is expected to undergo some changes as the government plans to split the Department of Justice into two divisions under the titles 'Home Affairs' and "Justice and Equality'. Home Affairs will be responsible for crime, policing and immigration with Justice and Equality responsible for civil law reform, courts, equality and integration.
We heard in recent months from the Garda Ombudsman's office on two controversial cases, the murder of French woman Sophie Toscan du Plantier and the killing of Fr Niall Molloy. In both cases Gsoc was highly critical of missing material – missing evidence in the Toscan du Plantier case and files that were lost in the Molloy probe.
And people have not forgotten about the breath test figures scandal, which saw an additional million 'phantom' tests logged on the garda Pulse system. Or the inaccurate recording of some homicide crimes by gardaí – figures increased by 20% after a review of the classification of these types of offences. 
'We need to move quickly'
Speaking last night after he was attested as Garda Commissioner, Harris said under his watch An Garda Síochána would deliver the "highest possible" operational and ethical standards.
"We need to move quickly to adapt to a changing society to ensure that we are strongly positioned to protect the State, communities and the vulnerable," he said.
Harris said he wanted An Garda Síochána to be responsible, accountable and fit for purpose – but he has a long list to get through before he will be able to tick those boxes.