A STABBING, A kidnap, petrol bombs being thrown, an assault with a hatchet, reports of people entering an estate armed with a shotgun.
These are just some of the incidents which have occurred in Drogheda, Louth, in the last week as gardaí attempt to keep a lid on a growing feud which locals say is about to boil over. 
As a result of the growing violence, gardaí in the Louth division have had their annual leave restricted.
Recently, two feuding gangs have been vying for the lucrative drug trade in the town with reports from local representatives that some children are being forced to work in criminality as a result. 
Councillors in the area are now pleading with gardaí and the Government to quell the feud before someone is killed. 
On 5 July, Owen Maguire was shot a number of times at his home on Cement Road in Drogheda. He somehow survived being shot at least four times at close range with a handgun.
Since this shooting, the two gangs have been exchanging tit-for-tat attacks – mainly in the form of firing shots at people's homes. But violence erupted in the last week between the two gangs – one predominantly comprising members of the Traveller community, the other settled men. 
At 11.15pm on 8 November, a petrol bomb was thrown at a house in the Termon Abbey area. There were no injuries but there was some minor damage to the property.
At 11.29pm that same night, gardaí received reports that a man had entered a halting site in the Cement Road area allegedly carrying a firearm. Officers attended the scene, but nothing was found.
Then at 2am, again in the Cement Road area, on a roadway in a residential area, there were reports of an apparent petrol bomb. There was damage to the roadway but no one was injured.
Also at 2am, gardaí were called to a car on fire in the Laurence's Park area – this car has been taken for a technical examination. And at 5.20am at St Laurence's Drive, just a short distance away, another car on fire was reported.
Earlier this week, a man in his 20s was found beaten and with stab wounds that were described as non-life threatening. It is understood the man was found in the bathroom of the property. A Stanley knife may have been used in the assault.
A garda spokesperson confirmed five men – one teenager, three in their 20s and one man in his mid 40s – were arrested a short time later and were held at Drogheda and Dundalk garda stations. Four of them have since been released, with a file sent to the Director of Public Prosecutions.
And then in the latest incident, a viable pipe bomb was found attached to the car of an innocent relative of one of those suspected of being involved in the feud.
As a result of this latest incident, gardaí in the Louth division have had their leave restricted in a bid to quell the violence. A specific policing plan has also been drawn up to make sure garda visibility remains high.
Local councillor Kenneth Flood, who is also the chair of the Drogheda council's Joint Policing Committee (JPC) said that the violence is having a serious impact on the people who live in these neighbourhoods. 
He told TheJournal.ie: "We know there were tensions on the ground. We were hearing rumblings – there was just something in the air that something bad may happen.
"In July, after the shooting, gardáí openly said they didn't have the resources to police the division. Then you have the cops saying they don't have enough people to do the job. The criminals are looking at this and they're thinking, 'It's Christmas'. 
"We currently have five active murder investigations here – that's the highest in Ireland excluding Dublin. They are a huge drain on the resources. 
What we're saying to the gardaí is this; there needs to be intelligent led operations not just a lucky dip of catching someone at a checkpoint. It's going to come to someone losing their life here. If that happens, you can bet that there'll be retaliation and this will go on and on.
The man suspected of carrying out the shooting in July this year is also suspected of carrying out a number of shootings in the Dublin area.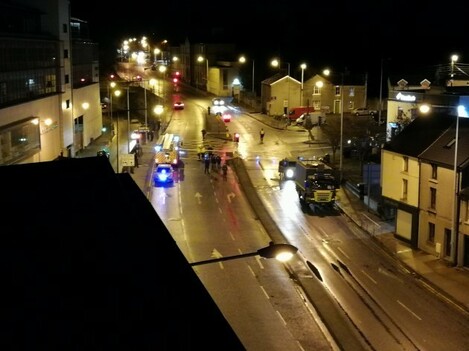 An aerial view of the army bomb squad yesterday.
Gardaí are aware of all the crimes he is suspected to have carried out. There are specific orders in place when dealing with him in order to safeguard officers. 
Fine Gael TD Fergus O'Dowd echoed Flood's call for extra resources and said that gardaí in Drogheda must be afforded all the necessary resources to tackle recent crime in the town.
He was speaking after reports of a failed pipe bomb attack in the town this weekend and he has appealed for calm in the wake of the incident.
"The people of Drogheda are seriously concerned at the news that a pipe bomb was planted in the exhaust pipe of a car in the town this weekend. Thankfully the bomb failed and nobody was hurt."
However local people are aware of a number of incidents over recent weeks and months attributed to gang activity in Drogheda and it is clear that we must take swift action to put this to an end.
"It is imperative that all necessary resources be made available to An Garda Síochána in Drogheda in light of the very serious and concerning criminal activity that has taken place over the past number of days, including the extremely worrying use of possible viable bombs, the use of firearms and attempted murders.
"We must do everything to prevent loss of life in the locality in relation to this feud. I appeal to all concerned for calm in the wake of this attempted attack. And I encourage anyone with information to contact the gardaí as quickly as possible. Any information could help to save lives."