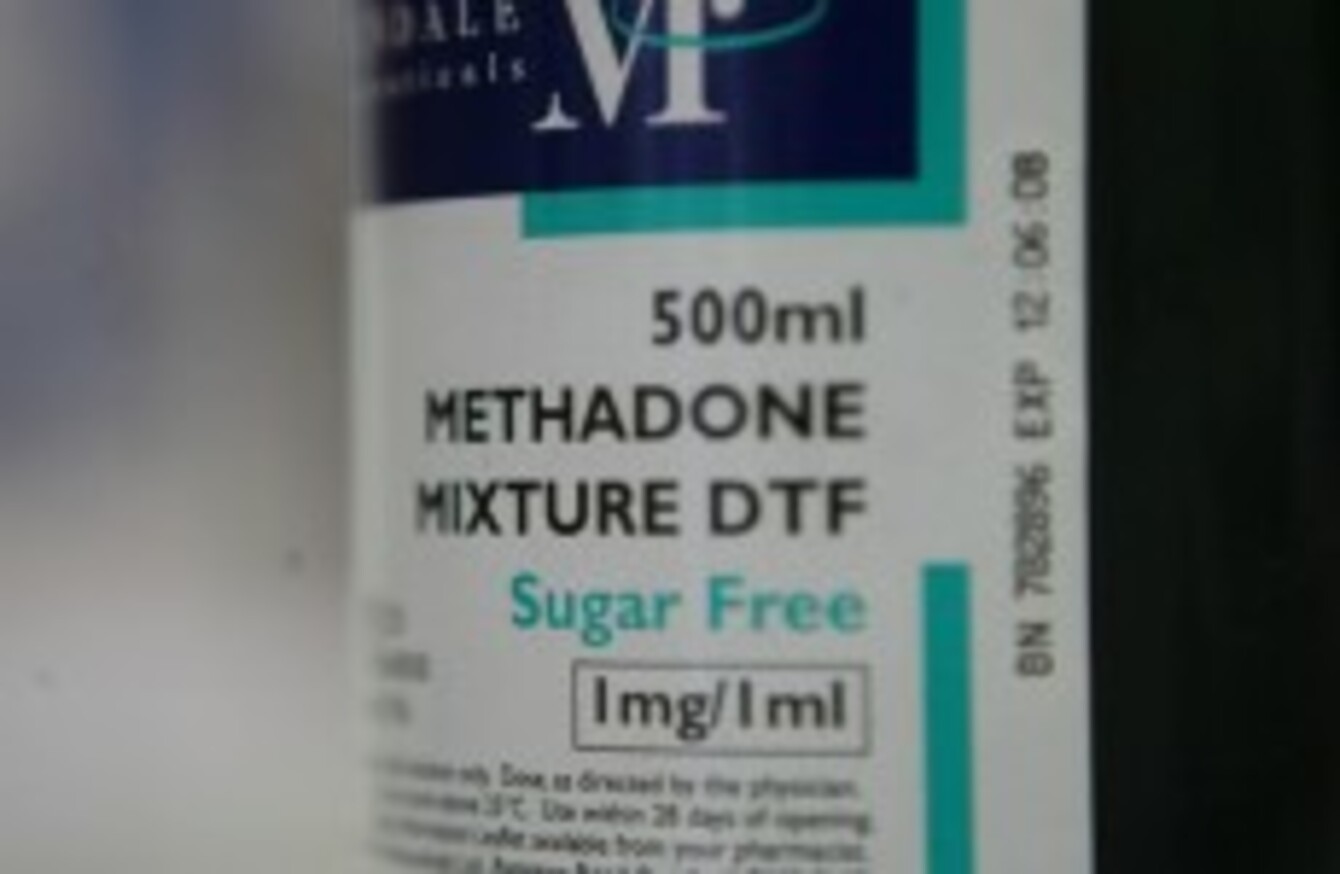 Methadone bottle
Image: PA Archive/Press Association Images
Methadone bottle
Image: PA Archive/Press Association Images
IN THE LAST three years the number of people on methadone has increased, according to figures released by the the Minister for Health James Reilly.
Answering a parliamentary question on how many people the HSE provides opioid substitution, mainly methadone, to drug users, Reilly said there were 9,615 patients receiving opioid substitution treatment as at the end of January 2014 according to the National Drug Treatment Centre Central Treatment List.
These users are getting treatment in a number of treatment settings, which include primary care through GPs, community pharmacies, satellite clinics that facilitate opioid substitution provision through community pharmacies, treatment centres where opioid substitution treatment is dispensed on site and residential rehabilitation facilities.
Numbers
Between 2011 and 2013 the numbers on methadone was as follows:
2011 – 9,251
2012 – 9,419
2013 – 9,652
Methadone can be provided as a maintenance or detox option for treating heroin addiction.
The aim of moving addicts on to methadone is to stabilise the person on methadone or to work towards being drug free in the short or medium term.
Earlier this year, the Health Research Board found that 113 methadone users died of an overdose in 2011, almost double the number of heroin users.
The number of heroin users dying has been declining for several years now, with 60 dying in 2011.
The methadone figures show that the number of users of the prescribed heroin replacement who died doubled in just twelve months.
Death
The comprehensive investigation by the Health Research Board found that the vast majority of the methadone users who died were using other drugs at the same time, which led to many of the overdoses.
Tony Geoghegan, CEO of Merchants Quay told TheJournal.ie, that while it is better to have people on a legal and controlled drug like methadone than heroin, but said it would be better if people weren't left languishing on methadone, with no care-plans in place to motivate them to get entirely drug-free.
"Figures show that as much as 50 per cent of people on methadone can be on it for over 5 years," said Geoghegan.
He said that methadone was a good resource to get people out of the "vicious circle" of drug-taking but said there was not enough focus or resources were put in place to investigate the underlying reasons why people take drugs in the first place.
Goal of getting drug-free
"It is often seen as a success to get people onto methadone. It's like they have ticked the box and then that's it, that's enough, and no further resources are targetted at the people who should really have a goal of getting of drugs entirely," he said.
He said that more should be done to ensure that just like any other patient, there is a care plan in place for their recovery.
"People should be encouraged to get off methadone and some stage. Often, people will go to their doctors and say that they want to reduce their methadone dosage or come off it, and their doctor tells them they are not ready. Of course, a doctor has to think about their patient, but they can often over medicalise those on methadone. If someone comes to them to voice a motivation to come off methadone, rather than shoot down the idea, they should be encouraged and nudged gently towards a path of someday being drug free," he said.
Geoghegan added that there should be short and long term goals put in place for those on methadone so that they are not on the drug for many years.
Substitution
The Health Service Executive (HSE) told TheJournal.ie that the vast majority of the almost 10,000 people on methadone in Ireland are on methadone substitution treatment which is "medium to long term" while a small number are on detoxification programmes.
When asked how long it is envisaged that people stay on methadone, the HSE said:
A number of people each year cease substitution treatment for a variety of reasons; successful detoxification, self discharge from the maintenance programme are two common reasons and it is currently not possible to follow people up post-discharge to measure progress.
They added however, that a better index of length of time on methadone is to examine the numbers on long term methadone, rather than the average length of time.
The latest data show that just over 500 people were on methadone for more than 10 years, a little over 5 per cent of the total.
They said the forthcoming implementation of the national drug rehabilitation framework should provide better information on the numbers successfully exiting methadone substitution treatment.