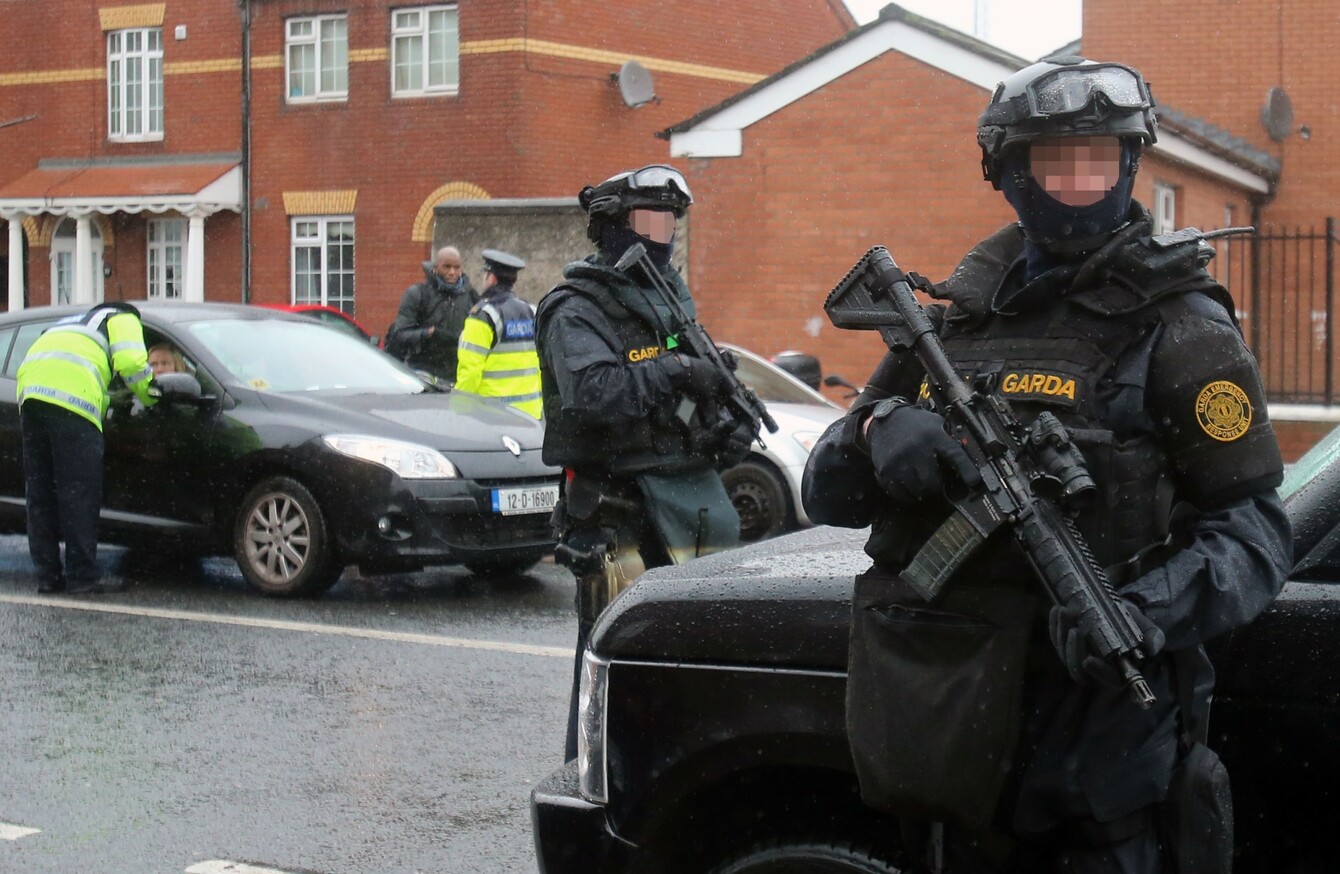 Armed Response Unit carry out checkpoint in Dublin earlier this year.
Image: Niall Carson/PA
Armed Response Unit carry out checkpoint in Dublin earlier this year.
Image: Niall Carson/PA
DUBLIN'S INTERNATIONAL IMAGE has taken a hammering in the past 12 months and it is up to its citizens to stand up and fight to reclaim the city.
This is the message from Dublin's Lord Mayor Brendan Carr ahead of next week's crime forum.
The aim of this gathering, chaired by Joe Duffy, is for the everyday Dubliner to get up in front of gardaí and local representatives and highlight what's happening in their communities.
The word from Councillor Carr is that every shooting, whether it happens in the inner city or the suburbs, affects every Dubliner.
Speaking to TheJournal.ie, the Lord Mayor said: "These shootings are in our city and everyone in the city is afraid. This is going on in my city.
"So we're saying 'let's have a discussion'.We're trying to have a town hall meeting.
"Rather than a politician chairing the meeting, we're getting Joe Duffy.
"In Dublin , we're afraid."
The Lord Mayor believes the city has been attacked in the wake of the Brexit vote and the last thing it needs is for more bad press to label the capital as a lawless badland.
He added: "After Brexit, we had a lot of commentary saying we didn't have the infrastructure for the financial institutions or didn't have this or that.
The last thing we need is international events happening where the world media is looking at us and they're seeing Dublin as something like Chicago in the 1920s.
"The city belongs to everyone but everyone hasn't had the opportunity to stand up and say 'I have an idea'.
"Every citizen has an opportunity to have their voices heard."
A large gathering is expected at the forum at Dublin's City Hall next week.
However, it is not just the scourge of organised crime which is expected to feature.
The capital's drug problem, evident on a raft of street corners, continues to be a major problem for the city.
But drug abuse charity Merchant's Quay Ireland (MQI) believes the problem simply cannot be ignored and should make up a major part of the discussion at the crime forum.
It, along with other charities, believes in the concept of supervised injecting centres.
This, it hopes, would lead to a serious reduction in on-street drug use as well as a drastic decrease of diseases spread by the sharing of dirty needles.
Spokesman for MQI, Mark Kennedy, said the issue of drug crime needs to be treated at its root cause.
He told TheJournal.ie:
 If you go down a treatment route, rather than a criminal one, you'd get more of a result. What's happening now isn't working.
"You have users injecting on the streets, which is a crime. They're doing it in front of tourists and locals. What we're saying in favour of the injecting centres is that the drug user will be injecting around treatment professionals.
"These are people who are trained in getting people off drugs and bring them back into the fold of society. If you shunt addicts from one place to another, you're not going to solve the problem. It's not going to do any good."
The crime forum takes place in City Hall on Wednesday 28 September.
Admission to the forum is free but spaces are limited and those interested in attending are being asked to email cityhall@dublincity.ie or call 01 2222918/2204.