HUNDREDS OF SWIMMERS took part in the 99th Dublin City Liffey Swim today.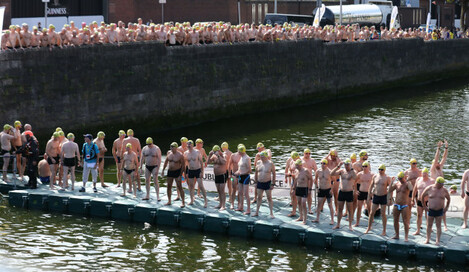 Swimmers waiting to kick off the 99th annual Dublin City Liffey Swim Source: Eamonn Farrell via RollingNews.ie
Braving the cold waters, the swimmers took to the river to swim 2.2 kilometres from the Rory O'Moore Bridge to North Wall Quay in front of the Custom House.
The Liffey Swim is one of the most famous open sea races in the world. Dublin is the only capital in Europe to have a swimming race through the middle of the city.
The swim was first hosted in 1920 when it was devised by Bernard Fagan, an engineer in Dublin Corporation, whose aim was to show citizens the good quality of water in the Liffey. 
Winner Paul O'Flynn Source: Eamonn Farrell via RollingNews.ie
Paul O'Flynn, an RTÉ News journalist and member of the Half Moon Swimming Club, was the first to pass the finishing line after 43 minutes this afternoon.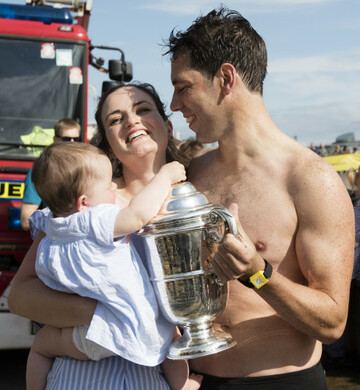 O'Flynn with his wife Mary Regan and baby Ellen Source: Eamonn Farrell via RollingNews.ie
The winner of the women's race was Triona Muldoon from Clontarf Swimming Club, who finished the swim at roughly 37 minutes. 
The Dublin City Liffey Swim is regarded as an open sea race because for much of the race swimmers are battle against an incoming tide and are swimming in salt water.
The swim is run each year by Leinster Open Sea Swimming, a voluntary not-for-profit organisation. It's the final swimming race in the Leinster Open Sea calendar over more than 35 open sea races. 
And so, that wraps up another year of the Dublin City Liffey Swim.