AS A 16-YEAR-OLD walking through Dublin's inner city in the autumn of 1982, German exchange student David Jazay fell in love.
Not with a Dublin cailín, but with the city itself. Specifically, with the Liffey quays.
He had also recently discovered photography and was struck with an idea that would meld the two. Unbeknownst to him, he would continue to work on that project for decades.
With incredible foresight for a teenager, Jazay knew that the city's heart would be unrecognisable in a few years.
"It was such a unique era in time," he told TheJournal.ie from his Berlin home. "Just before the buildings were torn down or completely made over. It was obvious it was going to change soon."
Auction House and Antique Dealers on Lower Ormond Quay, Dublin. Ultra High Resolution image stitched from 12 medium format negatives taken in 1991. Source: David Jazay
As he strolled along the quays on a Sunday morning in October, Jazay said he realised "all these marks or undeveloped or derelict places" would not feature in an inner city in Germany.
To him though, it wasn't bleak. It was beautiful.

"It was like a big adventure playground," he recalls. "It was exciting. It gave me a sense of white space and colour schemes that were visually very stunning…especially for a continental European."
More than 30 years later, Jazay is ready to exhibit some of the work that he produced as a result of those teenage musings.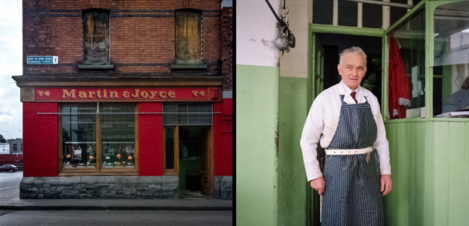 Patrick Gallagher of Martin+Joyce's Butcher shop, the last working premise in this block of Benburb Street, Dublin. Photograph taken in 1992, diptych assembly in 2014. Source: David Jazay
"I became attached to the area and after I studied film in Munich, I returned each year [for a decade] to continue the project. With each visit, the photos got better and better."
It was only this year that the computer technology caught up with his obsession of photographing every single detail of a particular structure. As a result of improvements in computer image processing technology, he was able to turn his fine-grained medium format negatives into high-resolution panoramas with huge levels of detail.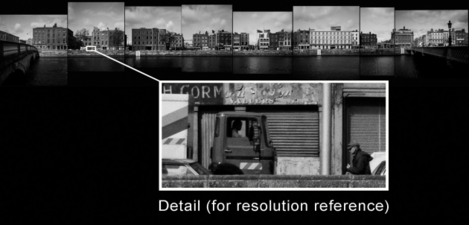 Part 5 of a continuous high resolution black and white panorama of Dublin´s North Liffey Quays from Sarsfield Quay to Eden Quay, taken in 1985, digitally combined in 2014.
The result – large, composite images – allow the the view to experience the city, exactly how it was in the 1980s and early 1990s.
Dublin Bazaar, Thomas Street West, showing typical period advertising, and a salesman. Photographs taken in August 1988, combined into a diptych in 2014.
His panoramas capture the entire Liffey quays before redevelopment to ensure "new generations experience the Dublin of that pivotal era, now largely lost to visual memory".
A statement on his website is appropriate to quote on this Bloomsday weekend.
Much like in that famous quote attributed to Joyce "… if the city one day suddenly disappeared from the earth it could be reconstructed …(from his Ulysses)", I too had the madness and the ambition to photograph every building under threat of demolition, document what I could of the last cornershops, antique furniture businesses and auction houses along the Liffey.
I concentrated on Georgian architectural ensembles (still posessing grandeur in dilapidation) and the poor but lively Inner City neighbourhoods: shopkeepers, marketers, children playing in the streets, local characters.
This whole microcosm would irrevocably change a few years later, in the boom years of the Celtic Tiger.
Now, after 30 years, I am able to realise my vision (unattainable with solely chemical photographic technique), of re-constructing a memory of Dublin's Inner City in the pre-boom years – and to bring back this vision to the place that inspired it.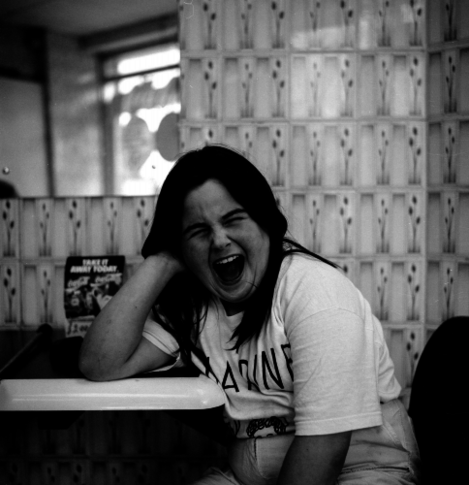 Catherine Walsh, of Walsh's Takeaway, King Street North, Dublin, 1988 Source: David Jazay
At the end of the 1980s, Jazay made a film about the area and became involved in discussions about what should become of the quays.
He says he wanted to portray the inner city as "alive" and not a derelict space.
"I had this vision of beauty, grand architectural heritage and a face of the city that was only appreciated by very few people."
He explains that caring about the architectural heritage at that stage in the '80s was an "exotic concern" given the grave economic problems.
That vision he had as a 16-year-old has now come to life. He says the little sketches he made back in 1982 are "pretty close" to what his full Dublin Before The Tiger exhibition will be.
Through his images, he wants to show the way of life that is now gone, recreating time and space in a myriad of ways. He focuses on the corner shops that are no longer trading, the family businesses that were cherished and the auction houses that were numerous in the area.
T.J. Downing's grocery shop on Benburb Street, Dublin, with Mr. Downing. Photographs taken in 1992, assembled to diptych in 2014
"At that time in history, the buildings were very rich in layers. You could see the origin in the Georgian buildings, and then the additions and the repairs. The signs of people living there for centuries.
"They are a rich, layer-cake of history."
Mac's Home Bakery in King Street, Dublin, has closed down. Images taken in 1991 and 1992, combined into a diptych in 2014.
He says he has shown the images to people who never saw Dublin during this period and they could not name the city.
They thought the images were "very exotic", he added.
While the images you see here are scaled down, Jazay imagines them being shown as large, immersive prints at an exhibition.
He wants them to be printed in large sizes – at least 2×6 metres.
Umbrella Manufacturers: Derelict building on Essex Quay, Dublin, 1988. Medium format photographs taken in 1988, combined to panorama in 2014.
"What you can't see in the web images, is the amazing level of detail," he explains.
The artist wants people to be able to stand in front of the images and "take in the architectural detail, see where each shop and sign was, discover the very fabric and the marks left on the buildings".
He will be in return to Dublin in July for the PhotoIreland Festival, hoping to drum up interest in exhibiting the work.
His ideal location for the event would be a non gallery space, such as a disused building.
"The response so far has been really good," he says. "Maybe it's the right time – after the boom, after the crash. There is an awareness of what has happened."
The presence of traditional techniques and businesses has also struck a chord, given the resurgence in small enterprises recently.
Michael Rynne's Barber shop (new premises), Ellis Quay, Dublin, 1991. A well-known character, Mr. Rynne opened this shop in 1992, a few hundred yards from his old premises, which had to be abandoned due to dereliction.
And, does he still love Dublin?
Yes. He never came back during the so-called Celtic Tiger but he had "heard stories".
"So when I came back after a 20-year hiatus, I wasn't shocked or surprised. But, compared to what it could have been, I still liked the quays and the new boardwalks. It's nice to have less traffic and more people.
"Of course, it would have been good to see more of the buildings kept but it is still immensely lively and the basic heights of the buildings have remained.
"I also like the modern aspects of Dublin – the open society, the multiculturalism. I still love the city and look forward to coming back."
To see more, check out David Jazay's website.