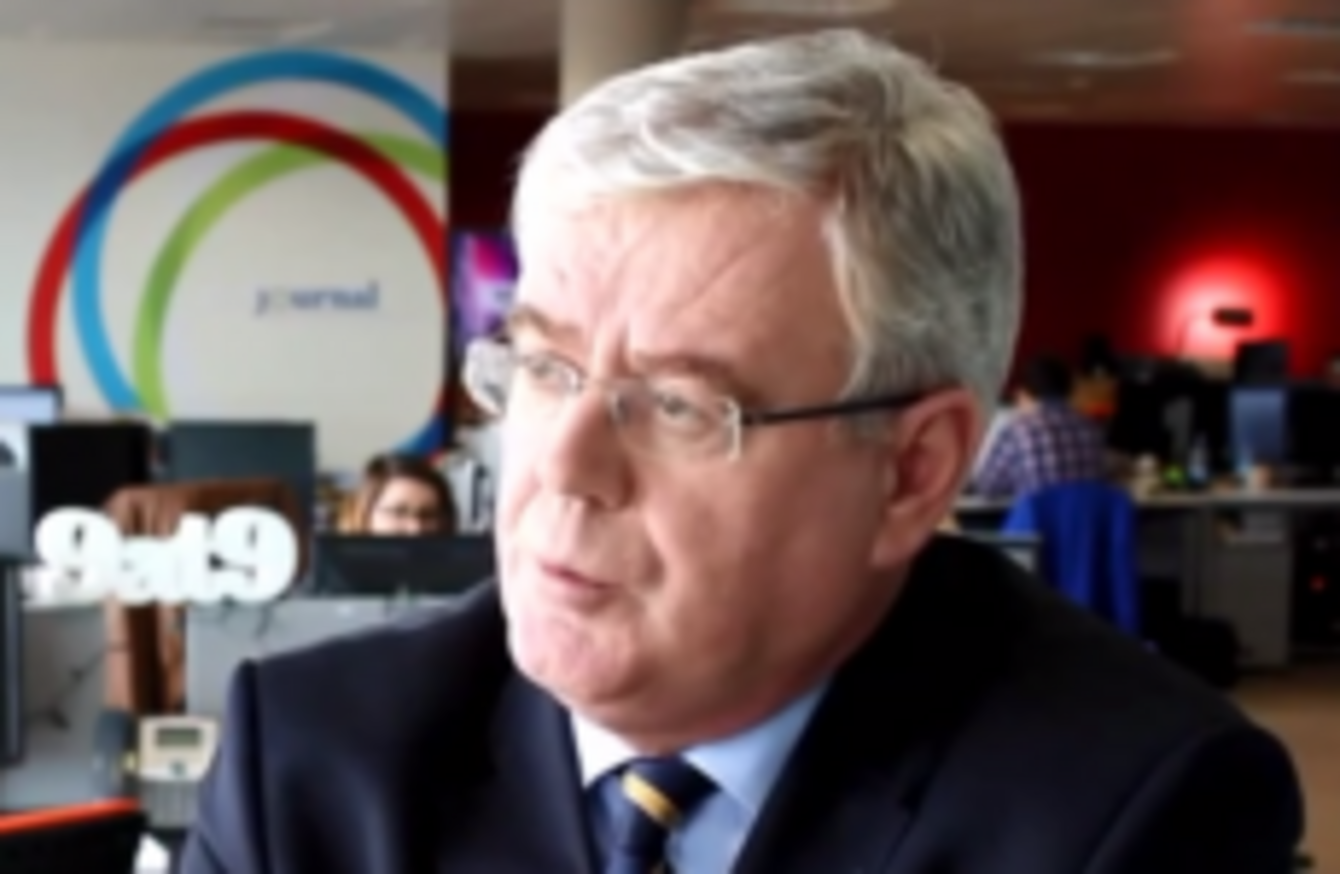 Eamon Gilmore speaking to TheJournal.ie last year when he said he WOULD run for re-election.
Image: TheJournal.ie
Eamon Gilmore speaking to TheJournal.ie last year when he said he WOULD run for re-election.
Image: TheJournal.ie
Updated 6.50pm 
FORMER TÁNAISTE EAMON Gilmore has announced his decision to step down as a TD at the next general election.
The former Labour leader has said he will not be seeking the party's nomination to run for re-election in Dún Laoghaire at the next election. He has been a TD there since 1989.
Gilmore resigned as tánaiste and Labour leader in May of last year after the party's disastrous local and European elections performance in which it won just 7 per cent of the vote.
The announcement confirms rumours which had been circulating in political circles for the past month that he would not be contesting the next election.
This was despite Gilmore having publicly indicated he would run again when he resigned as Labour leader last year.
When TheJournal.ie asked several Labour sources about the speculation in late April we were told categorically that the party expected him to run for re-election.
A party spokesperson denied that Gilmore planned on stepping down on 22 April, saying:
Suggestions that Eamon Gilmore has decided not to contest the next election are entirely untrue.
Gilmore was first elected to the Dáil in 1989 as TD for the Workers' Party having previously served on the local council.
He was later a Democratic Left junior minister in the Rainbow Coalition in the 1990s.
He became leader of Labour in 2007, leading them into government with Fine Gael in 2011.
The announcement that he is stepping down could pave the way for Labour senator Aideen Hayden to run for the party in Dún Laoghaire.
She was among those to tweet her thanks to Gilmore today:
The party could also run its Seanad leader Ivana Bacik who was Gilmore's running mate in 2011. Local councillor Deirdre Kingston is also expected to be in the running.
In a statement announcing his decision today, Gilmore said:
It has been an honour to represent the people of Dun Laoghaire for the past 30 years and I am also informing members of the Labour Party, in my constituency of my decision. I wish to thank the members of the Labour Party in Dun Laoghaire for their continued support and friendship, and the staff with whom I have worked for their loyalty and hard work. I also wish to acknowledge my Parliamentary colleagues in the Labour Party, and from across the political spectrum, for their work in the public interest.

Above all, I wish to thank my wife Carol and our children Grainne, Oisin and Sean for their love and comfort through all the challenges of my public life. And I want to thank too our extended family, and our personal friends who were always there for us.I look forward to continuing to contribute to public life and the Labour Party.
Tánaiste Joan Burton, who succeeded Gilmore last July, paid tribute to her predecessor's "immense contribution to public life" saying he worked "tirelessly and painstakingly" to bring about the economic recovery.
Though the pair were widely thought to have had an uneasy relationship when she was his deputy, Burton said that Gilmore deserves "lasting credit" for his role in the same-sex marriage referendum victory.
Public Expenditure and Reform Minister Brendan Howlin said that Gilmore's contribution to the economic recovery has been "immense" and described the former tánaiste as "a patriot".
"At a time of genuine peril for his country Eamon put Ireland first. He did so knowing that the political journey would be a difficult one both for himself and the Labour Party," he said.
"Just as the overwhelming Yes vote for equality was one of Ireland's finest hours, it was one of Eamon's finest hours too," she said.