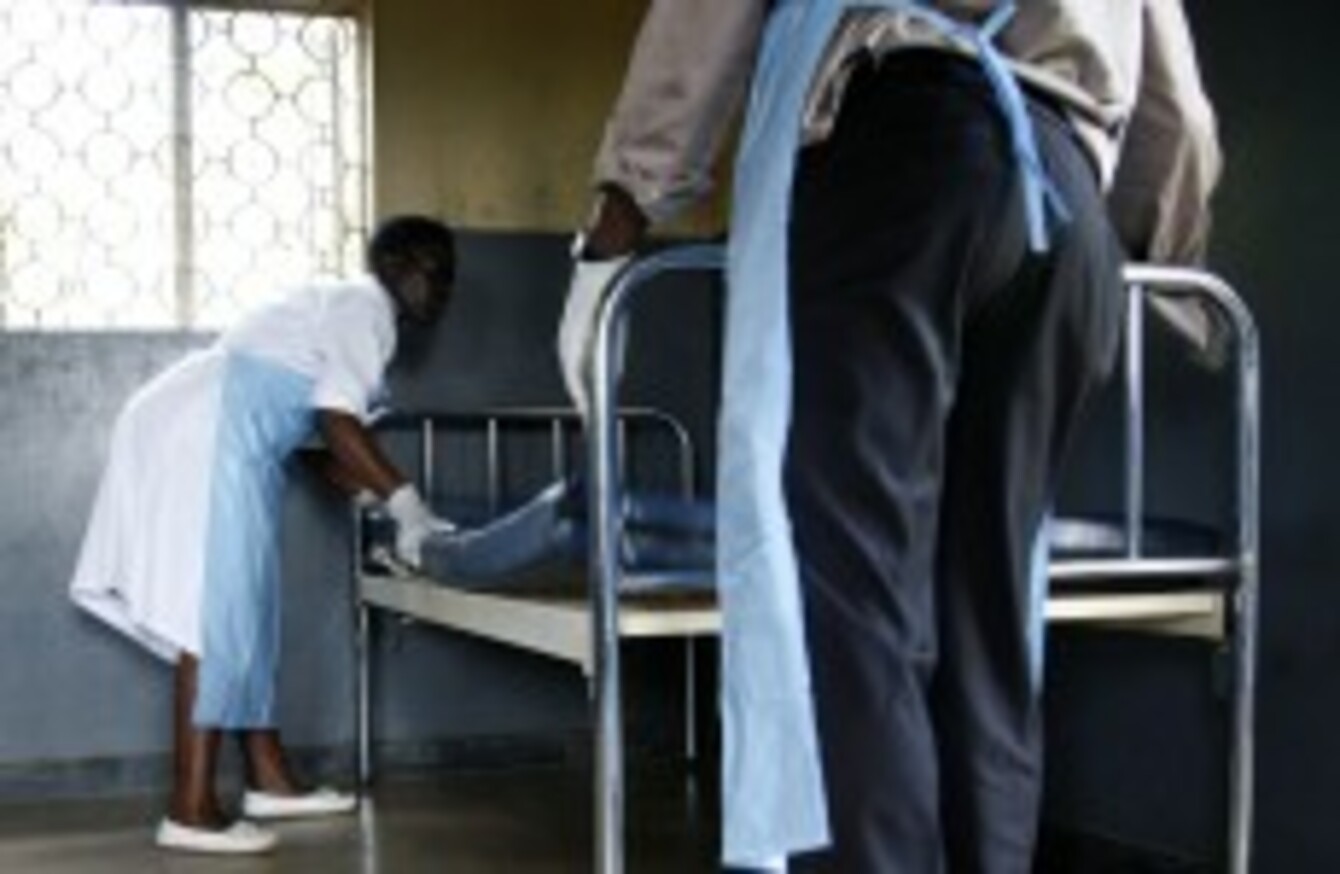 Medical personnel prepare an isolation unit to care for Ebola victims
Image: AP Photo/Rebecca Vasie
Medical personnel prepare an isolation unit to care for Ebola victims
Image: AP Photo/Rebecca Vasie
AN IRISH AID agency has confirmed that the deadly Ebola virus has spread from Guinea into the neighboring West African state of Liberia.
The report released by Plan Ireland confirms two separate cases of Ebola infection in Liberia, fuelling claims that the outbreak is becoming a regional epidemic.
The most virulent strain of the deadly disease has already ravaged the forest area of southern Guinea, claiming the lives of over 60 people and infecting many more.
The first confirmed death in Liberia occurred in the Lofa County area, and involved a woman who had fled Guinea to seek refuge following the death of all her household members.
WHO health specialists are also investigating the death of a health worker at the border point between Foya in Liberia and Gueckedou in Guinea.
Medical reports state that the health worker had experienced "bloody vomit and bleeding from nose".
Ibrahima Touré, Plan International Country Director in Guinea said that Ebola was one of the most virulent diseases known to mankind, with a fatality rate of up to 90 per cent.
"Communities in the affected region stretch across the borders and people move freely within this area," he said. "This poses a serious risk of the epidemic becoming widespread with devastating consequences".
Communities, especially children, in the border areas between Guinea, Liberia and Sierra Leone are vulnerable and need immediate support. A large scale preventive action will need to be put in place rapidly
Travel has been restricted in 'high risk areas' of Guinea, Sierra Leone and Liberia alongside the implementation of a host of safety precautions
Those working or living in affected areas have been advised to travel only if on essential business, to regularly wash hands, and to avoid eating bush meat.
The deadly disease is suspected to have originated in the Democratic Republic of Congo in the mid 70s where there have been 8 outbreaks; the most recent in 2012 killed 34 people and infected 64.
Once contracted, the Ebola virus attacks the body and overwhelms the immune system – it attacks every organ and tissue of the human body except the bones and skeletal muscles.
Bleeding then occurs from body orifices and gaps in the skin. Huge loss of blood, renal failure, or shock leads to death – all these can happen between 2 to 21 days.