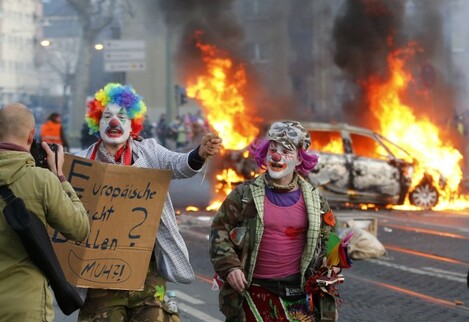 Source: Michael Probst
VIOLENT PROTESTS BROKE out ahead of today's official opening of the European Central Bank's new headquarters in Frankfurt, with cars set on fire, windows smashed and stones thrown by anti-capitalist activists hours before a massive rally.
Already seven police cars have been set alight and at least two officers have been injured, a police spokeswoman told AFP.
Source: Michael Probst
Water cannons have been used to disperse groups of protesters near the security zone erected around the 185-metre, €1.3-billion new skyscraper in the east of the city.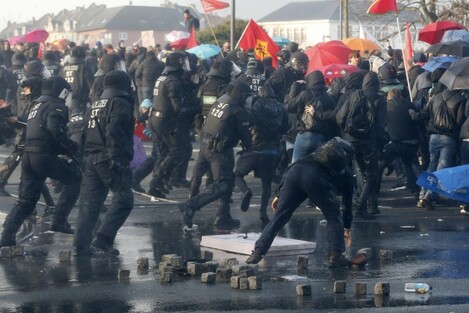 Source: Michael Probst
Demonstrators were "aggressive and violent," the spokeswoman said.
A number of violent incidents had been reported around the city, centred around the new building itself, but also Frankfurt's venerable Alte Oper concert hall and the financial district, she said.
An AFP journalist at the scene said windows had been smashed at the citizens' centre and burning tyres were in the road nearby.
Convoys of police vans sped through the streets of the financial capital with sirens blaring and helicopters hovered overhead.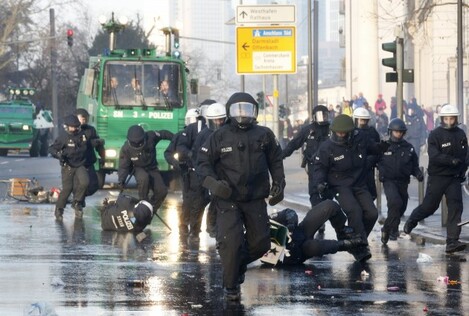 Source: Michael Probst
The ECB is officially inaugurating its headquarters this morning in the presence of central bank president Mario Draghi and around 100 invited guests. But security is extremely tight with more than 10,000 anti-austerity demonstrators planning a protest rally.
The ECB already moved into the new building situated on the Main river running through Germany's financial capital late last year.
Given the raging Greek debt crisis, the central bank has decided to keep the inaugural celebrations relatively low-key with just 20 guests from outside the institution.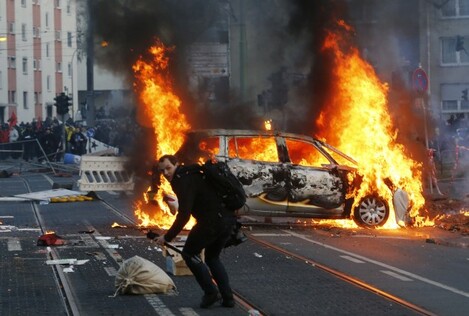 Source: Michael Probst
Marching under the Blockupy banner, groups such as Attac, but also unions will join in the rally, alongside representatives from Greece's leftist Syriza party, and Miguel Urban of Spain's Podemos.
A special train of 800 activists arrived from Berlin and 60 buses from 39 different cities across Europe. Despite the early violence, police said they expected most of the protesters to remain peaceful.
Massive police presence 
"It is one of the biggest deployments ever in the city," a police spokeswoman told AFP.
At a rally in Frankfurt in March 2012, a policeman was seriously injured when protesters went on the rampage in the city centre, causing around one million euros worth of damage.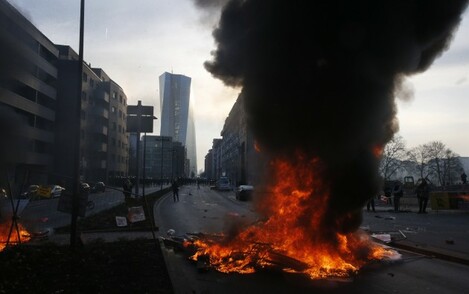 Source: Michael Probst
At a subsequent demonstration in May 2012, there were around 20,000 marchers, but the rally remained mostly peaceful as more than 5,000 police sealed off large parts of the city.
"We see the European project in mortal danger. Instead of austerity and social cuts, we're calling for more democracy and a fairer balance of power in Europe and within the ECB," a number of unions wrote in a joint statement on Tuesday.
Demonstrators plan to gather in the centre of Frankfurt at 2pm local time and march through the city at 5pm.
- © AFP 2015.