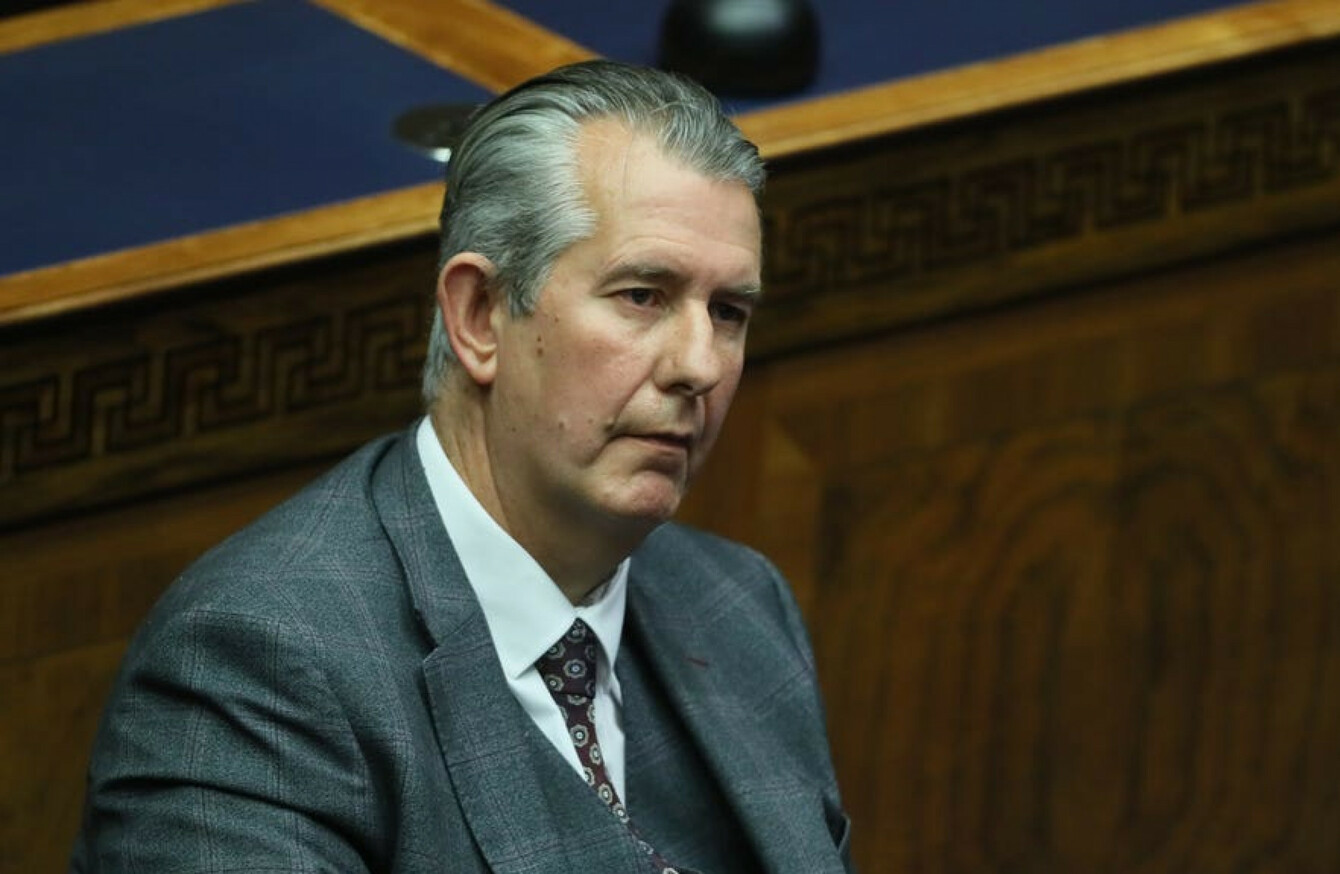 Edwin Poots
Image: PA Images
Edwin Poots
Image: PA Images
Updated Jun 18th 2021, 4:43 PM
TAOISEACH MICHEÁL MARTIN has called for "calm heads" following the dramatic events that have seen Edwin Poots signal his resignation as leader of the DUP. 
Poots last night announced he is to step down after only three weeks in the job following a party revolt against his decision to nominate First Minister Paul Givan. 
Poots made the nomination despite a large majority of his party's MLAs and MPs voting in an internal meeting against his decision to reconstitute the power-sharing Executive with Sinn Féin after the UK government had committed to introducing Irish language legislation.  
Givan remains in the post of First Minster but it is unknown whether that will remain the case when the DUP chooses a new leader. 
Speaking to reporters this afternoon, Deputy First Minister Michelle O'Neill said that she had not spoken to either Givan or Poots since yesterday's developments. 
"I think the issues for the DUP are for the DUP, but where I'm concerned is where it impacts on the day to day governance," she said.
That's where I would have concerns. So I hope that they get to the point where they're able to resolve their internal issues and we get back to basics and dealing with good power-sharing and delivering public services.
"I hope that they're able to get their act together, and they are able to come back and join the rest of us who want to make power-sharing work."
The DUP is believed to be seeking a swift process to replace Poots, with Jeffrey Donaldson the leading contender.  
Speaking about the upheaval over the past 24 hours, Taoiseach Micheál Martin earlier described what transpired as "very turbulent", adding that it is very important that all stakeholders work collectively towards stability.
He said now is a time for "calm heads", stating that the Irish government will work with all parties and the British government to protect the Good Friday Agreement. While he said it has been a very difficult period, Martin said it is important that "we stay focused on the issues".
A plenary meeting of the North-South Ministerial Council that was due to take place in Armagh today was postponed last night.
Martin said the Irish government will work with the new leadership of the DUP whenever it emerges, and will work constructively with the new leader.
He added that, having met with many people in the north in recent times, he feels there is a "genuine desire" for politics that works in Northern Ireland. 
Minister for Foreign Affairs Simon Coveney had earlier said that there much "uncertainty" around whether Givan will continue in the role of Northern Ireland's First Minister but that an election was not inevitable.   
Party backlash to the decision by Poots to nominate Givan without the support of this party led to his resignation as leader but Givan still remains as First Minister. 
Should the DUP fail to back Givan or find a replacement an election may be the result. 
Speaking on RTÉ's Morning Ireland, Coveney said there is much uncertainty over Givan's position. 
"We'll have to wait and see what happens in relation to Paul Givan as First Minister, as of now he is the First Minister in Northern Ireland, he has been selected and elected yesterday into that position. But of course, so much has changed in those 24 hours that you'd have to say there's a lot of uncertainty in relation to that issue," he said. 
He added the DUP "should be given space to the respond to the challenges they're facing"
"The tension and divisions within the party in the build up to the nomination of Paul Givan to be first minister were a step too far for many, in fact a majority in the party. And so now we're, we're back to square one."
A meeting of the North South Ministerial Council scheduled for today in Armagh was cancelled last night as a result of yesterday's' dramatic developments with DUP party officials reportedly telling Givan that it would not be appropriate for him to attend. 
Coveney said however that he does not think that yesterday's developments and unionist objections to the Northern Ireland Protocol mean an election is inevitable. 
No, I'm not sure about that. When you hear a number of the party leaders talking, many of them want to get back to focusing on doing their jobs. There are many in the DUP who will look at the interests of Northern Ireland and determine that what's needed now is stability and political leadership as opposed to an election at a time of real polarisation and tension across Northern Ireland.
He added: "Don't forget, the difficulties and the tension linked to the implementation of the Protocol and the fallout from Brexit is still very live across Northern Ireland."
O'Neill was asked about the prospect of an election this afternoon, saying that it's "hard to say what's going to happen next within the DUP".
"I hope that we are able to continue to share power. If we run to the end of the mandate well and good, if there has to be an election before that, then we will fight that election," she said. 
O'Neill added that she felt the DUP were "at a crossroads". 
The choice is to work with the rest of us to deliver on power-sharing, to deliver rights or to continue to resist those very rights that obviously seen the ousting of Arlene Foster over gay conversion therapy or Edwin Poots yesterday over language rights.  
Poots' boot 
Ulster Unionist Party leader Doug Beattie said the events were "inevitable" and that "Unionism deserves better".
"The unedifying events around the DUP leadership were entirely inevitable," he said.
"It doesn't matter who the leader of the DUP is because they will face the same critical issues which were negotiated and agreed on their watch.
"Unionism deserves better and Northern Ireland deserves better. Unionism needs modern, confident, progressive leadership and a road map for recovery and renewal."
He added: "The Ulster Unionist Party will concentrate on providing that leadership and remains a united, welcoming party that is looking to the future.
"For too long Unionism has been fed a diet of fear and negativity. We have the talents and abilities to project a more confident, inclusive, vibrant brand of Northern Ireland unionism across the United Kingdom and beyond.
#Open journalism No news is bad news Support The Journal

Your contributions will help us continue to deliver the stories that are important to you

Support us now
"There are huge challenges ahead, but by setting out a proper long-term strategy for the future, we can lift unionism to a better place."
We're in the middle of a pandemic, waiting lists are sky rocketing, our economy is in crisis. Maybe it's time for some grown up politics. I, for one, am sick of this soap opera.

— Colum Eastwood (@columeastwood) June 17, 2021
SDLP leader Colum Eastwood tweeted: "We're in the middle of a pandemic, waiting lists are sky rocketing, our economy is in crisis.
"Maybe it's time for some grown up politics. I, for one, am sick of this soap opera."
Alliance MLA for South Belfast Paula Bradshaw tweeted: "Next DUP Leader must learn that playing hardball gets them nowhere.
"What you put out, you get back. The challenge is to work with the rest of us to deliver progress for all, not to circle the wagons."
- With reporting by PA