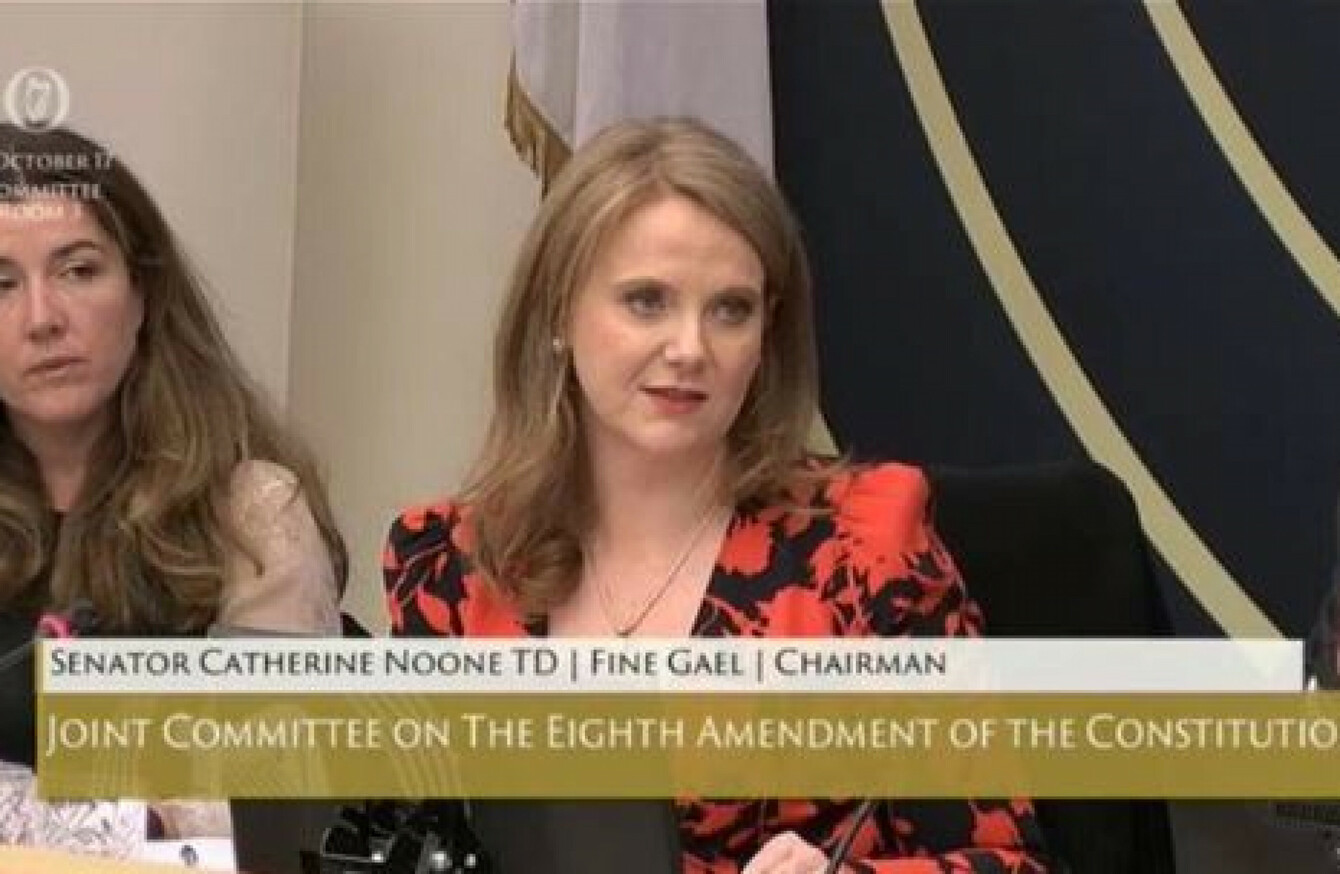 Senator Catherine Noone, Chairperson of the Oireachtas Eighth Amendment Committee
Senator Catherine Noone, Chairperson of the Oireachtas Eighth Amendment Committee
ALMOST HALF OF voters want to repeal the Eighth Amendment, according to a new opinion poll.
Some 47% of people surveyed for today's Behaviour & Attitudes/Sunday Times opinion poll want the amendment to be repealed, while 29% do not and 21% are unsure.
Since the last poll was taken in March, support for repealing the amendment has dropped by two points, while support for retaining it has increased by two points, undecided voters are up one point, and the number of people who say they won't vote is down one point to 3%.
When undecided voters are removed, the results are 62% to 38% in favour of repeal.
Similar levels of support on each side were recorded in an Irish Times/Ipsos MRBI published on Friday. The results of that poll were as follows: 47% in favour of repeal, 28% against, 20% unsure, and a further 4% did not respond.
Oireachtas committee 
The Eight Amendment, Article 40.3.3 of the Constitution, gives equal constitutional status to the mother and the unborn and effectively bans abortion from taking place legally in most scenarios in Ireland.
In December, the Oireachtas committee on the Eighth Amendment – which was tasked with examining the recommendations of the Citizens' Assembly on the subject – voted in favour of repealing the Eighth. It recommended for abortion without restriction to be legal up to 12 weeks of pregnancy.
Cross-party members came to the majority-decision after hearing testimony from medical and legal experts, as well as personal stories, over the course of three months.
Pro-life organisations and members of the committee repeatedly accused it of being biased as the majority of witnesses favoured repealing the Eighth Amendment. Senator Catherine Noone, the committee's chairperson, and other members have denied these allegations.
#Open journalism No news is bad news Support The Journal

Your contributions will help us continue to deliver the stories that are important to you

Support us now