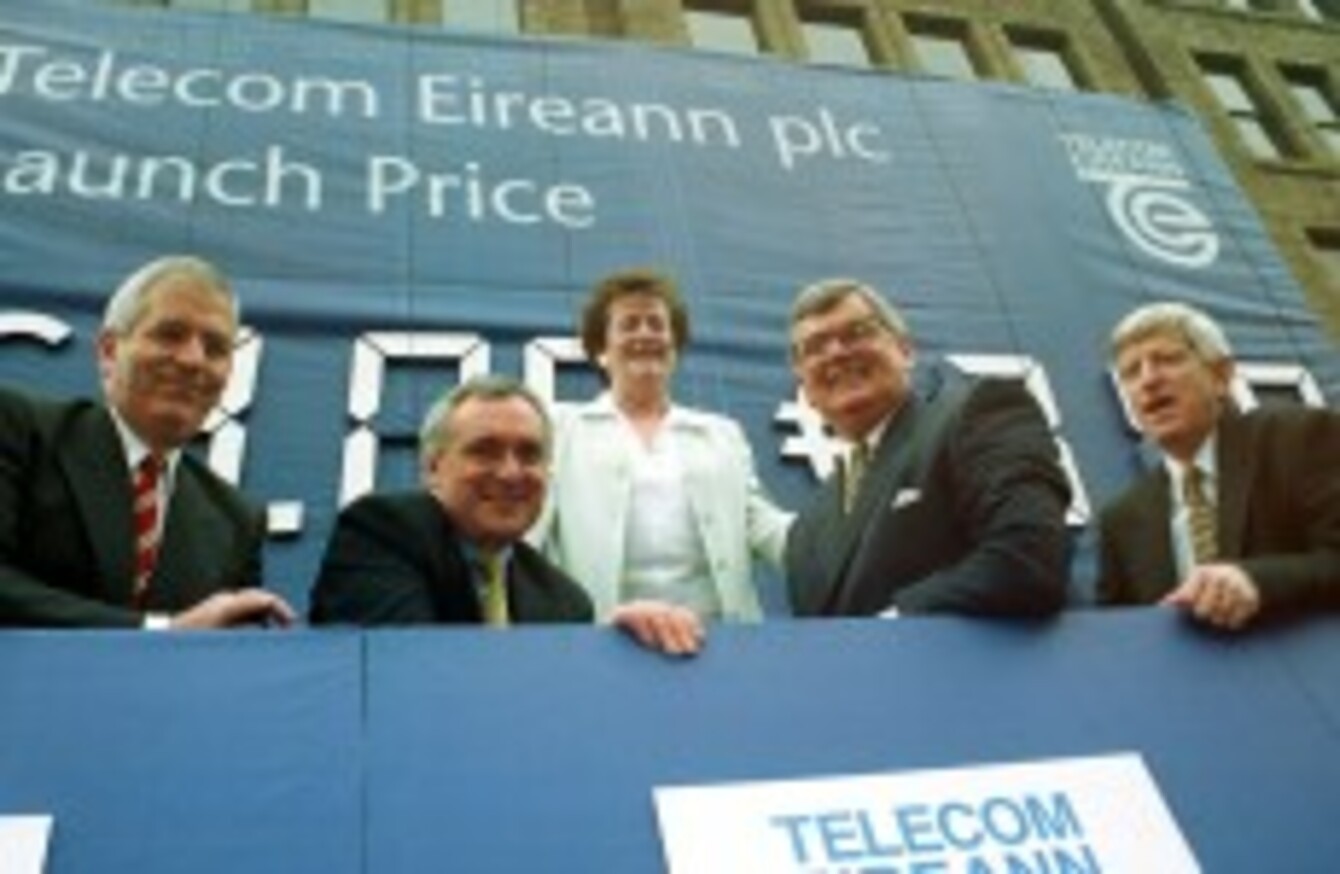 Fianna Fail figures at the original Telecom Eireann share posting
Image: Graham Hughes/Photocall Ireland
Fianna Fail figures at the original Telecom Eireann share posting
Image: Graham Hughes/Photocall Ireland
THE BRITISH COMPANY charged with administering payments to investors in the Eircom floatation is dealing with 515 outstanding complaints from investors relating to the share sale.
Speaking to TheJournal.ie, a spokesman for Computershare said that some investors had been so anxious to ensure their forms were returned on time that they personally flew from Ireland to the UK to deliver them to the company's office in Bristol.
Many shareholders are complaining that they have been exposed to tax liability on their share income by missing the 20 February deadline. Some say that Computershare marked the form as late, despite them having posted the form up to two weeks in advance of the cutoff date.
Investors had to specify that they were receiving their shares as capital rather than income to avoid a tax bill. The sell off was sparked by Vodafone's decision to sell some of its American holdings to US giant Verizon.
The spokesperson confirmed that 75% of the complaints relate to share forms that were marked late.
Computershare confirmed that it has established only one justified complaint so far, relating to a shareholder who had changed their address but did not receive their share option pack.
In this instance, Computershare accepted responsibility for the error and will compensate the individual accordingly.
Shareholders will be disappointed
The spokesperson said that it will engage with every complainant, but said that it some shareholders will inevitably be left disappointed by the process.
She said: "We're going to do whatever we need to do to resolve this, but it's fair to say that a number of people won't be happy as (an investigation) will show the forms were late."
Disgruntled shareholders are said to be considering forming an action group, which Computershare said it would happily engage with. The spokesperson said that if shareholders have any evidence of mailing on a particular date, they should present it to the company.
She said: "If we've made an error then we'll put it right."
The spokesperson said that the vast majority of shareholders had met the deadline:
Many tens of thousands were able to complete the forms on time. We are doing everything we can but we are 100% confident that we've done everything right relative to the scheme's terms and conditions.
She said that the company hopes to investigate each claim within five days, but that more complex cases may take longer.
Computershare pointed out that shareholders can still take advantage of a free dealing service for their Verizon shares until April 4th.