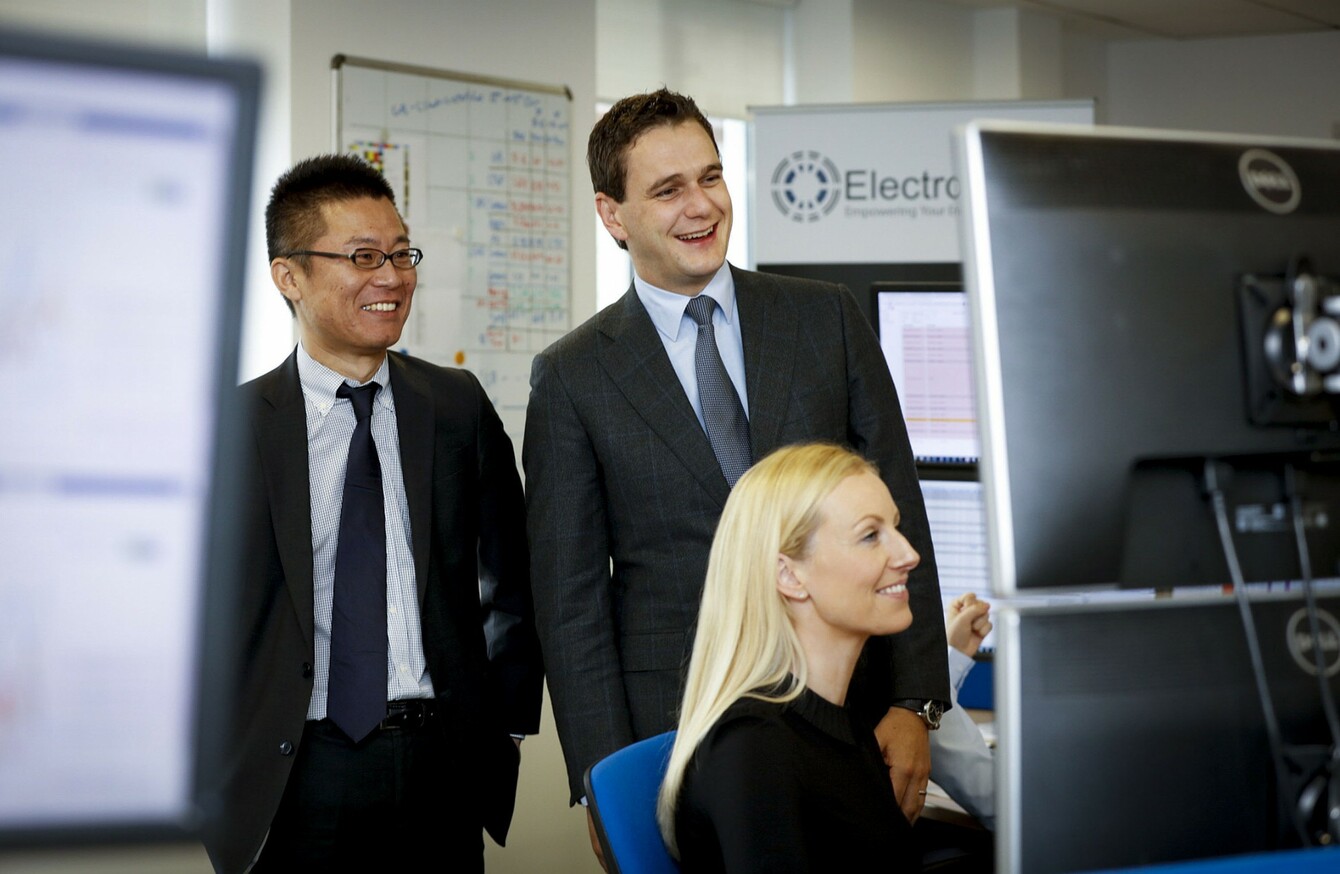 ElectroRoute CEO Ronan Doherty with Mitsubishi's Atsushi Suzuki
Image: Andres Poveda
ElectroRoute CEO Ronan Doherty with Mitsubishi's Atsushi Suzuki
Image: Andres Poveda
JAPANESE CONGLOMERATE MITSUBISHI has struck a deal with Dublin-based energy company ElectroRoute that will see it take a majority interest in the Irish firm.
As part of the agreement, Mitsubishi will take a 60% stake in ElectroRoute, which said the investment would allow it to "continue to scale its operations internationally with the support of a company with a market capitalisation today in excess of €32 billion".
The financial terms of the deal were not disclosed.
ElectroRoute's senior founding management team, including CEO Ronan Doherty, will remain with the company, which is now aiming to expand abroad as it opens its first offices outside of Ireland in the UK.
Founded with four people in 2011, the company specialises in buying and selling different types of energy and is certified to carry out several different types of deals, such as cross-border trading.
Based in Dublin, the company has since expanded to employ 40 people and engages with energy markets in Ireland and the UK as well as several mainland European countries such as France, Italy and Germany.
As well as its presence in the automotive industry, Mitsubishi is involved in a wide variety of sectors including finance, food and energy. Its 'new energy and power generation division' has significant interest in power generation projects including renewable sources.
New opportunities
ElectroRoute is the first company of its kind to be added to Mitsubishi's portfolio. The Japanese company said that the move "underscores the corporation's intention to pursue new business models in a rapidly changing energy sector".
Yoshinori Katayama, the chief commercial officer of Mitsubishi's power division, said that the deal will give his company "new business opportunities to pursue rather than traditional long-term contracted investment businesses".
"We were very impressed with ElectroRoute's business model and talent pool, which we felt made it a unique proposition," he said.
"It is vital for us to now ensure they will have the significant resources and the independence required to develop into a global enterprise."
Validation
ElectroRoute CEO Ronan Doherty said that the deal with Mitsubishi is a "validation of our business model".
"Choosing to partner with Mitsubishi Corporation allows us to build upon the vision we had when we founded ElectroRoute," he said.
"With their support, ElectroRoute is now ideally placed to strengthen our positioning within our international energy markets. We will be able to develop our service offering for our clients, identify and expand into new markets, and grow our team."
ElectroRoute was initially supported by Enterprise Ireland and a Bank of Ireland start-up fund, which was managed by private equity company Delta Partners.
Written by Paul O'Donoghue and posted on Fora.ie