EMAIL IS THE bane of many a life. There's nothing worse than coming into work every morning, or arriving back from a break to find your inbox is full of mail. The goal to bring your inbox down to zero and manage the influx of mail coming in is always a concern.
Thankfully there are a number of steps you can take to help combat this. Here are a few to get you started.
Create tabs
For: Gmail
An incredibly handy tool once you get used to it, creating new tabs will greatly reduce the effort required to filter through your inbox. For Gmail, you can create up to five tabs which are:
Social: Any notifications for your social media accounts will appear here.
Promotions: Any newsletters or deals will come into this, marketing emails essentially Updates: Any automated messages such as product updates will come in here
Forums: Any email update from messaging forums
Primary: Your main inbox. Emails from personal users would feature here.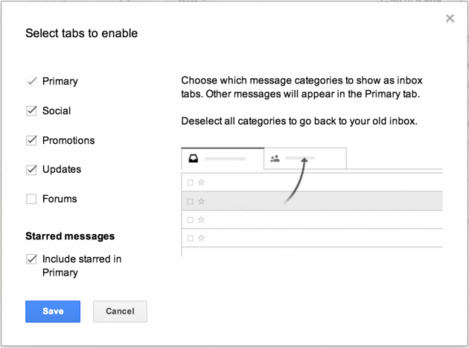 Source: Gmail
Activate Keyboard shortcuts
For: Gmail, Outlook, Yahoo
If you want to speed things up a little bit, it's a good idea to turn on keyboard shortcuts. You will have to activate them in settings first, but once you become accustomed to the basics, you will be able to filter through your inbox quickly. Certain providers like Gmail lets you customise keys, but what's there should be more than enough.
Keyboard shortcuts for Gmail can be found here, Outlook users can look here (and lets you choose different versions to use) and Yahoo users can see their version here.
Sweep mail
For: Outlook
Microsoft Outlook (formally Hotmail) has an incredibly handy feature which can get rid of a specific type of email quickly. By selecting the mail you want removed, selecting sweep will get rid of any similar messages from that sender or delay an action until a certain amount of time has passed.
Source: Outlook
Organise mail with labels/folders
For: Gmail, Outlook, Yahoo
It's a good idea to group new inbox entries when they come in so you know from a glance what they're about when you revisit them.
If you're using a personal account, it's probably better to keep the labels to a minimum unless you're absolutely flooded with mail every day. Outlook lets you put mail into specific categories while Yahoo allows you to create folders for use.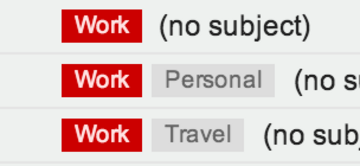 Source: Gmail
Activate canned responses
For: Gmail, Outlook, Yahoo
A useful feature found in Settings > Labs, canned responses can be used to give quick replies to mail like 'see you in five minutes.' Alternatively, all email providers allow you to create reply templates should you find yourself writing the same mail all too often.
Undo send
For: Gmail, Outlook (Office version)
More a tip than a method to organise your mail, but sometimes you will hit the send button a little too quickly. If this happens regularly, you can activate the 'undo send' button in Gmail Labs.  Doing this gives you up a few seconds to undo your action before it reaches the recipient.
A similar function is available in Outlook Office.
Activate scheduled responses
For: Gmail
If you know someone will be back at a certain time but don't want to fire them a mail since it will get buried, delayed emails is the tool for you.
By downloading the Boomerang for Gmail extension, you can use this the next time you want to get a mail out of the way, but want to delay it. You can also customise it so that if you don't get a reply, or if the mail isn't clicked or opened, the mail returns to you.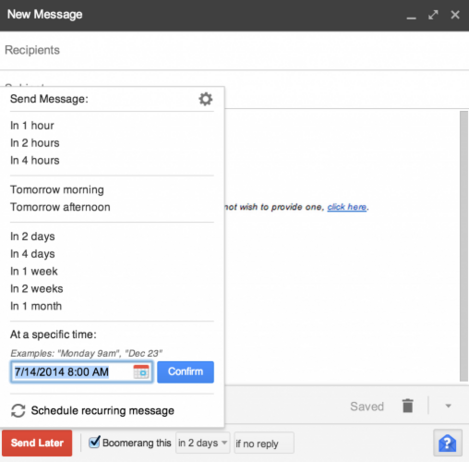 Source: Gmail