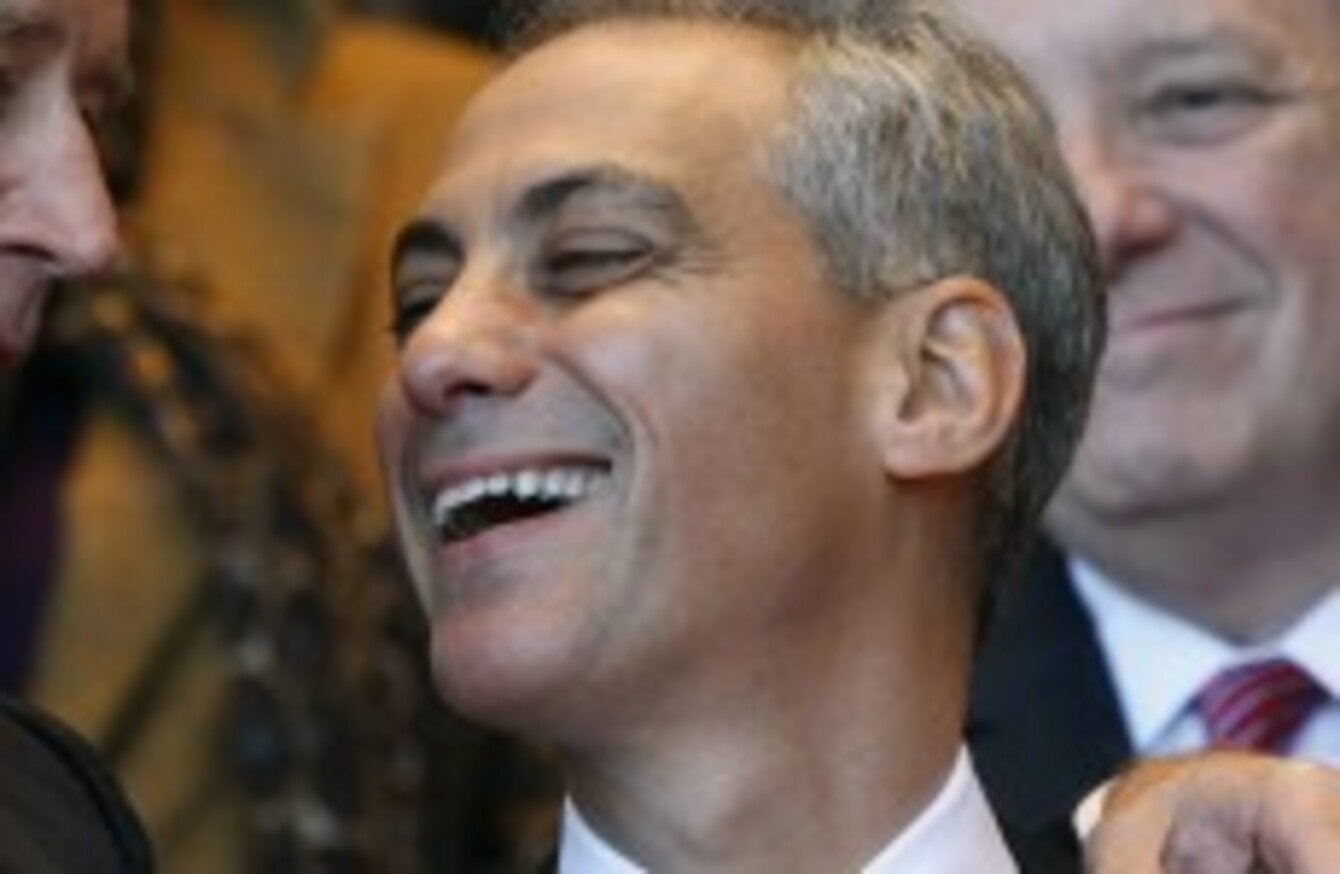 Chicago's new mayor Rahm Emanuel, right, is congratulated by vice-president Joe Biden at his inauguration earlier today.
Image: Charles Rex Arbogast/AP
Chicago's new mayor Rahm Emanuel, right, is congratulated by vice-president Joe Biden at his inauguration earlier today.
Image: Charles Rex Arbogast/AP
FORMER WHITE HOUSE chief of staff Rahm Emanuel has been sworn in as Chicago's first new mayor in two decades, a historic power shift in a city where the retiring Irish-American, Richard M Daley, was the only mayor a whole generation of Chicagoans have ever known.
Emanuel was sworn in during a morning inauguration ceremony at the popular downtown Millennium Park, one of the signature accomplishments in Daley's efforts to transform the city.
Emanuel later planned to head over to City Hall and, for the first time since he was elected in February, walk into the fifth-floor office that was Daley's lair for 22 years.
"We must face the truth," Emanuel said in his inaugural speech. "It is time to take on the challenges that threaten the very future of our city: the quality of our schools, the safety of our streets, the cost and effectiveness of city government, and the urgent need to create the jobs of the future right here in Chicago."
The decisions we make in the next two or three years will determine what Chicago will look like in the next 20 or 30.
Emanuel's swearing-in completes an interesting role swap between City Hall and the White House: Emanuel's replacement as Barack Obama's chief of staff is the outgoing mayor's younger brother, William Daley.
In a mark of Emanuel's continuing ties with Washington, vice-president Joe Biden was in attendance at the inauguration, as was William Daley, treasury secretary Tim Geithner, and two other cabinet secretaries.
The outgoing Daley, who had served as Mayor since 1989, had only recently succeeded his own late father Richard J Daley as the city's longest-serving mayor. His own parents were both descended from immigrant families originally from Dungarvan in Co Waterford.
When Daley announced last fall that he wouldn't seek a seventh term after 22 years in office — longer than any other mayor in the city's history — some wondered if Emanuel had some prior knowledge when he made that comment.
But if he did, that didn't stop him — just days before Daley's surprise announcement last September — from renewing his lease with the tenant who rented his Chicago home while the Emanuels lived in Washington.
That decision to rent his house was at the centre of the biggest challenge standing between Emanuel and the mayor's office: the legal battle over whether he was a resident of Chicago, and therefore eligible to run for mayor.
That fight ended with an Illinois Supreme Court ruling in his favour — but not before an appellate court panel decided that Emanuel's time away from the city made him ineligible to run and knocked his name off the ballot.
With that out of the way, Emanuel simply steamrolled over his opponents – winning 55 per cent of the popular vote.
Emanuel inherits a city with big money problems. Not only has Emanuel's transition team predicted a $700 million budget shortfall next year, but because of some controversial decisions by Daley — most notably a push to privatise parking meters — he has limited avenues to fund efforts to improve schools and repair the city's aging infrastructure.
AP; Additional reporting by Gavan Reilly