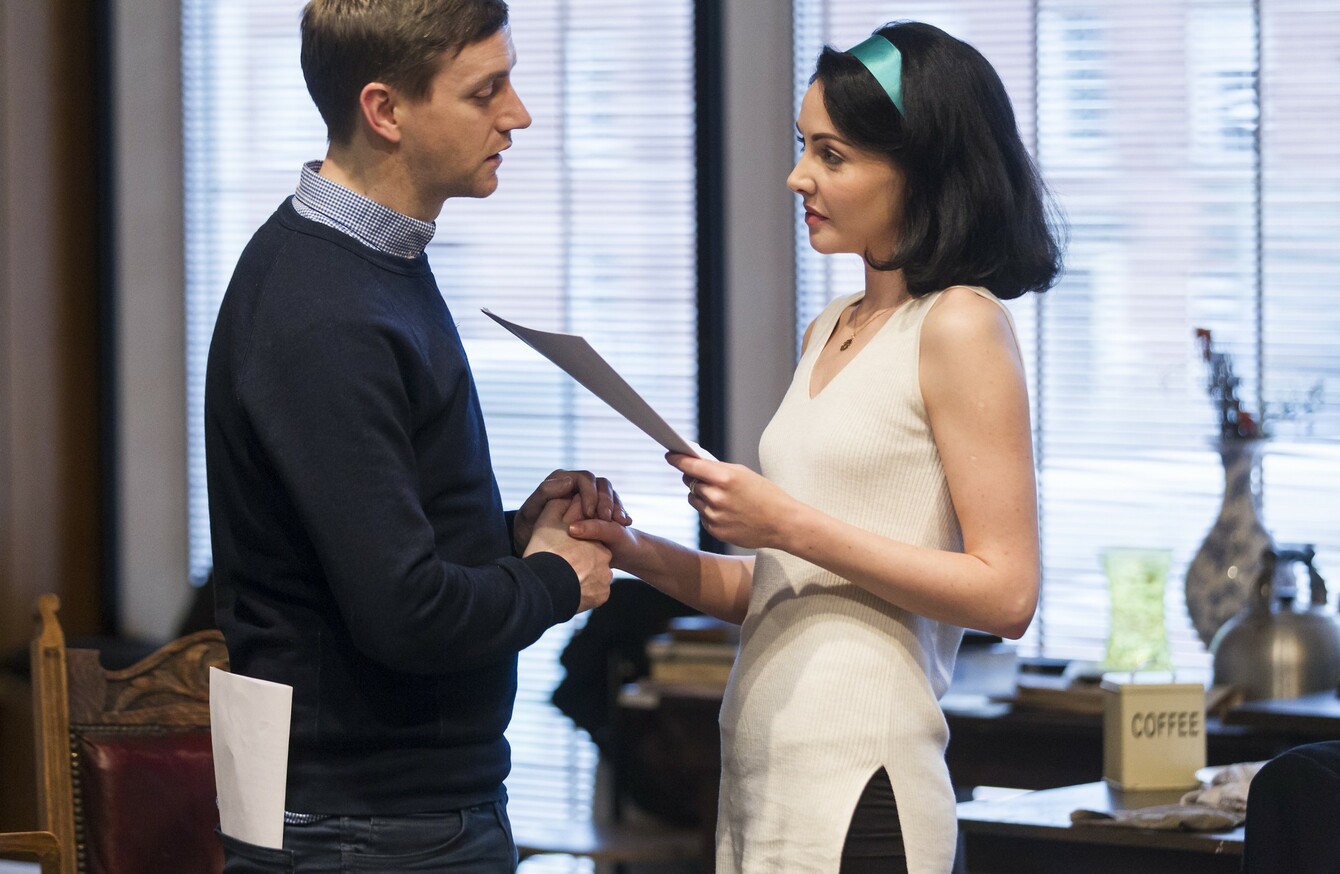 Image: Patrick Redmond
Image: Patrick Redmond
BORN AND BRED in Tallaght, actor and writer Emmet Kirwan doesn't always get to see people like him on the stage.
So he decided to write about them, to bring the types of people he knows to audiences.
The reaction showed how some people think that there's little difference between working class writers – especially if they're from Dublin.
"When a working class person writes a play, you're asked 'is it like Roddy Doyle?'" Kirwan – who stars in Sean O'Casey's play Juno and the Paycock which opens at the Gate next month – told TheJournal.ie.
You wonder would they say the same to a middle class writer – is it like Sebastian Barry? As if there is only own voice and one story you can tell.
He has seen working class stories "usually told through prism of poverty", but for his most recent work, Dublin Oldschool, he didn't want to do a simple narrative, a 'bad boys discover the reasons for their actions' story.
He wrote about two brothers, one who has a drug addiction, who meet up after three years apart.
"They don't learn a lesson, and they never try to uncover the real reasons behind addiction, and why addiction happens," said Kirwan. The play isn't about trying to find a predictable or safe narrative.
Working class lives
Sean O'Casey wrote about the working class too, and was the first major Irish playwright to do so. Born and bred on Dublin's Dorset St, he wasn't quite from the same background as his characters, but with his socialist and Irish nationalist ideals, he saw fit to explore their world.
When The Plough and the Stars arrived on the Abbey Stage, it was greeted with riots on its fourth night.
Even if you don't know Kirwan's face – but you probably will, given that he has starred in 71, Ella Enchanted, Inside I'm Dancing and the much-shared video Just Saying – you'll recognise his voice from a rake of ads.
Above all, he's a theatre buff who loves being on stage. He's well suited to star in the Gate's production of Juno and the Paycock, directed by Mark O'Rowe (who was behind the fantastic Our Few and Evil Days at the Abbey last year).
The two worked together in a youth theatre production back in about 1997 – Kirwan is pretty sure that O'Rowe, then in his twenties, won't remember this – but it's a nice thing to see that they're both here in the Gate some 19 years later.
"It's not lost on me," said Kirwan of the significance of both men going on to excel in their professions.
Juno and the Paycock is an O'Casey play from 1924. It's set just two years previously, when Ireland is about to be gripped by the civil war. Part of O'Casey's Dublin trilogy (alongside The Shadow of a Gunman and The Plough and the Stars), it's set in tenements populated by people who don't all agree on the course their country is taking.
It's a play with a long history, so how will O'Rowe make it his own?
"I think it will be way more real," said Kirwan. "What happens with a play that's as old as this play is the text can tend to pick up the residue of other productions and other interpretations over the years."
This production is definitely going to be new and fresh. The acting style will be closer to what O'Casey would have intended in the 20th century. It's much more based in naturalism and realism than the theatrics and melodrama of the time.
His character is quite different to him: "I'm from Tallaght; all the parts are working class, I'm the only one who isn't. I'm the interloper, he has aspersions of being something better than he is. He is the person slumming it. A lot of the parts I play might reflect [my] socio-economic background. For this I am playing something that is more reserved."
As a history buff, he's interested in how the play explores the world of the tenements.
"That voice is rarely seen, the dispossessed or the voiceless, and often if it is that voice or working class, it's a working class voice from 100 years ago and that can seen as too distant in the past," said Kirwan.
His own play Dublin Oldschool is set in the Ireland of today, and received rave reviews during its recent performances at the Project Arts Theatre.
"Most of the time you do something, some people might like it and some wouldn't. It seemed to be well received, I haven't heard anything bad yet," said a surprised but proud Kirwan.
But it's deadly, it's great to have a show that's a success. It's great for me because it was something I wrote - usually as an actor you're interpreting someone else's words. It's like my baby.
With Dublin Oldschool, he wanted, like O'Casey, to show the other sides to Dublin. For Kirwan, this was the addiction, the deprivation, but also, the creativity; the dance subculture, the real lives of people.
He saw it like Richard Linklater's film Dazed and Confused, which captures the last day of high school: a whole world in just one day. A snapshot of a period of time.
"Your mind can't wander"
Kirwan prefers theatre to TV. "In some ways, acting for camera, it's a completely different skill but doesn't involve as much work. Theatre, it's a massive amount of concentration, your mind can't wander."
It certainly can't, even when, as happened during one Dublin Oldschool show, a man in the front row spent the entire performance with his head under his jumper, reading his phone.
Source: davetynan/YouTube
"Theatre is a challenge but it's an exciting fun one. Writing is great as well," said Kirwan, who's currently writing a play that's "speculative fiction set in a near-future Tallaght", which is partially based on the first cycle of Celtic mythology.
He got the idea after discovering that Tallaght was in fact mentioned in this part of Celtic mythology. Growing up as a teen in Tallaght was interesting – "especially in the 90s – it was urban but also wild because you're at the foot of a mountain" – and it's ripe to explore with this new work.
Source: David Coffey/YouTube
One thing he won't be writing is the follow-up to Sarah and Steve, his RTÉ series about a Tallaght couple who are deciding what to do with their lives. (But he did say that, for those who want to know what happened, Steve went to Australia while Sarah stayed in Ireland.)
The show hasn't been commissioned for a second series, but in the first series they "got away with a lot of stuff that I had never seen in a comedy", said Kirwan. It was, however, shown at 11pm at night, which may have impacted on how many people could watch it.
As for the rest of the year, there are plans to work with Fishamble, and also to bring Dublin Oldschool to Edinburgh. "Then hopefully" said Kirwan, "bring it to the stars."
Juno and the Paycock opens on 16 February at the Gate Theatre in Dublin.