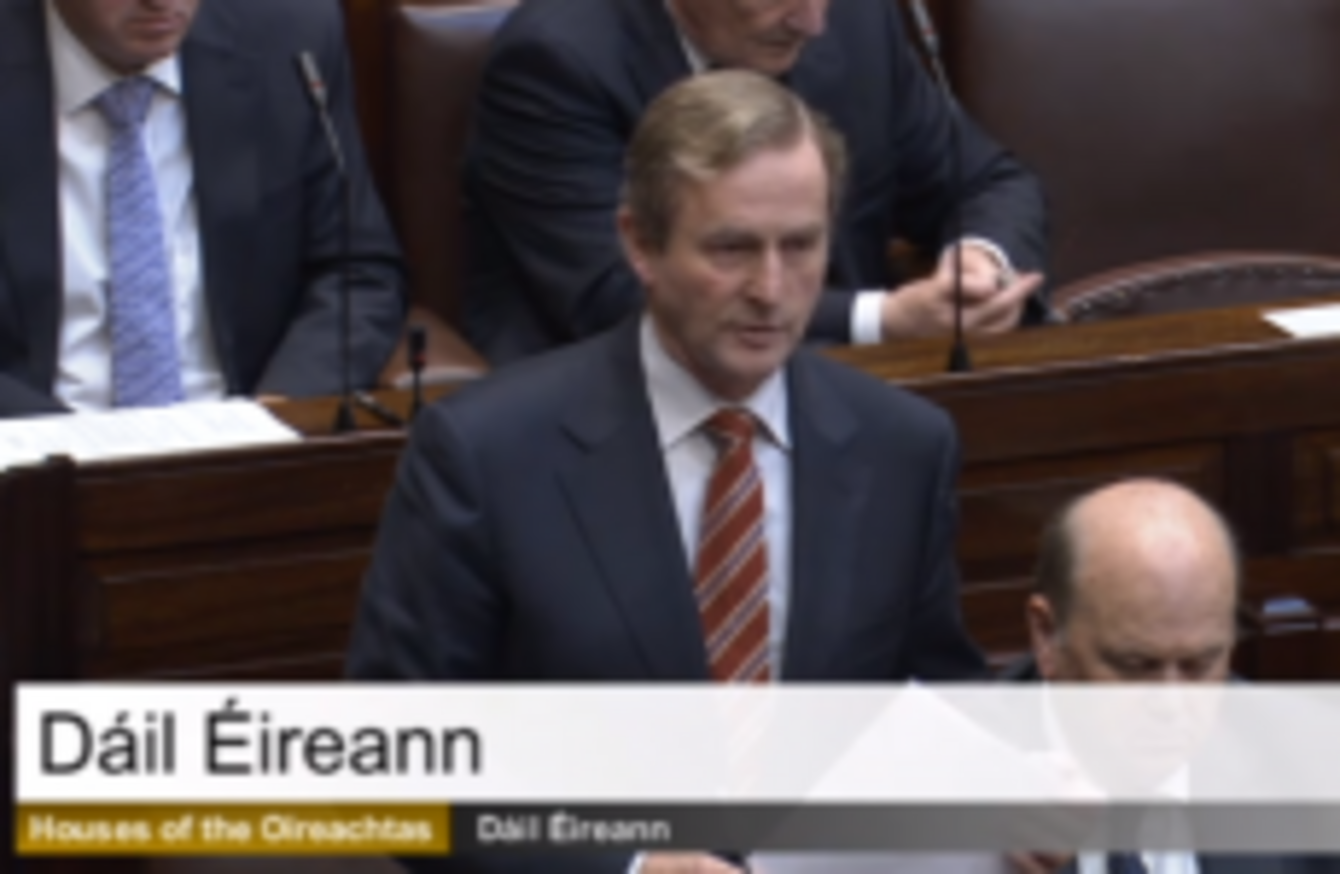 Enda Kenny in the Dáil this morning
Enda Kenny in the Dáil this morning
TAOISEACH ENDA KENNY has said there is "no doubt" that next year will be "very challenging year" for the health service but has insisted that patient safety is an "absolute priority" of the Health Minister James Reilly.
Kenny was speaking at Leaders' Questions today as both Finana Fáil and Sinn Féin raised the letter that chief executives of four major hospitals have sent to the HSE warning of the the impact of cuts to the health budget this year.
The Taoiseach dismissed claims that the letter is not being taken seriously, saying: "It's an important letter and it's not being treated as a joke, believe you me, and it's a serious business."
He said that the Minister for Health is undertaking the most difficult job of any minister in government and said that hospitals will get a three per cent increase in funding this year.
Kenny hit back at Fianna Fáil leader Micheál Martin, saying: "I reject again your snide assertion that patient safety is not a priority for this government or the Minister for Health."
'Denial after denial'
"The mess left behind by you has got to be changed here," he added saying that the approach government is taking to health is "cutting the cost of services and not the services themselves".
Martin accused the Taoiseach of issuing "denial after denial".
Kenny also said that the chief executive of Our Lady's Hospital in Crumlin has confirmed that there are "no extradordinary delays" in children accessing cancer treatment in the hospital but acknowledged there have been delays of "one or two days".
Sinn Féin's Mary Lou McDonald dismissed this, saying that it is "very clear" that children with cancer are experiencing delays in their treatment.
Kenny also said that the number of patients waiting on hospital trolleys has fallen and said that the Minister for Health has overseen the "biggest reorganisation of Irish hospitals in the history of the State".