ENDA KENNY HAS said there will be no statues erected in his glory as he faced further questions about his 'Army around the ATMs' story in the Dáil today.
Kenny has been under pressure for nearly a fortnight over a claim that the Central Bank governor Patrick Honohan warned him during the financial crisis that it might be necessary to deploy the army around banks and ATMs.
Last month, Kenny made the claim to attendees at a Fine Gael fundraiser, in the Dáil and to an audience of European leaders in Madrid. However, he admitted last week there was no specific briefing from Honohan.
At Leaders' Questions today, Sinn Féín finance spokesperson Pearse Doherty said Kenny had claimed that it was Honohan's estimation that the country had 48 hours before capital controls on banks would have to be implemented.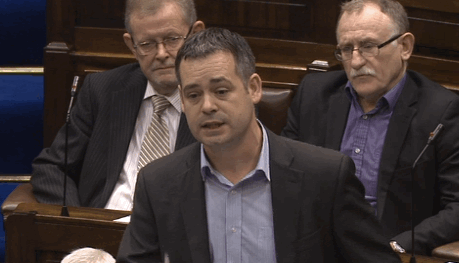 "You've given the impression that somehow, within 48 hours, you thwarted disaster and you saved us all from the catastrophe," Doherty said.
Now Taoiseach, before we start erecting statues in your glory, can you finally clarify matters?
But responding to Doherty, Kenny said there would not be any statues erected in his glory, insisting:
There will be no statues to my glory or otherwise. If that's where your interest lies, then don't talk to me please.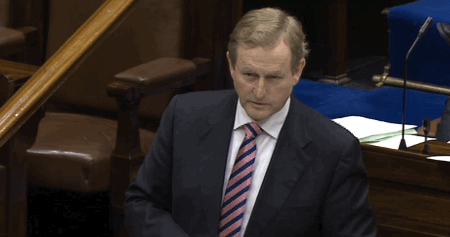 Kenny said that "people were openly questioning whether the currency would survive in its current form". He said it would have been "grossly irresponsible and negligent" to have not formulated plans.
I make no apology for putting in place contingency plans to deal with the possibility of a total collapse of the euro currency.
He said it was not appropriate to supply the detail of that work, but said the gardaí and the Defence Forces would have been fully mobilised if needed.
However, Doherty was not satisfied, insisting it was important that Kenny clarify if Honohan had given him a specific warning.
"Did the governor of the Central Bank, Patrick Honohan, walk into your office, as you claim, on a Wednesday and say: 'We need to deploy the army on Friday,'" the Sinn Féin TD asked again.
Did he say to you that he believed that the euro was about to break up or was this a fantasy of Enda Kenny's? Was there a dose of reality in these conversations?
In his response, Kenny did not directly address these questions from Doherty or comment on suggestions that he may have misled the Dáil when he made the claims.
As the Taoiseach concluded his answer, Doherty shouted across the chamber:
You were spoofing. Honohan never said this to you. You've misled the Dáil.