IRELAND HAS THE highest birth rate in the EU and is also top of the charts for the biggest natural increase in population.
New figures from the EU's statistical agency Eurostat shows that Ireland's birth rate for 2016 is 63.9 births per 1,000 residents. That translates to a birth rate of 13.5%.
That figure puts Ireland on top of the EU table ahead of both Sweden and the UK at 11.8%. Italy had the lowest birth rate in the EU at 7.8%.
Put in the context of births relative to deaths, Ireland also shows the greatest natural increase of population. This is because Ireland also registered the lowest death rate at 6.4 deaths per 1,000 residents.
Ireland's natural increase in population was therefore 7.1%, ahead of Cyprus (4.7%) and Luxembourg (3.6%).
Overall, as many births as deaths were recorded across the EU meaning that the natural change of the EU population was neutral.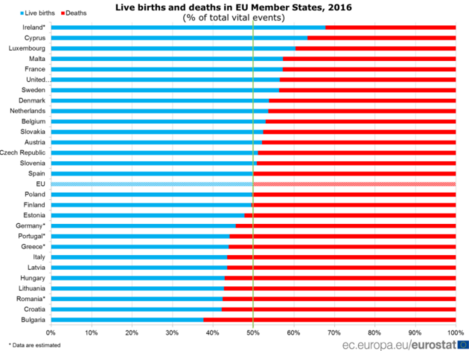 Source: Twitter/EU_Eurostat
Population change
Inward migration was however the biggest driver of population growth across the EU and because Ireland's sees less immigration than other EU states it is not on top of the charts in terms of overall population growth.
Luxembourg, Sweden and Malta all saw their populations grow by more than Ireland last year. Overall, Ireland's population growth was for 2016 was 10.6% compared to an EU average growth of 3%.
The EU's total population grew from 510.3 million to 511.8 million last year. The change was almost entirely due to net migration.