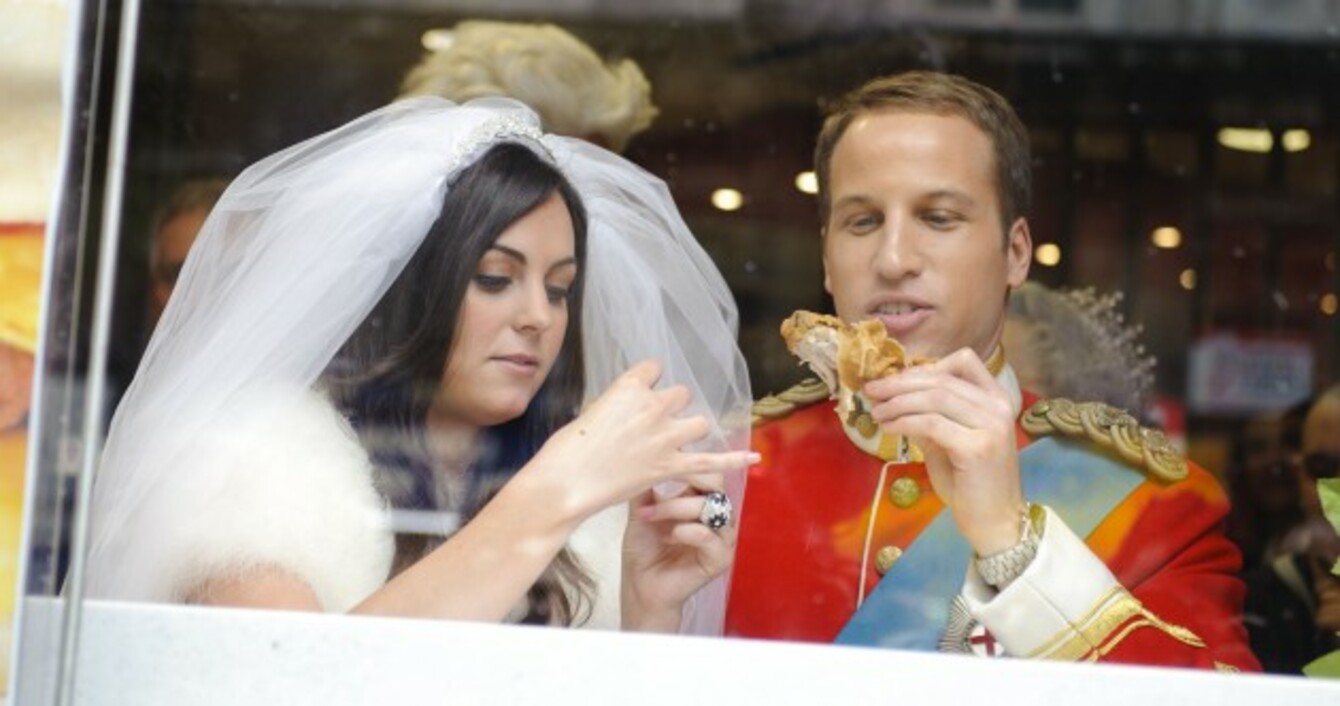 Even Wills and Kate are getting into the KFC (OK, it's not really them)
Image: Matt Crossick/Matt Crossick/EMPICS Entertainment
Even Wills and Kate are getting into the KFC (OK, it's not really them)
Image: Matt Crossick/Matt Crossick/EMPICS Entertainment
EUROPEANS ARE BUYING more KFC, but the company behind the fast-food chain has still been forced to cut its financial forecasts after the Chinese food scare put a big dent in its global sales.
Yum Brands, which also owns the Pizza Hut and Taco Bell brands, slashed its earnings forecasts to between 6 and 10% growth for the year after previously pencilling in a figure of over 20%.
It follows a major food-safety scare in China earlier this year when a big beef and chicken supplier was reported to have repackaged expired meats and sold them to McDonald's, KFC and Pizza Hut outlets.
Even though Yum said it wasn't one of the primary customers of the Shanghai-based supplier, its sales took a big hit because of the negative media coverage.
The scandal also spread to Japan, although only McDonald's outlets were affected there.
In its latest financial reports, Yum revealed its established Chinese stores had taken a 14% haircut in their sales over the third quarter and its operating profit there dropped 38% during the period, despite opening 125 new stores across the country.
Europeans are buying lots more KFC
But Yum reported booming sales in its European KFC operations from developed markets with receipts up 11% over the year so far in the UK and 7% on the continent in countries like France and Germany.
Among all regions, the "emerging market" of Russia had the biggest increase in fried-chicken sales – up 40% in the year to date and a massive 36% for the quarter.
Pizza Hut sales were also up 3% in Europe's developed markets but were flat in the UK for the year to date.
The two regions make up only 14% of Yum's fried-chicken business and 11% of its pizza trade, compared to the US which is worth 55% of Pizza Hut turnover and 25% for KFC.
The company did not release specific data for its operations in Ireland, where it has 99 franchisees running KFC and Pizza Hut stores after launching the pizza chain here in 2008.
Source: Adsofchina/YouTube
Yum turned a profit of $169 million (€134 million) through its KFC division for the quarter, up 16% on the same time last year, and $68 million (€54 million) from the Pizza Hut chain, down 2%.
Confident despite "supplier incident"
Company chairman and chief executive David Novak said he was confident in Yum's ability to deliver growth despite the "recent supplier incident" in China.
"China sales are on the path to recovery and we expect to develop at least 700 new restaurants in China this year, which we're confident will ultimately deliver high returns as we further capitalize on the world's fastest growing consuming class," he said.
"Outside of China, we expect continued solid sales and profit growth at our KFC division, led by strong international performance and improving U.S. results."
READ: China detains five over expired meat sold to McDonald's, KFC