Updated 10.08am
MEPS LAUGHED AT Jean-Claude Juncker, the president of the EU Commission, when he spoke about the body's efforts to tackle tax evasion.
Juncker was making his annual State of the Union Address to MEPs in Strasbourg, ahead of a debate about the commission's Apple tax ruling in relation to Ireland.
During his speech, Juncker warned every company, whether big or small, has to pay its taxes.
Some MEPs laughed in the chamber when he referred to the commission's efforts in the "fight against tax evasion".
Last week the Government won a Dáil vote, by 93 votes to 36, to appeal the commission's ruling, which found Ireland granted illegal state aid to Apple and should recover €13 billion in back taxes from the tech giant.
The Competition Commissioner Margrethe Vestager, who announced the ruling, will be discussing her decision with MEPs later today.
Speaking to EuroParlRadio, Fine Gael MEP Brian Hayes said there's a danger the ruling will create economic uncertainty in Europe.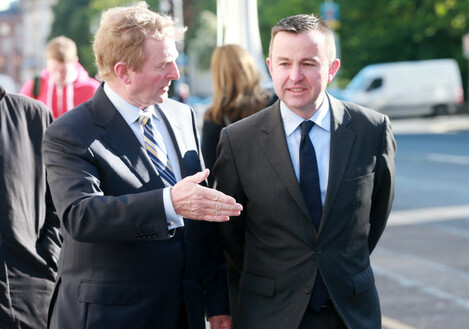 Enda Kenny and Brian Hayes in 2014 Source: Laura Hutton/RollingNews.ie
"Europe doesn't really need now to be bringing uncertainty where it comes to the whole US-EU relationship at a time when we need jobs, investment and growth, in a time when we're lagging behind the US economy.
"And sending out these kind of mixed messages, changing the rules of the game, however appalling those rules may have been historically in legacy terms, is not smart economically or politically for Europe to do right now.
When we get away from the tut tutting and the finger pointing and 'who did what' and 'when', there's a bigger game here and the bigger game is trying to make sure that the EU-wide economy gets going again and it's not going to be done if we see that Europe is a cold house for investment.
'Betrayal' 
Sinn Féin MEP Matt Carthy will be on a different side of the debate. He previously called the decision to appeal the ruling as "an act of betrayal against Irish taxpayers, families and small businesses".
"Fine Gael and the independents have seriously misjudged the public mood on this issue.
The majority of Irish citizens are utterly appalled by the Government's insistence that it will actively try to avoid recouping tax revenue owed to the Irish people.
Earlier this week, Taoiseach Enda Kenny told Newstalk he believed the commission's decision was "profoundly wrong".
He said the commission is entitled to look into the issue of state aid, but "not to determine that Ireland should become a global tax collector for Apple" as other countries could be entitled to part of the money.
Kenny said Ireland, as a sovereign nation, is entitled to "set the level of corporation tax that we believe is appropriate" in terms of maximising foreign direct investment and creating jobs.