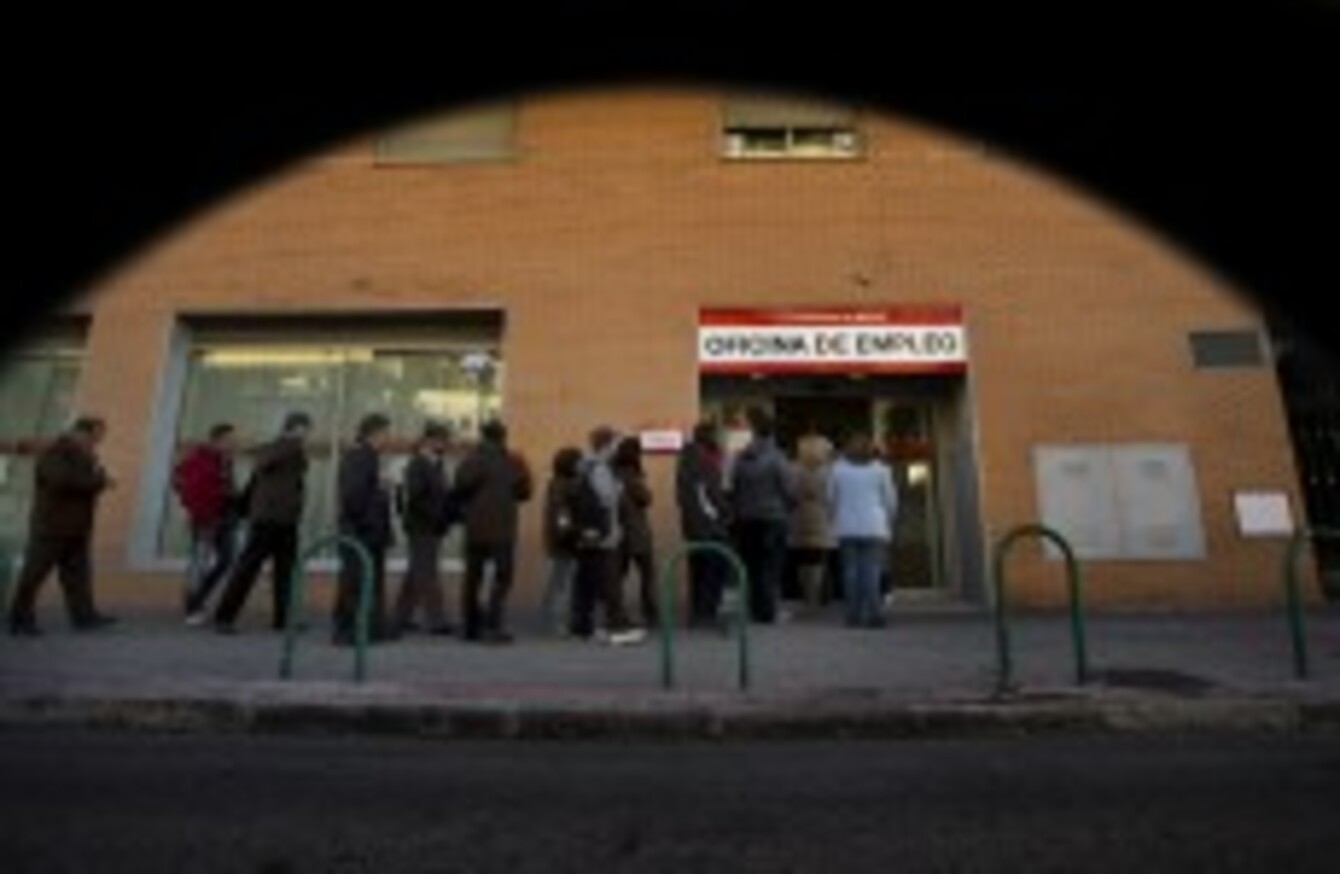 People queue to enter on an unemployment office in Madrid, Spain
Image: Daniel Ochoa De Olza/AP/Press Association Images
People queue to enter on an unemployment office in Madrid, Spain
Image: Daniel Ochoa De Olza/AP/Press Association Images
THERE ARE NOW over 26 million people unemployed across the 27-member European Union according to new statistics out today.
The Eurostat agency has said that the seasonally-adjusted unemployment rate in the eurozone countries – comprising of 17 nations including Ireland – is at 11.9 per cent for January of this year, a record high of nearly 19 million people.
In the wider EU the rate is at 10.8 per cent which is up from 10.1 per cent in January 2012. Eurozone unemployment is up from 10.8 per cent in the same month last year.
Some 201,000 joined the jobless queues in the eurozone in January, and 222,000 in the EU, when compared with December.
The highest rates were in Greece whose unemployment rate is at 27 per cent – though this figure is from November – and in Spain, on 26.2 per cent.
This graph (click here for a larger image) charts unemployment in the eurozone and European Union since the turn of the century:
Ireland's unemployment rate is recorded at being at 14.7 per cent – based on data at the end of the third quarter of 2012 – although figures released by the Central Statistics Office this week showed the Irish unemployment was at 14.2 per cent at the end of 2012.
The lowest unemployment rates are in Austria with 4.9 per cent, and Germany and Luxembourg, both with 5.3 per cent.
Compared with a year ago the unemployment rate increased in 19 member states and fell in seven while it remained stable in one, Denmark.
The largest falls in unemployment were in Estonia (11.1 per cent to 9.9 per cent), Latvia (15.5 per cent to 14.4 per cent), Romania (7.4 per cent to 6.6 per cent) and the United Kingdom (8.3 per cent to 7.7 per cent).
While the biggest increases were in Greece (20.8 per cent to 27.0 per cent), Cyprus (9.9 per cent to 14.7 per cent), Portugal (14.7 per cent to 17.6 per cent) and Spain (23.6 per cent to 26.2 per cent).
Eurozone youth unemployment is put at 24.2 per cent in January, up from 21.9 per cent in January 2012. In the EU, under-25 unemployment rose to 23.6 per cent from 22.4 per cent.
For Greece, the youth unemployment rate in January is at 59.4 per cent, with Spain on 55.5 per cent and Italy 38.7 per cent.