NEED TO CATCH up? TheJournal.ie brings you a round-up of today's news.
Residents of Warrenmount Place, Dublin 8, take part in Street Feast, National Day of Street Parties & Community Celebrations. Source: Allen Kiely
IRELAND
WORLD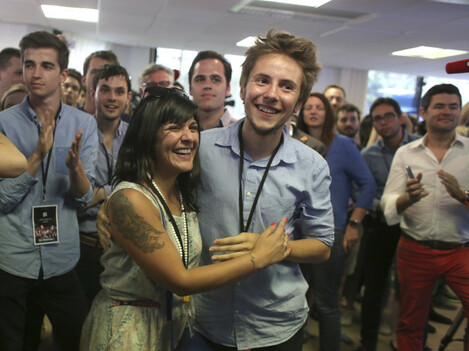 Emmanuel Macron's La Republique en Marche party members react after the announcement of the first partial official results and polling agencies projections to do with the parliamentary elections are announced in Paris. Source: AP Photo/Thibault Camus
#UNITED KINGDOM: UK prime minister Theresa May announced her new cabinet (and it didn't differ too much from her old cabinet).
#UNITED STATES: President Donald Trump accused former FBI director James Comey of cowardice by leaking accounts of his meetings with the president.
#LONDON: Police released images of the fake suicide belts worn by last week's London Bridge attackers.
#FRANCE: New French president Emmanuel Macron was on track to securing a significant majority as the results of France's parliamentary elections came in.
PARTING SHOT
Consider yourself an expert on nostalgic 00′s music videos? Well, DailyEdge has just the quiz to put you to the test.
Get our daily news round up