THE HOME OF DEMOCRACY goes to the polls for the second time in six weeks today, as the people of Greece elect a new parliament to replace the one elected in last month's inconclusive election.
Plenty of people across Europe are mindful of the major consequences that the election will have – as it will almost certainly dictate whether Greece ends up leaving the eurozone.
Just to bring everyone up to speed, however, we've put together this quick explainer outlining the stakes for today's election.
Q. Didn't Greece just have an election?
A. Yes. As we said, Greece had an election six weeks ago, on May 6. To make a long story short, the last government – led by the socialist party PASOK, with George Papandreou as its prime minister – was the one that led Greece into its bailout.
Eventually Papandreou was booted out – remember all the drama about a Greek referendum on its bailout last year? – and PASOK, then led by Evangelos Venizelos, joined forces with the conservative New Democracy to keep the show on the road.
Their temporary government was led by an independent technocrat, Lucas Papademos, who made the decisions necessary for Greece to secure a second bailout earlier this year.
But ultimately the time came for him to step aside for a new prime minister who commanded public support – and one who could, essentially, ratify the decisions he had made. And that's why Greece had an election last month.
Q. So what was wrong with that election?
A. Well, in short, nobody won it. PASOK and New Democracy were the two parties running on a pro-bailout, pro-'let's-keep-doing-what-we're-doing' ticket, but between them they won 149 seats. In Greece, the parliament has 300 seats – so they were two short.
There were five other parties who won enough support to secure seats in parliament: Syriza, a coalition of radical left-wing parties which became the second-biggest group after New Democracy, is the largest of them.
The other groups were Independent Greeks – a right-leaning party, mostly featuring former members of New Democracy who reject the bailout – the Communist Party, the Golden Dawn (a far-right group often described as 'neo-Nazi', though they reject the label) and Democratic Left.
All five of those parties, fundamentally, oppose the bailout – and between them they won 151 seats.
Q. So why couldn't they form a government together?
A. There are two main reasons for that. The first is that the five parties are all from various political hues – with three of them representing the notoriously fragmented left-wing side of the spectrum, Independent Greeks from the right, Golden Dawn from the far-right.
This – coupled with the party's nationalistic policies, such as the plan to install landmines along the Turkish border – means Golden Dawn are considered politically toxic by the others. And without their 21 seats, the other more moderate parties don't have a majority either.
The only real alternative was for Democratic Left – which counts many former New Democracy MPs among its leaders – to prop up a New Democracy-PASOK coalition, but its leader Folis Kouvelis refused to join any government unless Syriza were also involved – saying any viable government needed to acknowledge Syriza's popularity.
Therefore when the parliament reconvened, it was unable to appoint a prime minister – leading the parliament to be immediately dissolved and another election called.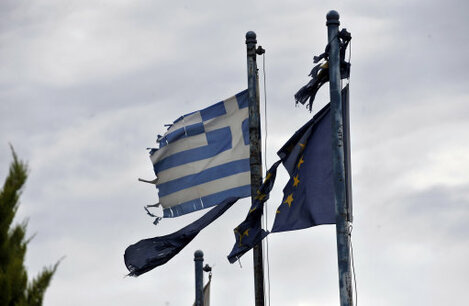 (AP Photo/Nikolas Giakoumidis, File)
Q. OK. But what does this have to do with the eurozone?
A. That's the key question. Most opinion polls show Syriza and New Democracy as being roughly neck-and-neck in terms of attracting support, with both likely to win more seats than they did last time.
The big question is who tops the poll – because the poll-topping party gets a 50-seat 'winner's prize' that puts them firmly in the driving seat to form the next coalition. If New Democracy win, the 50-seat top-up will probably mean enough seats to resume the power-sharing arrangement with PASOK.
But if it's Syriza, then its leader Alexis Tsipiras takes the 50-seat bonus and gets first dibs at forming a government. Assuming the other anti-bailout parties (excluding Golden Dawn, presumably) do enough to keep their votes up, that grouping will probaby have an overall majority – meaning Greece will reject the remainder of its bailout agreements.
This means that the country will have three options: negotiate a less demanding bailout from the EU and IMF, pursue enough slash-and-burn austerity so that its budgets are balanced immediately, or return to the bond markets so that it can bridge the difference between its income and its expenditure.
The bond markets currently charge 27.12 per cent for a 10-year loan to Greece – a rate well beyond anything the country could afford – and the EU (and, indeed, Germany) has been resolute in insisting that there is no easy way to secure loans, so a more hospitable bailout could also be impossible.
So given the massive level of debt Greece has already taken on, and the cost merely of paying the interest on those debts, there's really no way for Greece to survive, other than to write off its loans – i.e. to default – on a massive, unprecedented and immediate scale.
And considering the attitude of the rest of the eurozone to a default – with the likes of Germany being particularly horrified at such a move –  Greece would need to leave the euro if it wanted to default.
Only then, with the slate cast clean, could Greece hope to borrow on the bond markets at any reasonable rate.
Q. But what does that have to do with us?
A. Well, that's why the election is so huge – because if Greece elects a government that defaults, it raises the question (in the eyes of investors) about whether any other countries like Ireland, Portugal, Spain or Italy would do likewise.
This in turn sends their cost of borrowing even higher, and forces more and more countries into bailout territory – to a point where there simply isn't enough money to go around.
In order to resolve their problems, then, each country would also need to default – setting off a chain reaction that ultimately leads to the euro collapsing as a whole.
And that, in short, is the key question. If Greece elects an anti-bailout government, it'll probably have to leave the euro – and once the floodgates open… well, the future of the euro itself will be stake.