AS IRELAND MARKS the centenary of the first national female vote in 1918, an exhibition on how print media was used as part of the suffragist campaign is on show at the National Print Museum.
The exhibition – Print, Protest, and The Polls: The Irish women's suffrage campaign and the power of print media, 1908-1918 – tells the story of women's fight for their right to vote in Ireland.
Curator of the exhibition Donna Gilligan said that "we now have the opportunity to reassess this important period of female political reform, and to recognise its deserved place within Irish history".
Print material, postcards, photographs, posters and newspaper publications are being displayed, some which have never before been exhibited publicly.
The material comes from Irish suffragists as well as their opponents, as both sides battled out their differences often through the use of print media.
Sometimes, suffragists were represented in cartoons, postcards and illustrations as masculine, unstable and dangerous.
Anti Suffragette postcard circa 1912 Source: NPM
Some postcards are being displayed showing how these women were mocked and criticised being depicted as ugly, unfashionable spinsters.
Irish artists like Grace Gifford and Rosamund Praeger produced cartoons which turned the tables on the critics who mocked their cause.
Curator Donna Gilligan is material culture historian who began research into the area of objects and images from the Irish suffrage campaign three years ago.
'Ridiculed and feared'
Donna told TheJournal.ie that "in general quite a large part of the story of female involvement in Irish history is still only coming to the fore".
She added that the women involved in the movement were "ridiculed and feared for their attempts to enter the male political sphere".
They were also criticised as being anti-nationalist for fighting to vote in a British government at the time, as well as for their association with the unpopular British suffragette movement.
Suffragettes were often viewed as wild, violent and unwomanly by their critics and there were fears around future uncertainty if women were given the right to vote.
Suffragettes were women who participated in militant activity such as window breaking, while suffragists made up the non-militant part of the campaign.
Ireland had a large number of both who engaged in active protest, mass rallies and performed public lectures.
Irish Citizen
Irish Citizen suffrage newspaper with St Patrick's Day cartoon, March 1915 Source: UCC Library Special Collections & Archives
In 1912, a group of suffragists associated with the Irish Women's Franchise League, a suffragette group established in 1908, founded the Irish Citizen newspaper, which used writing as a form of political activism.
This publication sought to further the suffragist cause as well as strengthen the voices of those in the labour movement particularly around the rights of women workers.
Women from across the country were invited to express their opinions in an attempt to unite Irish women as well as alert people to suffrage events like meetings, protests and lectures.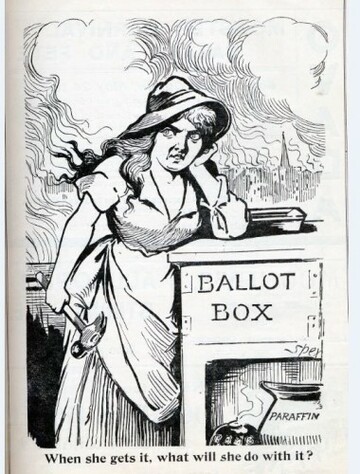 Anti suffragette cartoon from the Lepracaun Cartoon Monthly, May 1913 Source: DCC Library and archives
The exhibition will run until 30 September and admission is free. A full education programme will accompany the exhibition throughout the summer.
The pieces on display in this exhibition are just a small sample of printed material which would have been produced and circulated during this period of the Irish suffrage campaign.
The objects and images in the exhibition come from private family collections, the National Library of Ireland, the National Archives, UCC Special Collections, DCC Library and Archives and the Museum of London, among others.
With reporting from Aoife Barry.