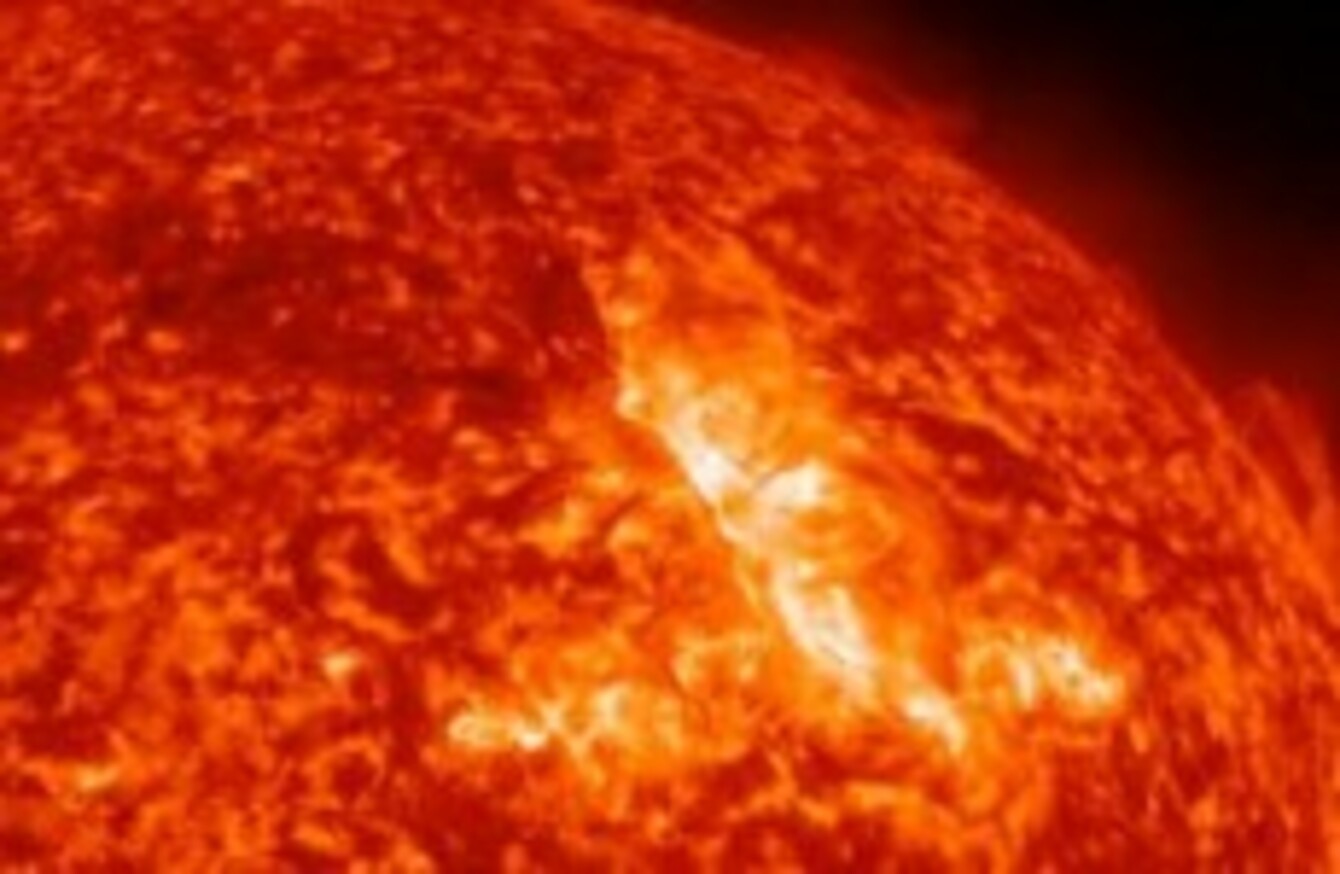 The solar flare on 22 January.
Image: NASA images courtesy Solar Dynamics Observatory
The solar flare on 22 January.
Image: NASA images courtesy Solar Dynamics Observatory
A RECENT SOLAR flare on the sun has caused what NASA believes is the largest solar radiation storm to strike the Earth since October 2003.
NASA says the sun erupted on 22 January, releasing a burst "of fast moving, highly energetic protons". Those particles collided with the Earth's magnetic field yesterday.
This short video by NASA's Solar Dynamics Observatory captured the powerful solar flare:

(Video via MysteriesHunter)
What is a solar flare?
According to NASA, a solar flare is "an intense burst of radiation coming from the release of magnetic energy associated with sunspots. Flares are our solar system's largest explosive events."
A flare can last for minutes or hours.
As happened this week, a solar flare can result in a coronal mass ejection (or CME) – the sudden and violent release of magnetic fields and gas from the sun.
David Moore of Astronomy Ireland told TheJournal.ie that the latest solar flare would have had the power equivalent to 100 World War II atomic bombs going off simultaneously. That explosion would have sent a Mount Everest-sized cloud of particles into space, resulting in a dramatic display of the Aurora Borealis (or Northern Lights) as the charged particles hit the Earth's atmosphere.
Can a solar storm cause any damage?
Firstly, Solar flares and CMEs only impact on the Earth when they occur on the side of the Sun that is facing the planet.
The solar radiation storms resulting from a major solar flare cannot harm humans, but can disrupt satellites, radio operations and (if they're very serious) power systems. Moore says that the radiation hits the upper atmosphere of the Earth and doesn't get below around 100km from the ground.
The light that gets emitted is quite safe for humans; the only people who have to worry about the recent storm are the six astronauts currently manning the International Space Station (though there is a special area in the ISS for crew to wait the storm out).
Moore says that a serious storm could induce electrical currents and burn out major transformers in a power surge. However, he added that the storms are largely predicted now and energy companies can take precautions when one is expected to prevent the transformers being damaged.
The ESB said that it is aware of the recent flare, but that its system is not affected by the solar activity.
The solar storm prompted US airline Delta to reroute a number of its flights this week between the US and Asia to a more southerly route than their original trans-polar route. The Wall Street Journal says such rerourting is fairly routine among airlines as a precaution during more serious solar storms as radiation levels are heightened at the poles (which have less ozone layer protection).
[caption id="attachment_336886" align="alignnone" width="630" caption="A sequence of images showing Sunday's solar flare. (via NASA/Solar Dynamics Observatory)"]
[/caption]