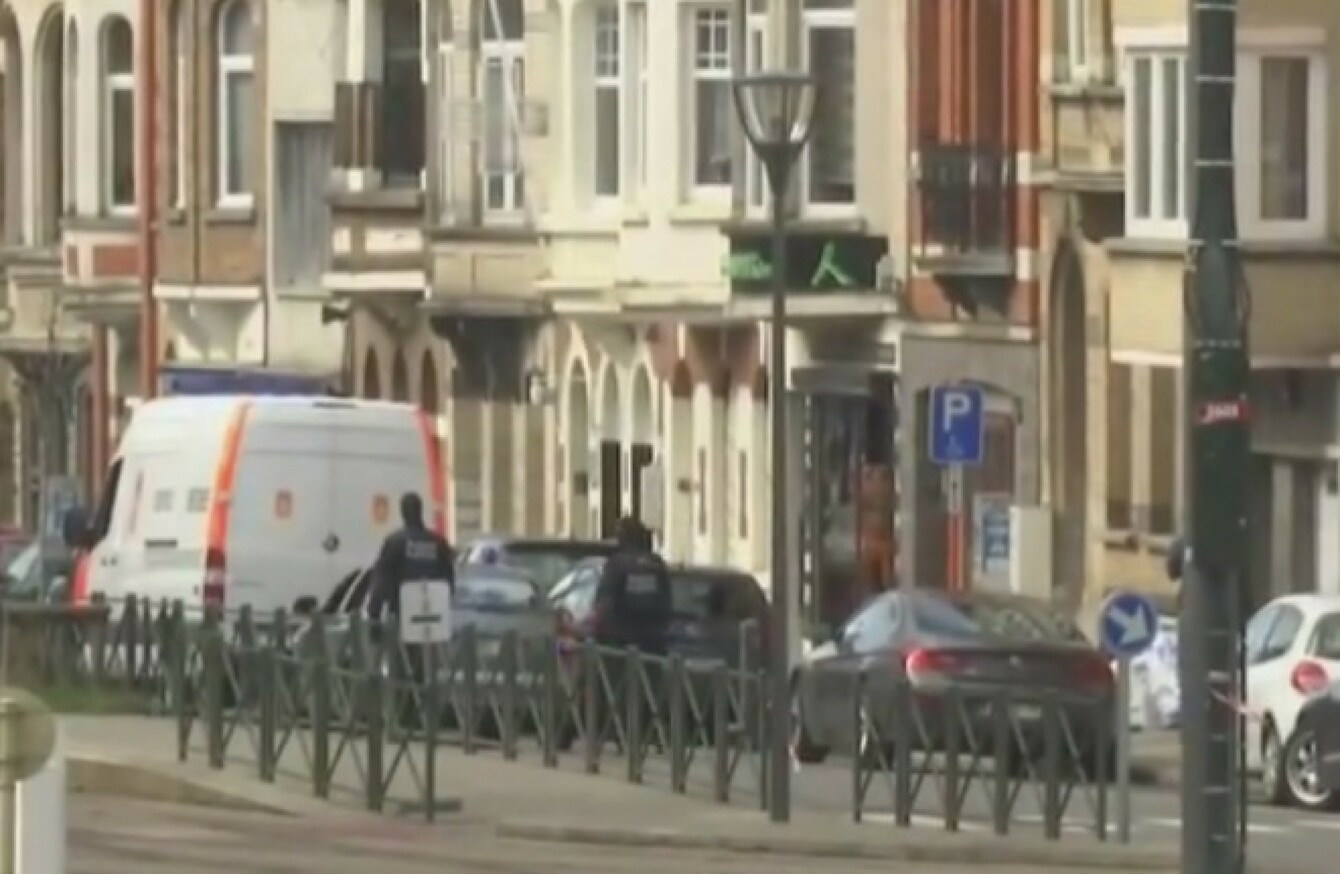 Image: Sky News
Image: Sky News
Updated: 8.43pm
BELGIAN POLICE SHOT a suspect as part of a huge European terror crackdown that saw several arrests today.
France's president said a jihadist network that targeted both Paris and Brussels was being "destroyed".
Schaerbeek Mayor Bernard Clerfayt earlier confirmed a person was intercepted and that he "suffered a slight leg injury".
He added that there had been several small explosions linked to bomb disposal work.
The suspect was one of three people arrested in connection with the new French conspiracy, prosecutors said.
In dramatic scenes, he was shot in the leg at a tram stop in a huge operation by police in the Belgian capital's Schaerbeek district, where police this week found a bomb factory linked to the Brussels attacks and from where the three airport attackers set off that morning.
Amateur video footage on social media shot from an upper storey window shows a man lying by a tram station holding a small backpack.
After being screened by a bomb disposal robot, hooded police grab his arms and drag him away.
Source: La France/YouTube
Another video appears to show a child kneeling down next to the suspect, before being coaxed away by police.
A French police source said the raid in Schaerbeek was related to the arrest of 34-year-old Reda Kriket in Paris yesterday, who was found with heavy weapons and explosives in his apartment.
Kriket was sentenced in absentia by a Belgian court in February for his connection to a terror network in Brussels and linked to recruiter Khalid Zerkani.
[Translation: A robot out and about. A bomb somewhere?]
Police had completely sealed off the area in the Schaerbeek district, an AFP reporter at the scene said.
Belgium has lowered its terror alert to the second-highest level for the first time since the attacks, but the police and military presence on the streets of the capital remains high.
- © AFP 2016 with reporting by Michelle Hennessy.