GALWAY
Connemara Sea Week: Catch the Family Fun Day of Connemara Sea Week in Letterfrack this Sunday, with a kite-making workshop and flying, a mini boat regatta, a Connemara Book Fair, a trad session and a rockabilly session to get them dancing. It also includes The Killary challenge - a bog assault course, suitable for all ages.
Suits: All ages. Time: From Sunday at 12pm. Tickets: From free. Find out more here.
DUBLIN
Trash Test Dummies: Previous winners of Best Children's Presentation at the Adelaide Fringe Festival, Trash Test Dummies is a family-friendly circus comedy show that has come to Pavilion Theatre, Dun Laoghaire. It stars highly skilled circus performers who excel in 'trash talk' and combine jaw-dropping acrobatics, juggling and stunt work in a fresh look at the humble household wheelie bin.
Suits: 5+. Time: Sunday at 4pm.Tickets: €10/8 per adult/child or €32 for a family of 4. Find out more here.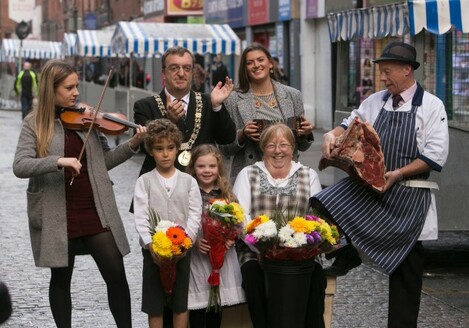 Source: Facebook/Moore Street Party - Spraoi ar an Sráid
Moore Street Party – Spaoi ar an Sráid: Let your kids discover the rich history of one of Dublin's most famous streets – Moore Street, where children will re-enact street games and songs and actors will deliver historical speeches, read personal letters and relay eye witness accounts from the Easter Rising. Street traders will be clothed in traditional dress from the 18th century and attendees are encouraged to do the same as there will be prizes for the best.
Suits: All ages. Time: Sunday from 12pm – 5pm. Tickets: Free. Find out more here.
AfriKaa! A Soundscape for Children with Autistic Spectrum Conditions: A multisensory installation and experimental concert by Slavek Kwi, AfriKaa! is designed for children with autism, allowing them to experience the rich soundscape of South Africa's Limpopo Valley. Taking in waterholes and woodland filled with hippos, crocodiles, leopards and foxes, the concert comes to the National Concert Hall this Saturday.
Suits: All ages. Time: Saturday from 12.30pm. Tickets: €8. Find out more here.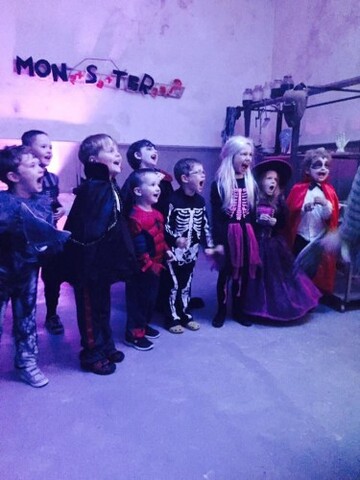 Source: Facebook/Ghoulsley's Manor
CORK
Ghoulsley's Manor: If your kids are in the mood for something spooky this weekend, Ghoulsley's Manor is an immersive theatrical experience that takes kids on a spellbinding adventure through a mysterious manor house, where they meet a host of quirky and hilarious characters. The Manor offers two productions – the friendly, funny Bibbity-Bobbity-Boo! (ages 5-10) and Grymm Tales (9+) which has a darker and more mischievous tone.
Suits: Ages 5-10 and 9+. Time: Saturday from 5.30pm. Tickets: €13. Find out more here.
WATERFORD
Imagine Arts Festival: Waterford's dedicated Arts Festival has a variety of wonderful events to offer kids including this Sunday's dramatic Battle of the Blaas, where kids are encouraged to dress in costume to help a futuristic war using only eggs and flour. Or for something a little less messy, let John and Fatti Burke, the father/daughter team behind of Irelandopedia, take them through an illustrated journey of Waterford, era by era (for kids aged 5-12).
Suits: From all ages. Time: From Saturday at 11am. Tickets: From free. Find out more here.
LOUTH
Leanbh Children's Festival: A lovely festival organised by Droichead Arts Centre especially for kids, Leanbh is running a number of events this Saturday in conjunction with the local libraries. This includes storytelling with Grainne Raferty, a travelling marionette theatre doing their version of Red Riding Hood.
Suits: Age 4+. Time: 11am and 1pm, Saturday and Sunday. Tickets: Free. Find out more here.
Have a mini-baking obsessive at home? We're giving away five KiddiKutter safety knives to protect their little fingers while they're hard at work. Enter here – and don't forget to follow us on Facebook and Twitter!
Get the latest family features, offers and more delivered straight to your inbox