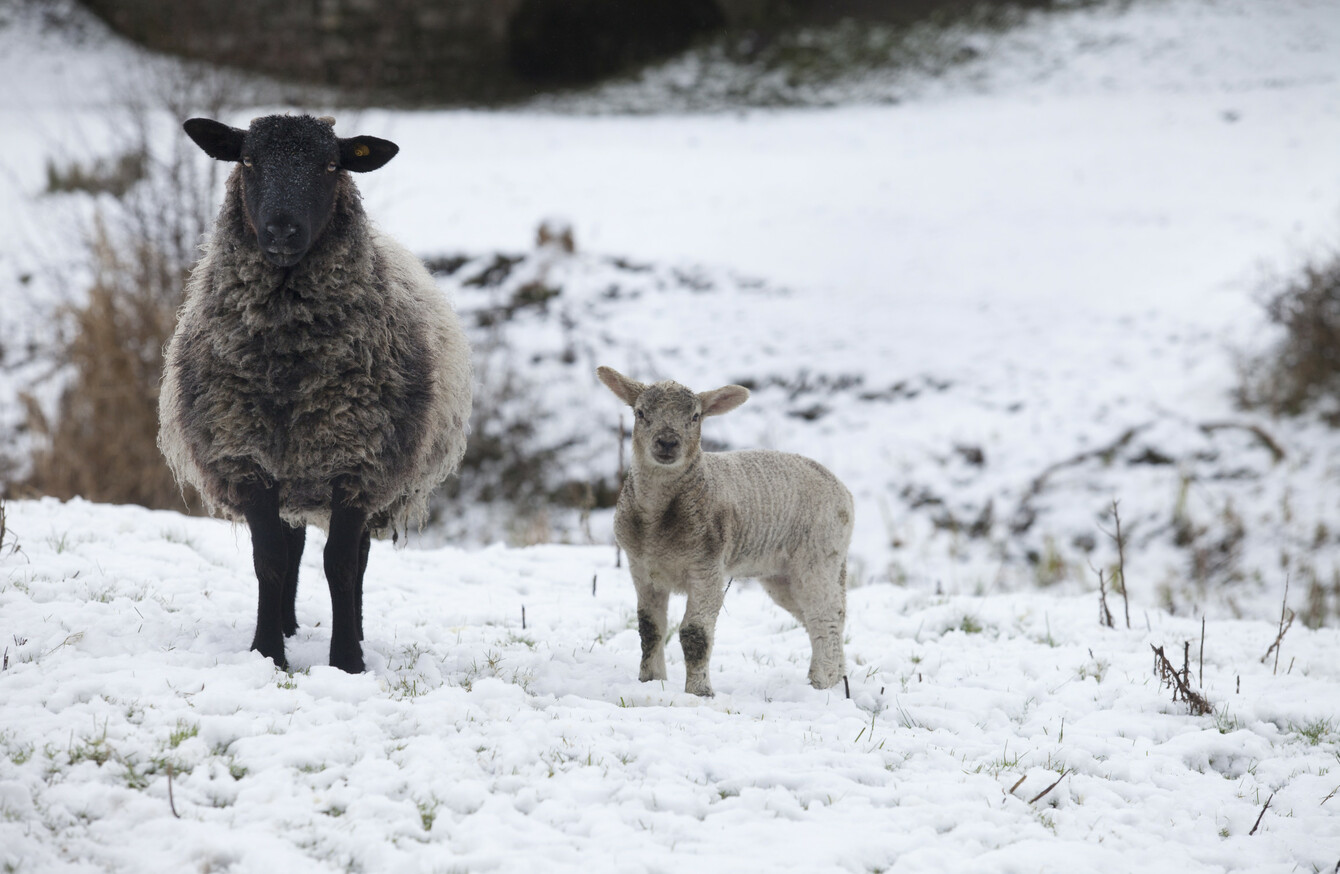 Image: Eamonn Farrell via Rolling News
Image: Eamonn Farrell via Rolling News
Updated at 3.15pm
FARMERS ARE EXPERIENCING "difficult and challenging" farming conditions as Storm Emma hits Ireland, and many are struggling to draw in fresh water supplies for milking and other activities.
IFA President Joe Healy said that deep snowfall has left farmyards in a very difficult state and drifting has compounded this problem in places.
Speaking to TheJournal.ie, he said: "I think while farmers probably have more mobility than most with machinery etc, it does place a large workload and a lot of stress on them. They have a lot of animals – they don't want to be pulling them out in cold weather and putting them indoors. It's an extra workload."
In particular a lot of farmers at this point would have had a lot of animals out in the grass already, and having to bring them back in to look after them in sheds is meaning you are having to find homes for animals in sheds that mightn't have seen animals for a long time.
He said there was extra pressure regarding fodder, as farmers would have expected to have animals out on grass right now. A recent fodder shortage has also been putting more pressure on them.
"It's just raising that fear again," he said of a fodder crisis.
"If it only lasts a couple of days it shouldn't be too bad, but if it could raise fears with farmers as to how they feed their animals."
Milk reductions
Healy warned that frozen water pipes are posing a major problem for dairy farmers and for drinking water on livestock farms.
He said that for dairy farmers, depending on the part of the country they are in milk collections might be interrupted. This might mean farmers having to reduce milking their cows so they don't create the same volume of milk.
He is calling on co-ops to hold the February milk price to support dairy farmers through the horrendous impact of the snow storm.
"Co-ops have understandably not been able to maintain collection frequency since Tuesday, and in many cases, those have been altogether interrupted," he said in a statement.
While many farmers have the capacity for four milkings in their tanks, they are now all coming under severe pressure. Farmers need to be able to count on their co-ops to make a supportive decision on milk price for February supplies to help them through this very difficult time.
"It's a mix of stress that's placed on them as well," he said. "On top of that some of our members who would have children, childcare isn't available today and [on Friday] schools are closed, creches are closed. That's probably placing an added workload on them that wouldn't be there normally, particularly from a farm safety point of view."
Healy said that for sheep farmers, lambing capacity is becoming a problem because they cannot get their stock out. He is appealing to farmers who have spare capacity in their sheds to make it available to neighbours with newborn lambs.
With sheep, if you get any volume of snow at all there is no grass for them to eat. You need to bring them in or find a way of getting fodder into the field. For most sheep farmers at the moment it's probably a fear of losing lambs. The mother will have her coat of wool, but the lambs will be born with very little.
He said that the IFA is trying to emphasise to its members not to put themselves at risk.
"One thing you'd often say about farmers is they care more about their animals than themselves. If you're gone, there's no one to look after the animals for a long time. We'd tell farmers not to take any risks," he told TheJournal.ie. 
The best and safest place to be is at home but anyone who has to venture out on the farm should wrap up warm, wear hi-visibility clothing, let someone else know where they are going and their expected time of return.
They are also asking farmers to check with their neighbours and older farmers nearby, to make sure they are OK during the bad weather.
#Open journalism No news is bad news Support The Journal

Your contributions will help us continue to deliver the stories that are important to you

Support us now
Advice
The Department of Agriculture has told farmers it is essential that water pipes in the farmyard and also pipes leading to outside water troughs are properly insulated and prevented from freezing up.
This is particularly important at this time when cows are calving and sheep lambing, giving rise to a heightened demand for water.
It said that in the case of sheep flocks it is essential that they are brought to a sheltered area during the worst of this event.
For any animal welfare issues arising from this severe weather event, farmers are advised to keep in touch with their Teagasc adviser, their veterinary practitioner, or to contact the Department of Agriculture, Food and the Marine Animal Welfare Helpline:
Call Save: 0761 064408
Direct line: 01 6072379.
It also advises that the farmyard and its environs should be fully gritted or sanded and that all machinery should be correctly stored and maintained properly.
Where necessary, heating should be provided to ensure that milking equipment and other critical plant does not freeze up.
With regard to personal safety, when herding livestock in remote areas "farmers should ensure that somebody knows where they are and that they stay in contact", said the Department.
With reporting by Hayley Halpin