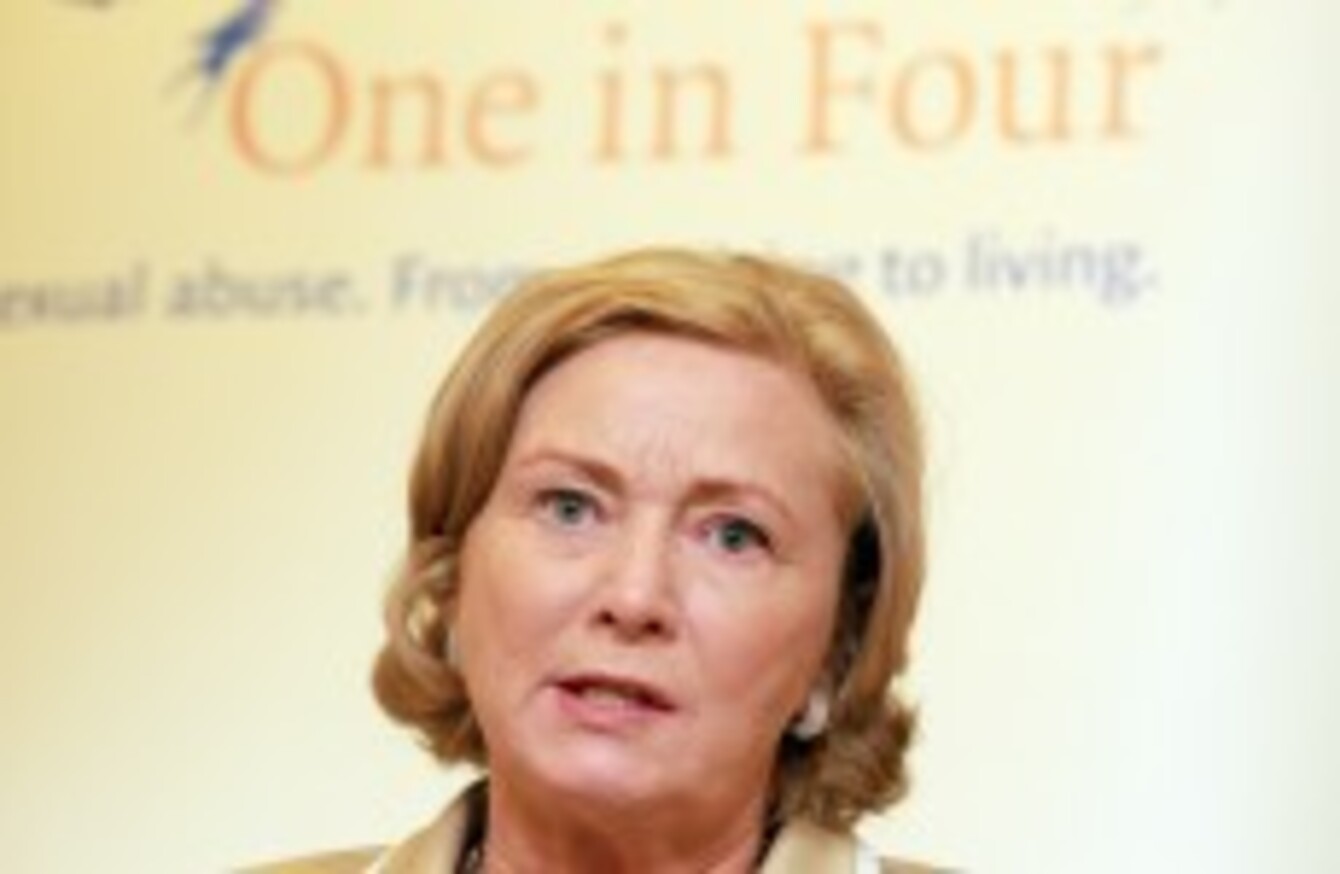 Minister for Children Frances Fitzgerald at One in Four's annual report launch recently.
Image: Leon Farrell/Photocall Ireland
Minister for Children Frances Fitzgerald at One in Four's annual report launch recently.
Image: Leon Farrell/Photocall Ireland
THE MINISTER FOR Children has said that the case of a man who was jailed for life for the rape and abuse of his four daughters over an 18 year period was "barbaric".
Frances Fitzgerald expressed her shock at the case of the man, who has not been identified, who raped, violently abused and tortured four of his daughters over an 18 year period. He was jailed for life at the Central Criminal Court in Castlebar, Co Mayo today.
The man is already serving 14 years in prison for the rape of another daughter, RTÉ reports. He is the father of two of her children. Earlier this year, his wife was sentenced to eight years in prison for the cruelty and neglect of eight of their children. Both parents were chronic alcohol abusers.
Fitzgerald said in a statement this evening: "We wish to express our shock and abhorrence at the circumstances surrounding the barbaric case of child physical and sexual abuse and rape
"Our thoughts are with the victims who showed great courage in coming forward to the authorities and were thereby instrumental in bringing about the successful prosecution of the perpetrator."
Fitzgerald said the case underlined the need to make it possible for those caught-up in cases of abuse to come forward: "The decision to report cases of child sex abuse, whether within or outside the family, presents particular difficulties for those involved and we must strive to ensure that they come forward."
The government intends to publish child protection legislation in the coming weeks that will make it an offence for someone to fail to disclose instances of abuse against children or intellectually disabled individuals without reasonable excuse.
This was echoed by One in Four's Maeve Lewis who told TheJournal.ie this evening that while the legislation was welcomed, there needed to be assurances that the appropriate resources are in place to handle allegations.
"Consistently at One in Four most of our clients have been abused within their families, so that's a real issue," Lewis said.
"It's very hard for people to grasp and think about it but we absolutely believe that the proposed legislation will hopefully create a culture shift where everyone will recognise a responsibility to report abuse.
"Legislation is important but the way it is implemented is crucial, people are very scared about making disclosures to authorities so we need to resource support services for victims and families."
Lewis added that it was completely unacceptable in modern day Ireland that there were 3,500 new cases where allegations of abuse against children had been reported last year.
"Not all were substantiated," she said but added: "It remains a problem."