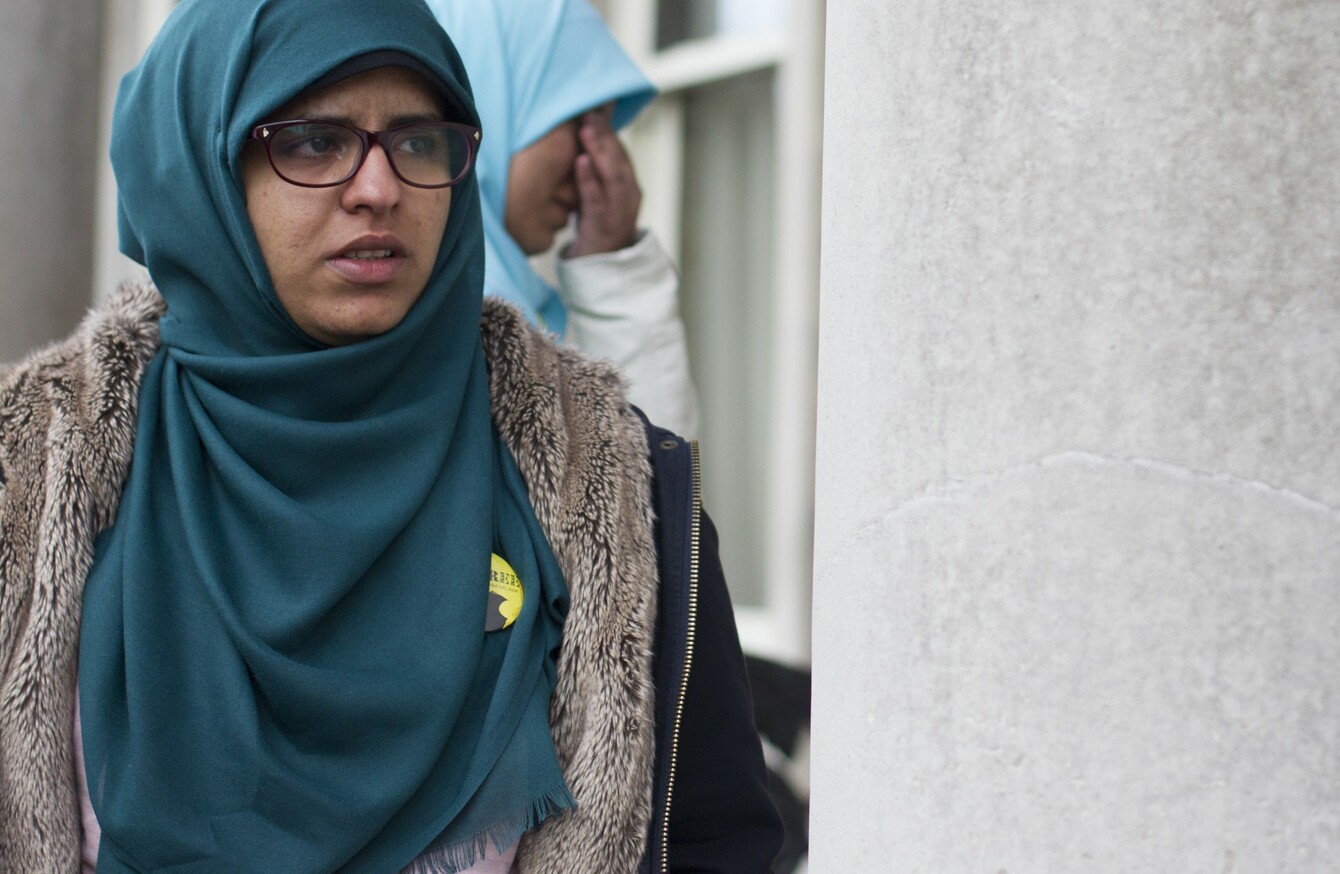 Fatima and Omaima Halawa have campaigned for the release of their brother.
Fatima and Omaima Halawa have campaigned for the release of their brother.
IBRAHIM HALAWA'S SISTER has said their attendance at a protest at which her brother was arrested in Egypt was not political.
Fatima Halawa has said that when they visited Egypt in August 2013 it was just one of many trips they made to visit family throughout their lives.
Halawa told Saturday with Claire Byrne that they chose to attend the protest "on the spur of the moment" to remember those who had been killed in the Egyptian uprising and subsequent massacre.
"We went to Egypt every single year as far as I can remember to visit extended relatives, it was something our parents wanted us to do. To keep contact with our extended relatives and family members," she said.
I want to state this very clearly, in 2011 a revolution took place in Egypt in January on the 25th, the commemoration is coming up. We didn't go down and participate in anything, we weren't there at the time.
In January 2011, a civilian uprising across Egypt led to the overthrowing of President Hosni Mubarak with over 800 people dying in violent clashes.
Mohamed Morsi was voted into power the following year in a democratic election the following year but in July 2013 he was overthrown by the Egyptian military.
The Halawas were in Egypt in August 2013 and Fatima says that they decided to attend a peaceful protest to remember the people who had been killed by Egyptian security forces at Rabaa al-Adawiya Square.
It's been estimated by Human Rights Watch that at least 817 people were massacred there on 14 August 2013.
Omaima, Fatima, Soumaya and Ibrahim Halawa were all arrested at the protest three days after the massacre on 17 August.
She acknowledged that Ibrahim spoke at the sit-in at Rabaa al-Adawiya Square but says their attendance was not political or pre-planned but was about remembering those who were killed.
"He gave a speech at the Rabaa sit-in because for us it wasn't a matter of political or which party was behind this," she said.
At the time we happened to be there, if any human being had been there and seen the massacre that had taken place, if they had seen this. To go down and peaceful protest for the people that had died. To condemn this, if that's a crime to be committed I don't know what else to say.
"It was something that just happened at the spur of the moment, that we felt we were there. We had our tickets at the end of August to fly back," she said.
#Open journalism No news is bad news Support The Journal

Your contributions will help us continue to deliver the stories that are important to you

Support us now
Muslim Brotherhood 
Former President Morsi had been a member of the Muslim Brotherhood.
BBC News has categorised the Muslim Brotherhood as Egypt's oldest and largest Islamist organisation which bases its ideology on the teachings of the Qu'ran.
The organisation achieved significant electoral success after the 2011 revolution but since the 2013 military coup it has been blacklisted.
When he met with Irish politicians this week, Ibrahim Halawa denied that he was a member of the grouping.
Today, Fatima Halawa said that the current military government simply labels any opponents as being members.
"Everyone's being linked to the Muslim Brotherhood," she said.
We had cops with us who were linked to the Muslim Brotherhood, So it's kinda like, everyone who is arrested in Egypt now for political reasons is linked to the Muslim Brotherhood.