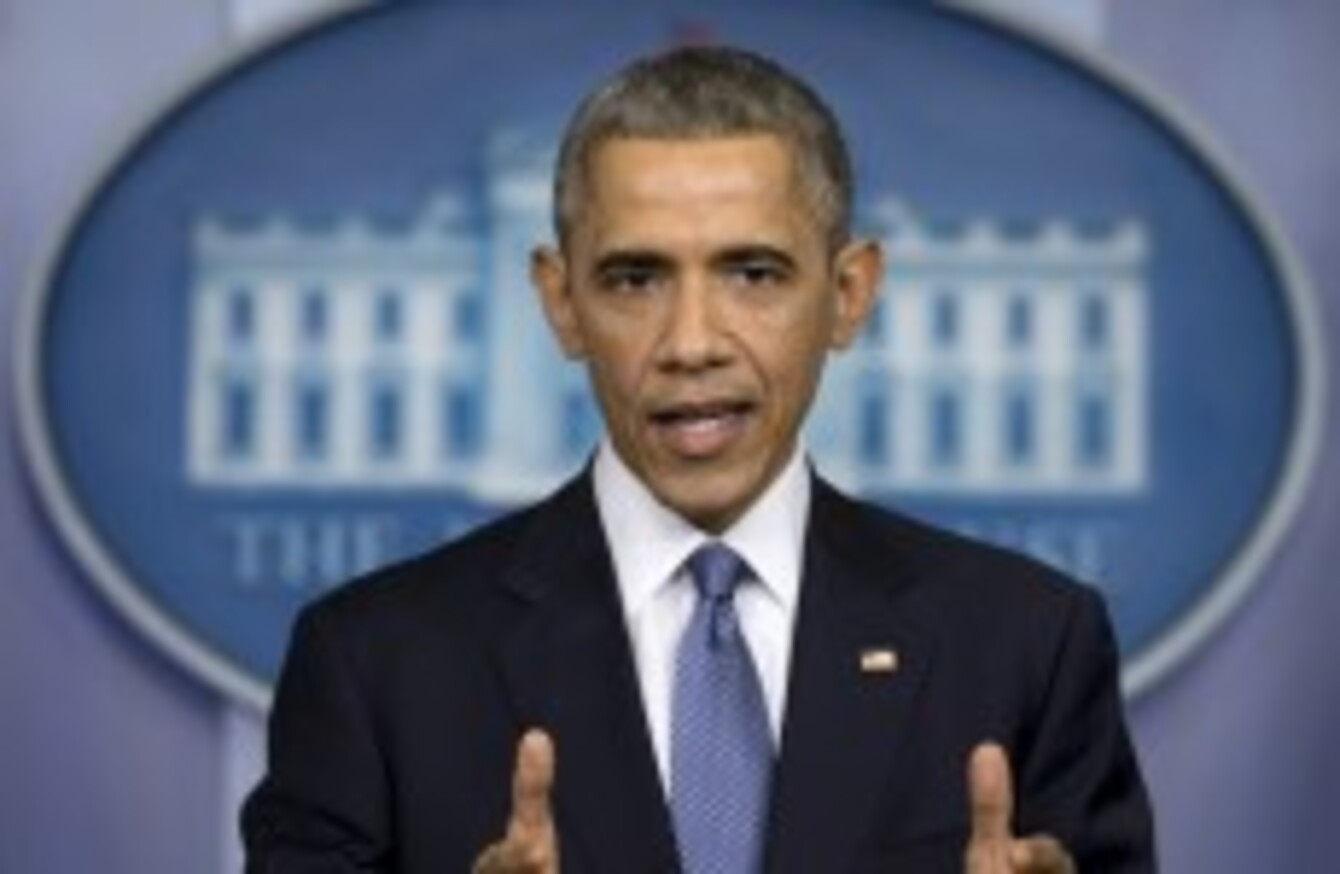 The US President said the US would respond "proportionately".
Image: AP/Press Association Images
The US President said the US would respond "proportionately".
Image: AP/Press Association Images
Updated 10.51 pm
US PRESIDENT BARACK Obama has warned that Washington "will respond" to North Korea's cyber attack on Sony Pictures.
Obama nevertheless said while he was "sympathetic" to Sony's concerns about the threats to attack theatres screening 'The Interview', he believed the studio had erred in cancelling its release.
"We will respond. We will respond proportionately and we'll respond in a place and time and manner that we choose," Obama told a press conference
"I'm sympathetic to the concerns that they faced. Having said all that, yes, I think they made a mistake," he said.
"We cannot have a society in which some dictator some place can start imposing censorship here in the United States."
Obama's comments come as the FBI said has enough evidence to conclude that North Korea was behind the punishing breach, which resulted in the disclosure of tens of thousands of leaked emails and other materials.
"North Korea's actions were intended to inflict significant harm on a U.S. business and suppress the right of American citizens to express themselves. Such acts of intimidation fall outside the bounds of acceptable state behavior," the FBI statement said.
The FBI's case cited, among other factors, technical similarities between the Sony break-in and past "malicious cyber activity" linked directly to North Korea.
However,  Sony Pictures still hopes to release "The Interview" in some format, despite having cancelled its theatrical release, the Hollywood studio said.
After canceling the release, "we immediately began actively surveying alternatives to enable us to release the movie on a different platform," Sony said in a statement.
It is still our hope that anyone who wants to see this movie will get the opportunity to do so.
Obama administration officials had previously declined to openly blame North Korea but said they were weighing various options for a response. The statement did not reveal what options were being considered. President Barack Obama is expected to face questions about the Sony hack at a year-end news conference with reporters later today.
Read: If North Korea did hack Sony, it's a watershed moment in cyber-warfare >
The break-in escalated to terrorist threats that promoted Sony to cancel the Christmas release of the movie "The Interview." The comedy is about a plot to assassinate North Korea's leader, Kim Jong Un.
Actor George Clooney had attempted to get other major names in the film industry to sign a petition for stand with Sony in solidarity.
However, Deadline reports that not a single person signed.
"All that it is basically saying is, we're not going to give in to a ransom," he said, "As we watched one group be completely vilified, nobody stood up."
I say this is a situation we are going to have to come to terms with, a new paradigm and a new way of handling our business. Because this could happen to an electric company, a car company, a newsroom. It could happen to anybody.
Additional reporting by Nicky Ryan and AFP