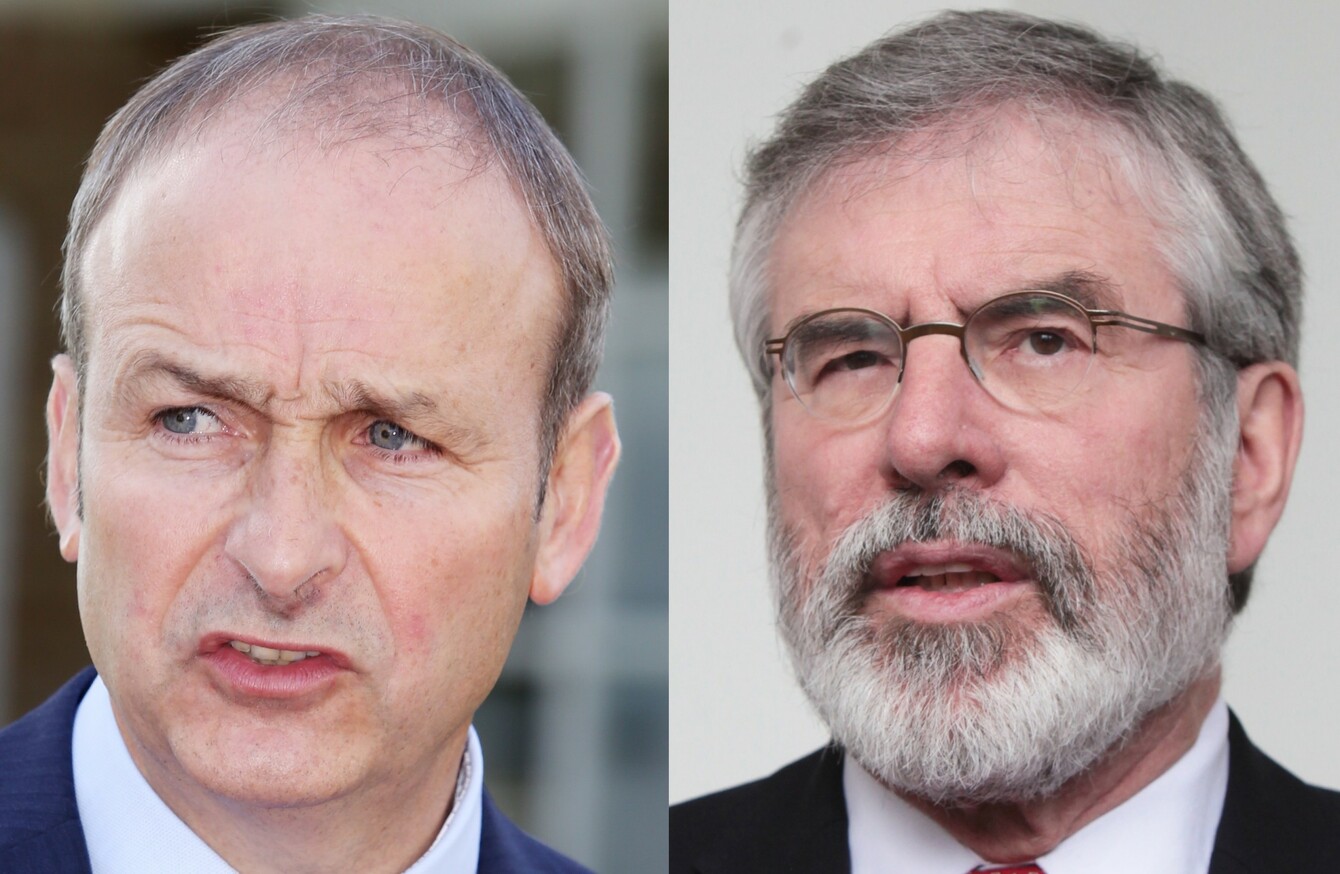 A future Taoiseach and Tánaiste?
Image: RollingNews.ie
A future Taoiseach and Tánaiste?
Image: RollingNews.ie
Updated 7.15pm 
FIANNA FÁIL HAS moved to distance itself from more speculation that it could enter coalition with Sinn Féin after the general election.
Gerry Adams's refusal to explicitly rule out coalition with Fianna Fáil yesterday has raised the prospect of a post-election deal with Micheál Martin's party.
Sinn Féin later insisted that coalition with Fianna Fáil was "extremely unlikely". Today, Martin has moved to rule out coalition again.
"I have made it clear on many occasions that Fianna Fáil will not be entering coalition with Sinn Féin after the general election," he said.
Sinn Fein posturing ahead of elections is nothing new and should be dismissed as such.  The party's policy platform and its way of doing business are incompatible with Fianna Fáil. The Sinn Féin economic policy is anti-jobs and their taxation policy would hit working people.
Former Fianna Fáil deputy leader Éamon Ó Cuív insisted the party had made it clear repeatedly that it was not going into coalition with Sinn Féin.
"We have said time and again that we are not going in with Sinn Féin and Fine Gael," he told RTÉ's Drivetime.
He said that the position had been made clear repeatedly by party spokespeople and Martin.
Martin said this morning's story on the front of the Irish Independent suited a "particular party political agenda".
"Fine Gael started this nonsense months ago to suit their own electoral agenda," Martin added.
Fine Gael has been causing mischief on Twitter by suggesting it was now confirmed that a vote for Fianna Fáil is a vote for Sinn Féin:
In the Dáil, Enda Kenny had a pop of his own, telling Martin during the Order of Business:
Now that you're lined up with Sinn Féin maybe you're cosying up to them because you might want something from them.
Sinn Féin hit back at Fine Gael on Twitter by citing the party's links to businessman and Independent News & Media's largest shareholder Denis O'Brien:
Where does all this leave Labour?
Tánaiste Joan Burton said she did not foresee "any circumstances" in which her party would be involved with Sinn Féín in government.
But on Fianna Fáil she was less committal when pushed by reporters today. Asked to explicitly rule out a coalition with Martin's party, she said:
The decisions around the election lie with the voters. But I am concentrating on is getting first preference votes for the Labour party and I want to invite the electorate to support the Labour party to continue the work that it's doing.
She added: "I am very confident that this government will be re-elected."