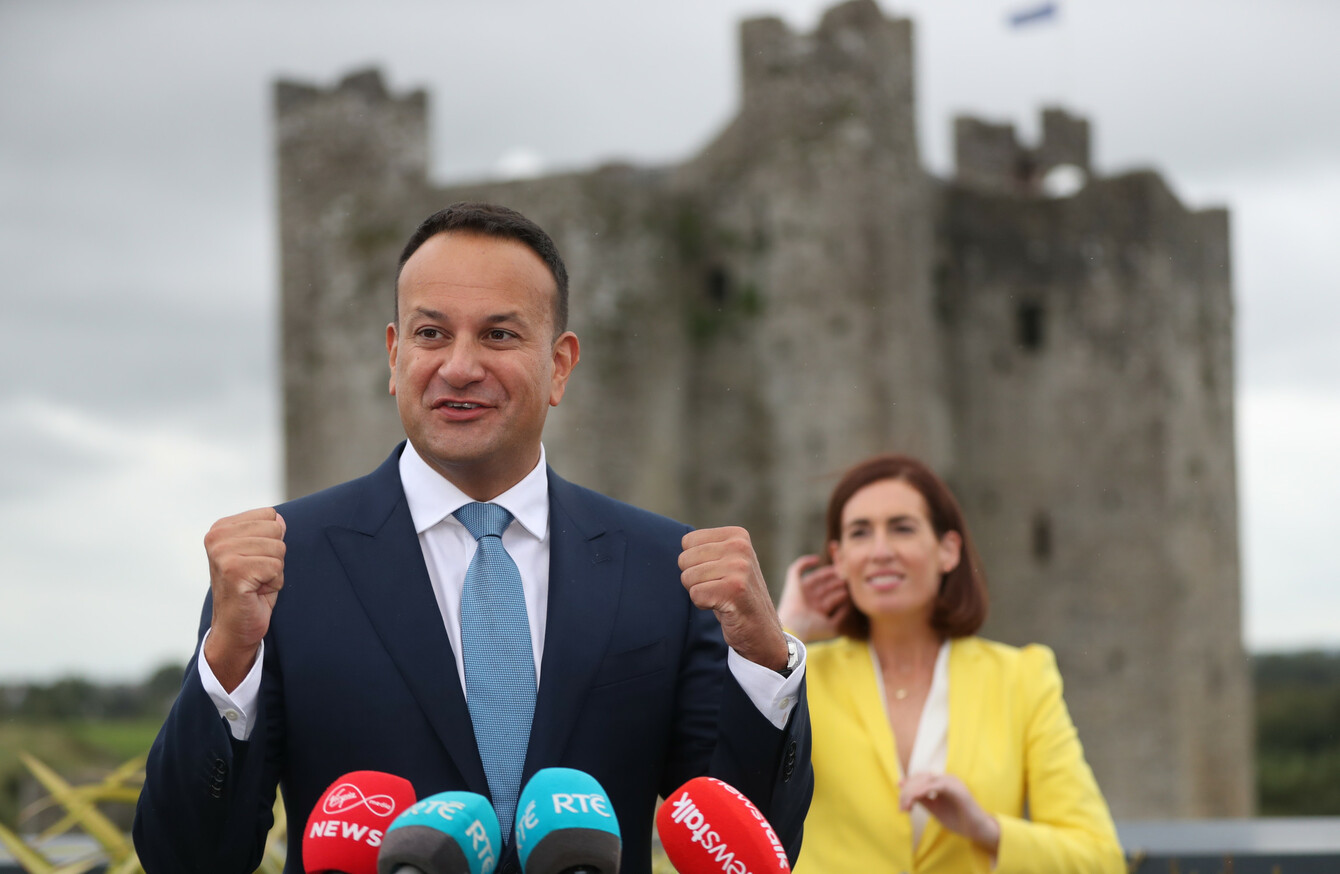 Tánaiste speaking to the media at the Trim Castle Hotel in Meath today.
Image: PA
Tánaiste speaking to the media at the Trim Castle Hotel in Meath today.
Image: PA
Updated Sep 13th 2021, 3:30 PM
TÁNAISTE LEO VARADKAR has said he, and Ministers Simon Coveney and Paschal Donohoe have apologised to the Fine Gael parliamentary party for allowing important government issues to be overshadowed by the Katherine Zappone controversy this summer. 
Donohoe also confirmed to reporters this afternoon that he has spoken to Zappone since the controversy erupted.
He told the media today that while he could not remember the exact date, he contacted her to tell her he would be making a public statement on his contact with her about the UN envoy role.
Whether she comes forward to answer questions on the controversy is a matter for herself, he said.
Speaking to reporters in Trim at the beginning of the two-day party think-in, the Tánaiste said today's meeting is a good opportunity for the party to "refresh, regroup and reset" after what "was not a good summer for Fine Gael". 
The meeting is also a chance for the party to "rebound" he said, and to focus on issues such as the easing of the final Covid-19 restrictions, the vaccine booster programme, and next month's Budget.
With a theme of 'Responding to New Challenges to Shape Our Future', the think-in will feature policy sessions and workshops, as well as discussion on party organisation.
The meeting comes following weeks of controversy for a number of Fine Gael ministers.
Sinn Féin is set to table a motion of no-confidence in Foreign Affairs Minister Simon Coveney in the Dáil this week as the controversy surrounding the planned appointment of Zappone as a special envoy to the United Nations rumbles on.
The motion states that the proposed appointment of Zappone amounted to cronyism and fell below the standard of government expected by the public. It will be flipped by the Government to a motion of confidence in Coveney and is expected to pass.
Coveney came under fire two weeks ago when he said he deleted a number of text messages exchanged with Zappone and the Tánaiste.
"I've been hacked and I'm Minister Foreign Affairs and Defence, so I think it is prudent that I clear my phone quite regularly," Coveney said at the time.
Texts later released by Varadkar show that he texted Coveney in July to ask if he "knew anything" about Zappone taking on the envoy role. 
The Foreign Affairs Minister last week apologised to an Oireachtas committee over what he described as the "political fiasco" around Zappone's appointment. He has maintained that his former government colleague Zappone did not lobby him for the UN role.
Fresh question marks about who knew what, when have also emerged today after FF Public Expenditure Minister Michael McGrath said the memo that went to Cabinet on the morning of the meeting signing off on her planned appointment did not have the names of prospective appointees.
Varadkar told reporters in Trim today that he is not contradicting the Minister but "we are actually both right".
A separate memo with names was sent to the Department of the Taoiseach the previous night, he added.
A government spokesperson said that the Taoiseach was not informed of the name proposed for the appointment.
"Nor was he alerted at the leaders meeting the evening before the Cabinet, and the Tánaiste and Minister for Foreign Affairs have apologised for this.
"The first time the Taoiseach was aware that Katherine Zappone was being nominated for a role was at the Cabinet meeting, once the memo was distributed."
An email from the Secretary General of Department of Foreign Affairs was sent to the Secretary General in the Department of Taoiseach at 9.24pm on the night before Cabinet.
"This was not sent to anyone else in the Department until the following morning, when it was sent to the Government Secretariat just before Cabinet," said the spokesperson. 
Varadkar said today that both he and Minister Coveney had a responsibility to flag the appointment with the Taoiseach and he is not departing from his apology that he made to Micheál Martin a number of weeks ago.
Varadkar reiterates that this summer has not been a good one for Fine Gael pic.twitter.com/w8RdFXujhv

— Christina Finn (@christinafinn8) September 13, 2021
Won't bring down the government
Speaking on RTÉ Radio One's Morning Ireland today, Varadkar said that he should have seen the "political sensitivities" in Zappone's appointment as a special envoy.
"The memo with the name of Katherine Zappone was in the Taoiseach's office the day before the Cabinet meeting – notwithstanding that, Simon Coveney and I had a responsibility to flag that to him," Varadkar said.
"In a coalition government, there should be good faith and no surprises," he said.
"It has to be based on two principles: good faith, and we have good faith in this government among the three parties and the three leaders; and no surprises."
Varadkar stated: "It's not the first time we've appointed special envoys, we've been doing them for years, in fact, usually appointed directly by the Taoiseach or the Minister of Foreign Affairs, never been a particular process followed, but because it was a former cabinet minister, it was potentially politically sensitive. I should have seen that, I didn't, and I'd like to take responsibility for that."
He said that there "have been times when as Fine Gael we've been a little bit surprised about things that the Greens have done or Fianna Fáil have done and what you do when something like that happens is you front up, you accept the other person's good faith and you move on".
Varadkar also said he believes the Freedom of Information (FOI) Act has not been "refreshed adequately".
"When FOI was first developed as a concept it largely related to files, both paper files and electronic files – the world has moved on a lot since then," he said.
"I think we're going to need to do a review and a refresh of the Freedom of Information Act."
'Bad summer'
Justice and Social Protection Minister Heather Humphreys said she had to accept that "it hasn't been a good summer" for her party, but she said the "mood is buoyant" at the meeting today. 
She said they remain in touch with their voters, and are determined to re-focus on the main issues in the autumn term.
Donohoe said the party has to admit that it got things wrong and "could have done far better" in relation to how things were handled with the Zappone appointment. 
He said in the next Dáil term, Fine Gael will "take Sinn Féin on, take them on in the Dáil, take them on in our constituency…. and expose them for the lack of having any plan" for the challenges ahead. 
Rotunda Hospital 
Speaking in Trim, Varadkar told The Journal that he can understand both points of view when it comes to the TV programme filmed in the Rotunda Maternity Hospital. 
The hospital suffered a public backlash last week when it emerged that documentary makers were granted access to their wards while restrictions remained for the partners of expectant mothers. 
It led to the Taoiseach Micheál Martin and Minister for Health Stephen Donnelly criticising the decision on Friday. The Taoiseach said he didn't think the production was appropriate.
"I can really understand the feelings of pregnant women and their partners" who were unable to attend important appointments, Varadkar said. 
He said he could also understand how, from their point of view, it would "really jar" with them that a camera crew was allowed in.
However he added that he could also understand the view of the infection control staff in the hospital, and how having a small film crew on site would be different to having hundreds of partners enter the premises. 
#Open journalism No news is bad news Support The Journal

Your contributions will help us continue to deliver the stories that are important to you

Support us now
"I can understand it from both sides, and I really don't like to dump on people working on the frontline," he added.
Staff at the hospital try and make the best decisions for the patients, he said.
The hospital announced on Saturday that it is to relax restrictions on partners just days after the controversy broke out.
It said that it will ease restrictions and allow longer visiting hours for partners will be permitted. 
Daily Mail article 
At today's think-in, Minister of State Hildegarde Naughten also called the weekend's Daily Mail article which criticised the appearance of Fianna Fáil politicians at their party think-in last week as "disgraceful". 
She said it didn't matter what party people were in, women in all parties are "very hard-working".
"I just feel it is very disrespectful to women and coming from a woman, it is very disappointing". 
The Tánaiste said: "I feel the same… we really shouldn't be demeaning people based on what they wear or their appearance. That goes for women and it goes for men as well."
The Green Party and Labour Party think-in events are also taking place today and tomorrow.
Speaking on Morning Ireland, Green Party leader Eamon Ryan said "a mistake was made" by Coveney and Varadkar in relation to the Zappone appointment.
However, he said the three coalition parties want to move forward.
"We have important work to do. I don't believe the Irish people would thank us if we brought down a government on something which while it was important that it was addressed, it was addressed, it was acknowledged that the process needs to change."
With reprtoing by Órla Ryan, Lauren Boland and Hayley Halpin.