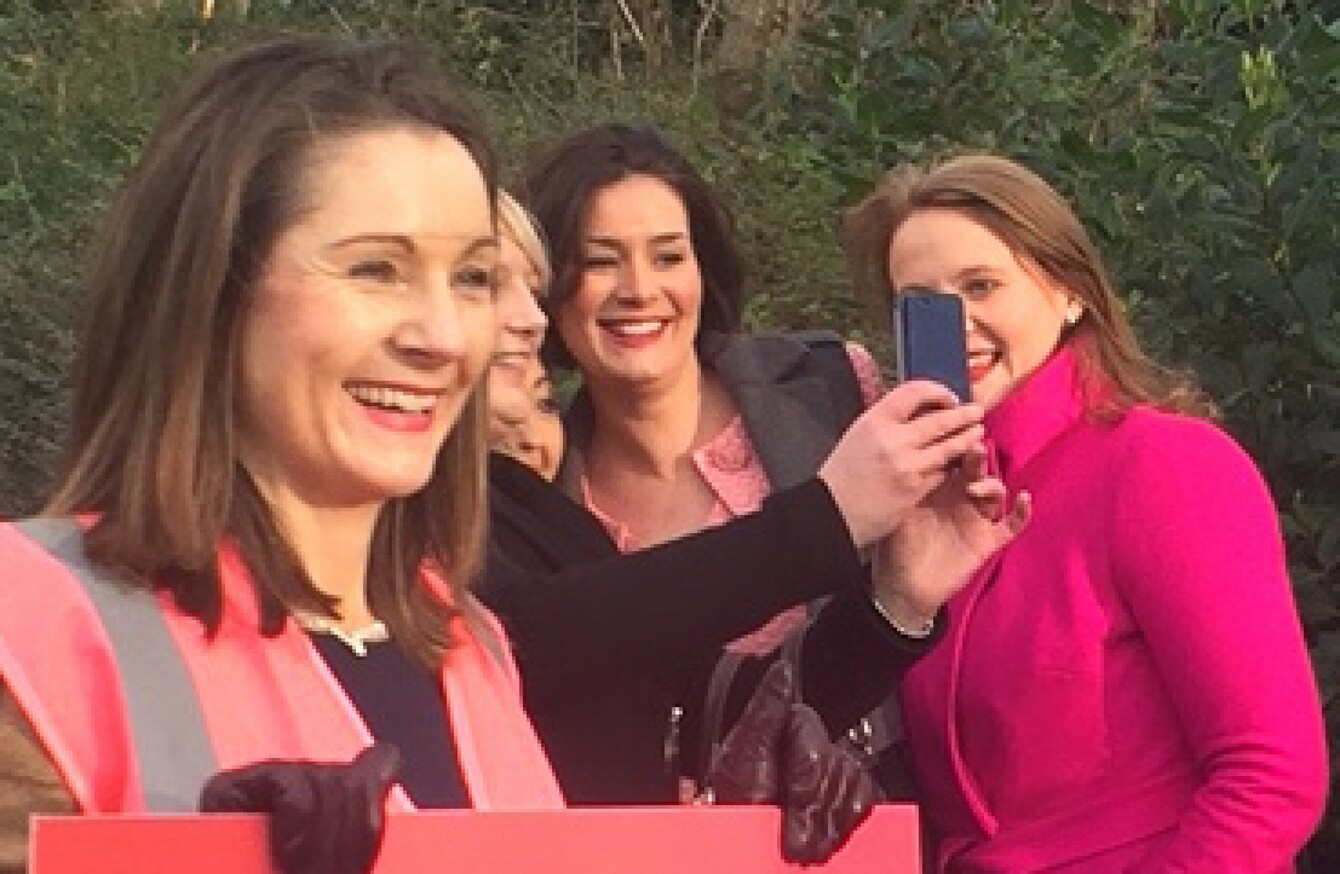 Anne-Marie Demody launching her campaign with other Fine Gael candidates, Kate O'Connell and Catherine Noone, today.
Image: Hugh O'Connell
Anne-Marie Demody launching her campaign with other Fine Gael candidates, Kate O'Connell and Catherine Noone, today.
Image: Hugh O'Connell
A FINE GAEL councillor running in the general election has said that women voters should vote for female candidates from other parties if there are none from her own party on the ballot paper.
Anne-Marie Dermody, who is running in Dublin South-West, said that if women voters don't have a female Fine Gael candidate to vote for in their constituency then they should vote for a female candidate from another party.
"I have to say 'yes' to that," Dermody told journalists when the idea was put to her.
My focus is on getting women engaging, getting women supporting a woman.
"If it's not a Fine Gael woman, yeah, I'd be looking for, you know, the message is we need more female, more women representatives. That's the message. If there isn't a woman on the ticket then I would still be looking to get more women on the ticket."
Fine Gael currently has male-only tickets in a over a dozen of the 40 Dáil constituencies. Dermody is one of three Fine Gael candidates running in five-seat Dublin South-West with councillor Colm Brophy and party activist Karen Warren also on the ticket.
Dermody made the call as she launched the #FG4women campaign outside Leinster House this afternoon.
http://vine.co/v/iM3Vz3wv9a9
Dermody's initiative is calling on all of Fine Gael's female candidates to encourage all their female supporters and friends to canvass with them on Saturday, 30 January.
Under her plan, no men will be allowed to canvass for Fine Gael candidates on 30 January, with the South Dublin county councillor joking that they "can make the tea".
It's not that we're better than men, we are just looking at the imbalance and we are trying to draw attention to the imbalance.
She added: "When I go out on a canvass it's primarily men that are on a canvass with me and it is just to draw attention to that.
I bring everything back to the plastic bags in 2007. Until attention was drawn to the fact that it was so damaging to the environment, until attention was drawn to that, people didn't change their habits.
#Open journalism No news is bad news Support The Journal

Your contributions will help us continue to deliver the stories that are important to you

Support us now
"So all I'm doing is ramming home the point that we need more women out on the canvass, aware of the imbalance, and getting involved."
One of those supporting the initiative is Thomasina Connell, a first time Fine Gael candidate in Laois, who said: "We definitely need to have a better proportion of women in the Dáil because I think it gives us a much wider perspective on our population's views.
I really believe that we have to get women out voting for women.
However, Connell said she did not interpret the 30 January event as meaning men could not be involved in canvassing on that day.
The constituencies where Fine Gael currently has male-only tickets include: Carlow-Kilkenny, Cork East, Cork South-Central, Cork South-West, Donegal, Dublin Central, Dublin Fingal, Dublin North-West, Galway East, Kildare North, Limerick City, Limerick County, Louth, Meath West, Sligo-Leitrim, and Waterford.