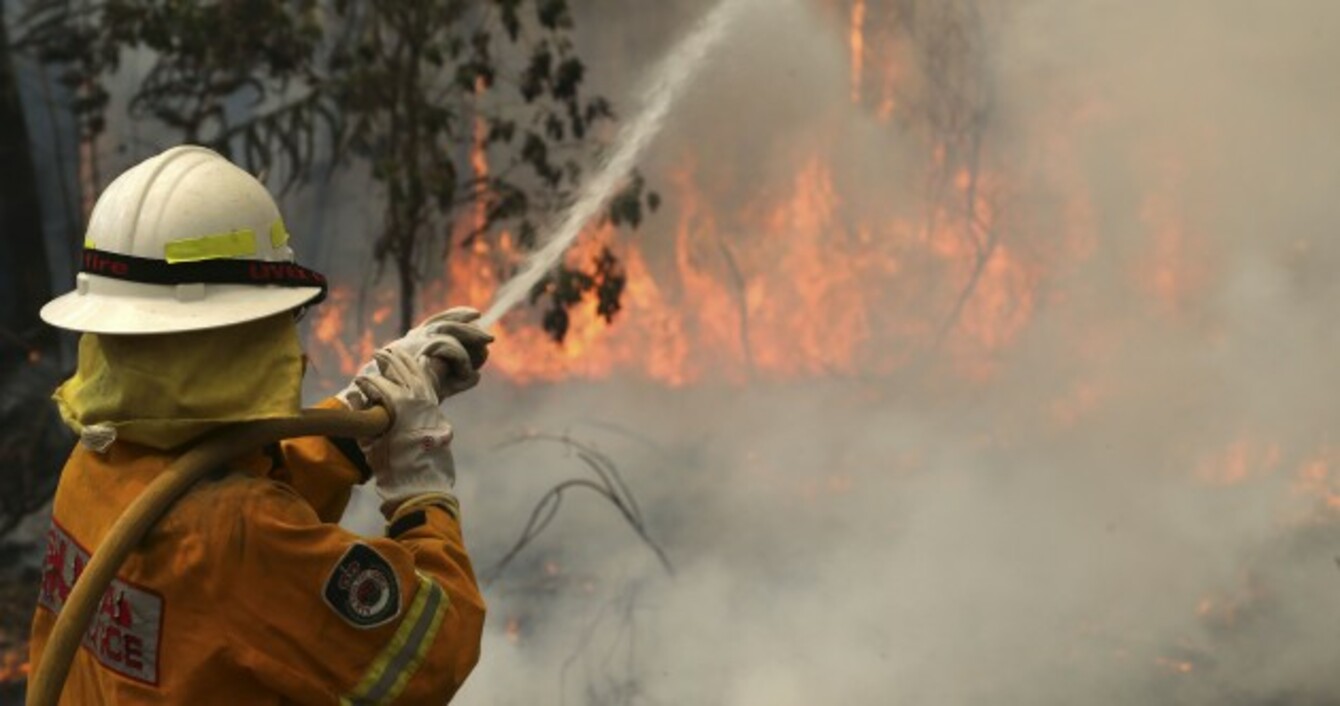 A firefighter tries to control flames near houses at Bilpin, 75 kilometres west of Sydney
Image: AP Photo/Rob Griffith
A firefighter tries to control flames near houses at Bilpin, 75 kilometres west of Sydney
Image: AP Photo/Rob Griffith
FIREFIGHTERS IN AUSTRALIA have been battling hot, dry winds and soaring temperatures, as they fight new blazes amid a week-long bushfire disaster that shows no signs of easing.
As the crisis entered its seventh day, at least 65 fires were raging across the state of New South Wales with 18 of them uncontained and warnings again issued for people to leave their homes or be extra vigilant.
"On days like today, minutes really matter," NSW Rural Fire Service Commissioner Shane Fitzsimmons said, with the focus again on the Blue Mountains region west of Sydney, a popular tourist area home to 75,000 people where three huge infernos have been burning for days.
One of them, in Springwood where more than 100 homes were lost last week, was upgraded to the highest "emergency" level.
But fires were also breaking out elsewhere around the vast state with a blaze at Minmi near Newcastle, north of Sydney, which was deemed an "emergency" as it closed the main freeway that links the two cities and sparked traffic chaos.
"If you are Minmi, follow your survival plan. If your plan is to leave, leave now," the RFS said.
Another blaze at Colo, to the northwest of Sydney, was burning aggressively with water-bombing aircraft attempting to bring it under control, although the high winds were hampering the effort.
"It's a very fluid situation. It's a very dynamic situation," said the fire chief.
Jennifer Schweinsberg and her son David walk around the back yard of their destroyed family home in Sunny Ridge Drive [AP Photo/Rob Griffith]
So far more than 120,000 hectares of land has been burnt across the state and more than 200 homes destroyed. But only one person has died as residents heed advice to either flee or head to evacuation centres.
Temperatures were at the mid-30 degrees Celsius range today, and coupled with low humidity and forecast wind gusts of up to 100 kilometres per hour, the fire chief called the conditions "as bad as it gets".
Drizzle overnight "settled down firegrounds" but it also hampered the mostly volunteer crews fighting the blazes.
"Whilst that is some welcome relief in terms of moderating the current fire behaviour, it has compromised considerably the ability to continue with the backburning operations that were planned throughout the evening," Fitzsimmons said.
A firetruck drives past a roadside sign outside Bilpin [Rob Griffith/AP/Press Association Images]
Backburning is a tactic aimed at creating firebreaks to control the path of blazes.
This had been a key focus of operations ahead of today, but the light rain meant many firefighters had to be withdrawn from forest trails due to fears that their trucks could get bogged down.
#Open journalism No news is bad news Support The Journal

Your contributions will help us continue to deliver the stories that are important to you

Support us now
Much of the dampness has dried out and Fitzsimmons said: "We're seeing the winds strengthen and that's resulting in fire activity starting to be generated. As we speak we're identifying a number of new fires."
He added: "What can't be denied is there is something like 1,600 kilometres (992 miles) of fire perimeter that we're dealing with. Now, that's all active to one degree or another.
"No one knows where that fire activity will stir up under today's weather."
NSW Premier Barry O'Farrell drove home the message, saying regardless of what happens today "we're not out of the woods yet".
He also said reports were filtering in of people trying to cash in other people's misery, with one landlord hiking up the rent for his property in the Blue Mountains because of demand with so many homes already lost.
"It is just as gut-wrenching to hear this story as it is to hear of reports that 11-year-old children have lit fires or that there has been alleged reports of looting," he told Fairfax Media.
"The last week has been characterised by communities and volunteers coming together to fight fires and support people and then you are pulled up by these acts of what I describe as 'bastardry'."